The right living room design is vital to create a space that is welcoming, functional and stylish. After all, the living room is where we spend the largest amount of time with family and friends. In fact, the festive season has probably highlighted just how hard this room needs to work! That's because modern living rooms are multi-functional. And the way we use them has evolved significantly, especially in the last two years.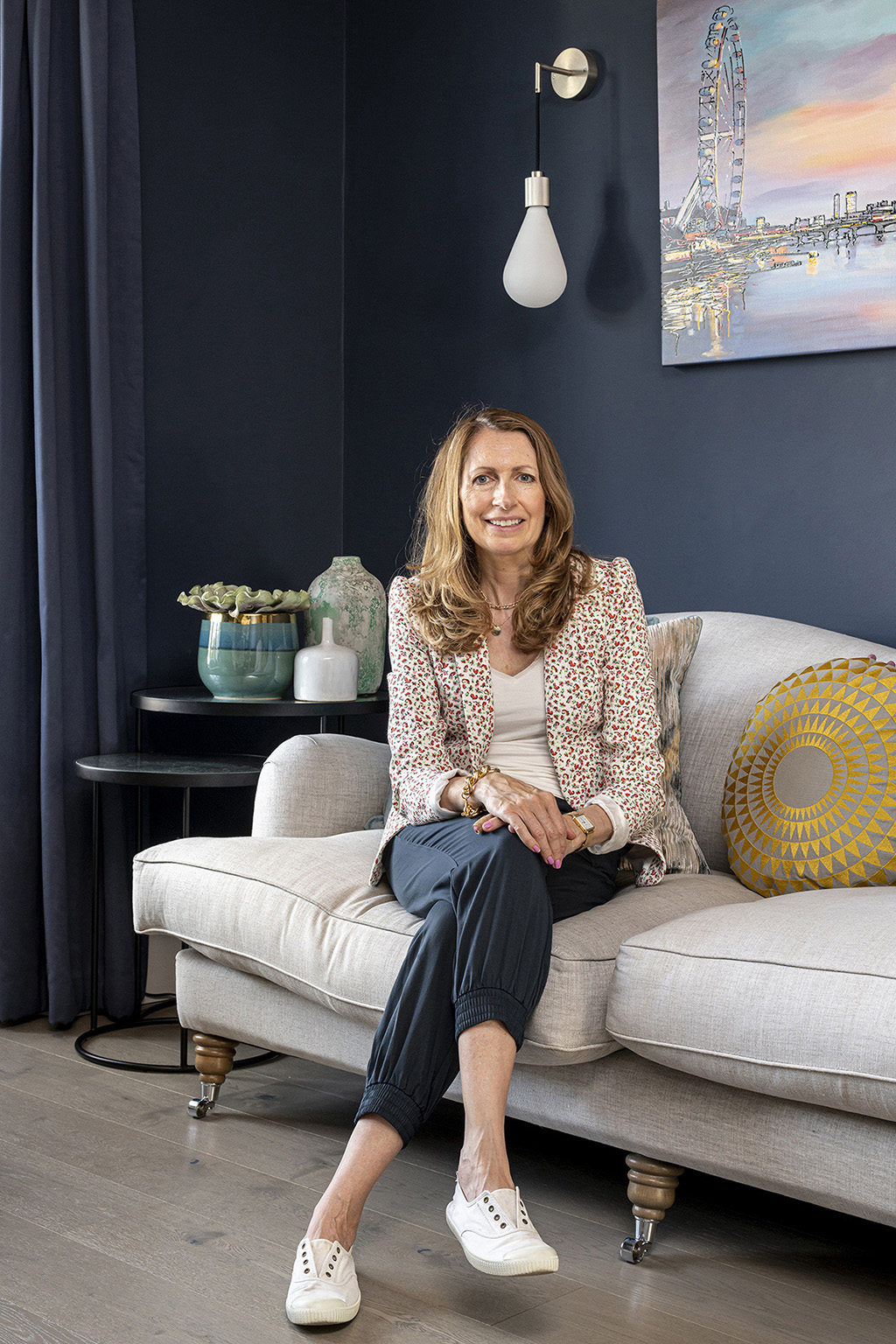 London interior designer Emma Green is well known for her vision, values and colour creativity
The living rooms of the London homes I specialise in may need to be cosy, relaxing places for family members of all ages. However, they may also need to double up as a sophisticated entertaining space for guests. In summary, your living room design, layout, colour scheme and furnishings need to work together to fully optimise your space. Read on to discover the key elements to take into consideration, in order to create an interior that is both beautiful and practical, and accommodates all of your different needs.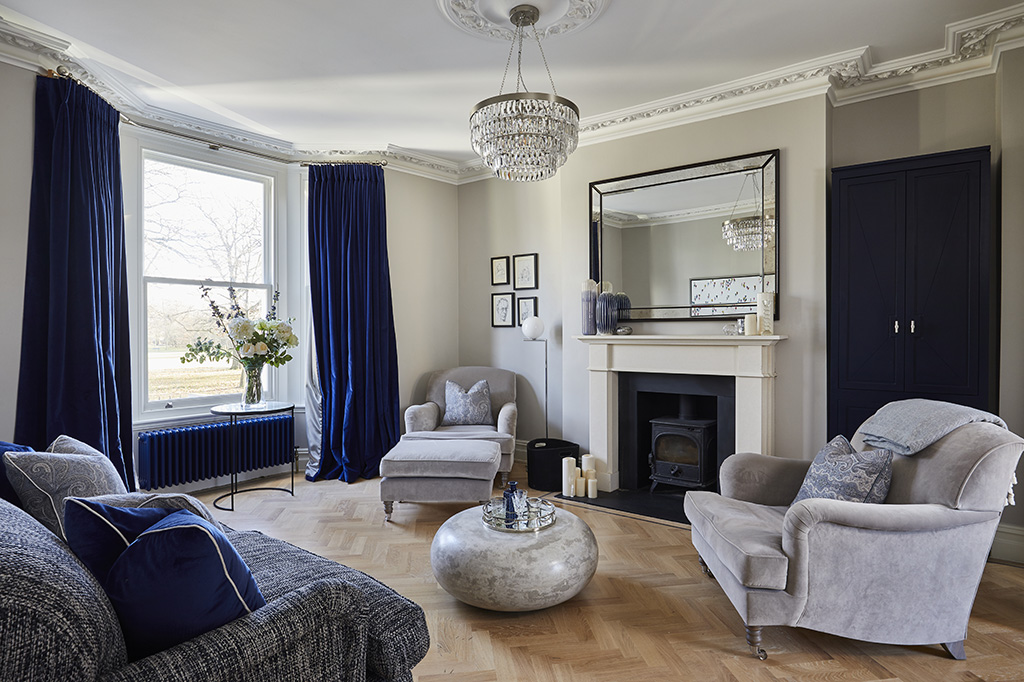 We used cool taupe wood, a classic deep blue/neutral colour scheme, and plenty of tactile curves to create the chic yet practical lounge in this Wandsworth Common townhouse
The creation of calm
A good interior designer should always ask when and who will use a space. I believe passionately in also focusing on 'how'. All of my consultations begin with me asking how my clients actually want to feel in a particular room. Where the living room is concerned, many of them want a sanctuary that allows them to feel quiet, calm and composed.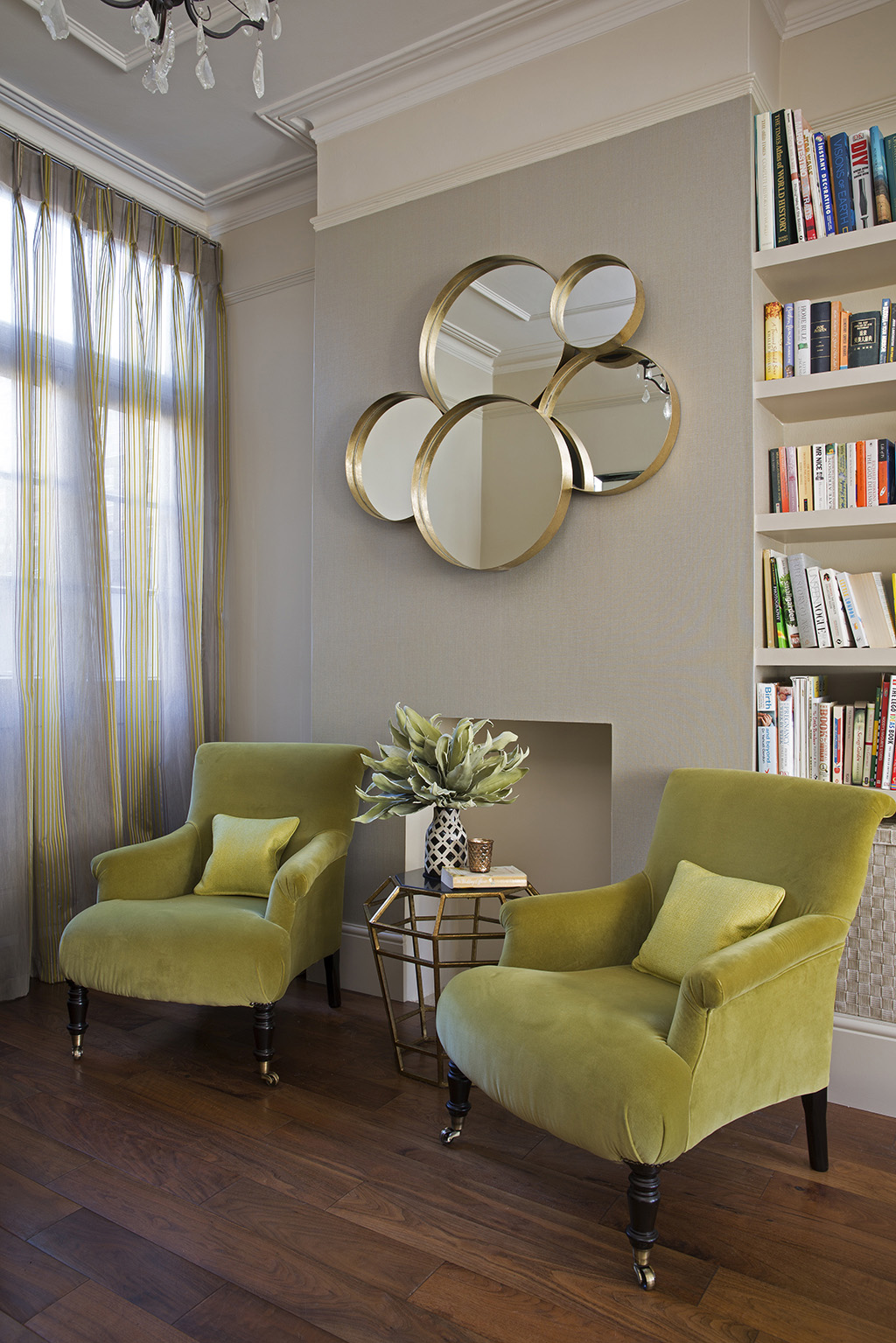 A new piano (not pictured), two gorgeous green velvet armchairs and deep shelves are key features in this client's tranquil reading/music room
For this type of living room design, I source and curate multi-functional elements. I might recommend a quiet reading corner, and/or create a zone specifically for adults to gather. It's especially rewarding to renovate unused spaces. My team and I recently turned a neglected rear living room within a period Victorian terraced house in Clapham into a music/reading room. A new piano, deep shelves to hold plenty of books, and two custom green velvet armchairs transformed this space into a serene and soothing haven.
Grown-up living room design
If you do a lot of entertaining, your living room design might need to include a glamorous, adult-only space. A lounge with a bespoke bar is the perfect solution – especially for Christmas cocktail parties! But a bar is for life, not just for the festive season. For our Wandsworth Common project, we added a comfy armchair to our 'bar zone' ensuring this area looks great all year round, and works equally well for quieter Friday night drinks.
Keeping things cosy
More and more of my London clients are requesting a living room design that incorporates cosiness. What we expect from our homes varies from season to season, of course, but cosiness isn't just a winter priority. Cosying up your home creates a warm, welcoming feeling all year round. And there are lots of different ways to achieve this.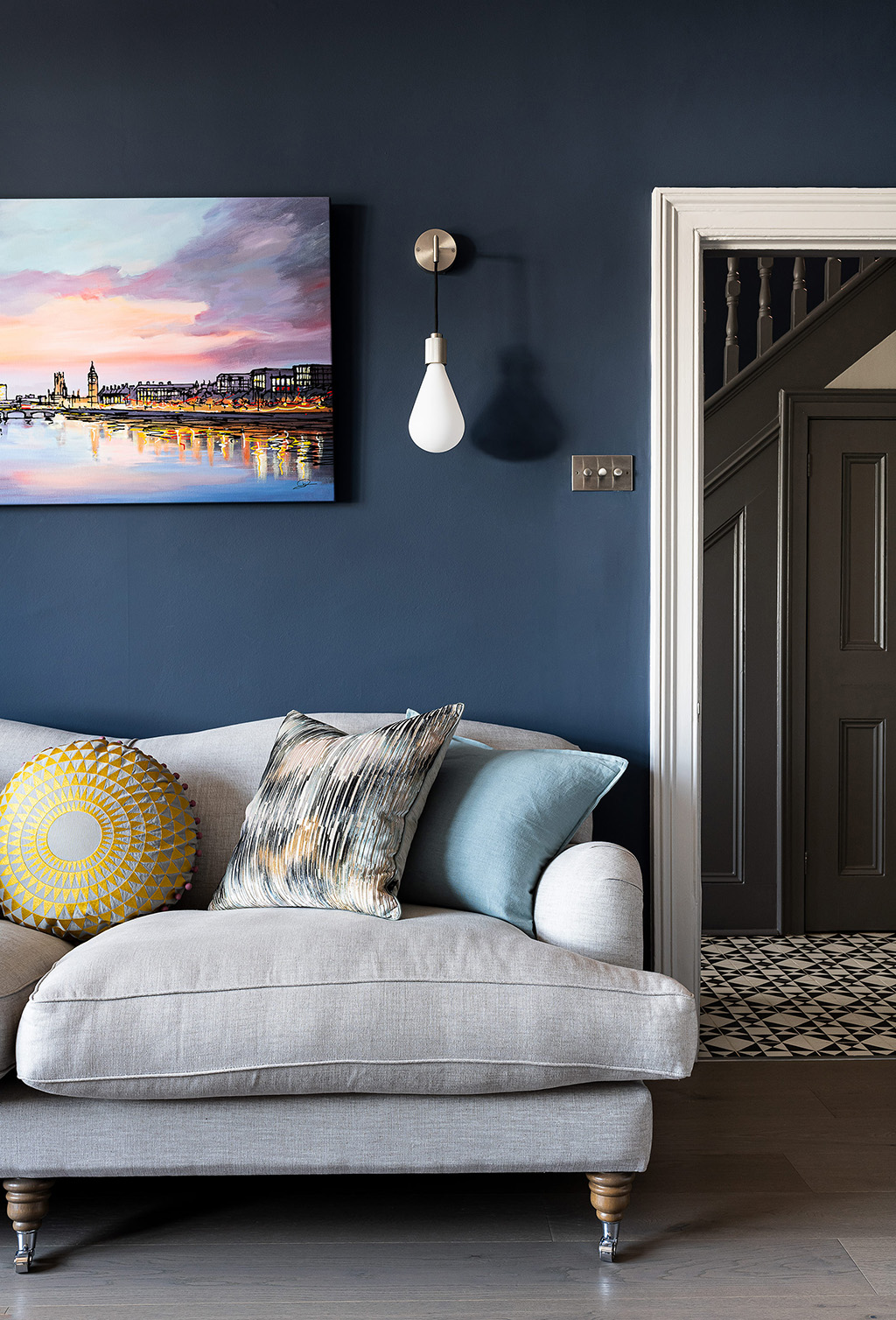 A soft, squidgy sofa adds comfort and cosiness to any living room design. I love to mix and match colours and textures. See how these silk and velvet cushions really shine against the natural linen – and pick out the colours of the London skyline artwork above
Start with your colour scheme. I'm known first and foremost as a London interior designer, but I'm also a colour specialist. The right colours and tones will always help to create a cosy ambience. Warm accent colours and metallics can be transformative. Certain biophilic design principles, such as natural materials and greenery, also help to keep things calm and cosy.
Layering textiles is another popular element of cosy living room design ideas. I like to mix and match different colours, sizes and textures. For example, accessorise a velvet sofa with a fur throw and a linen cushion. The rough and smooth textures work so well together.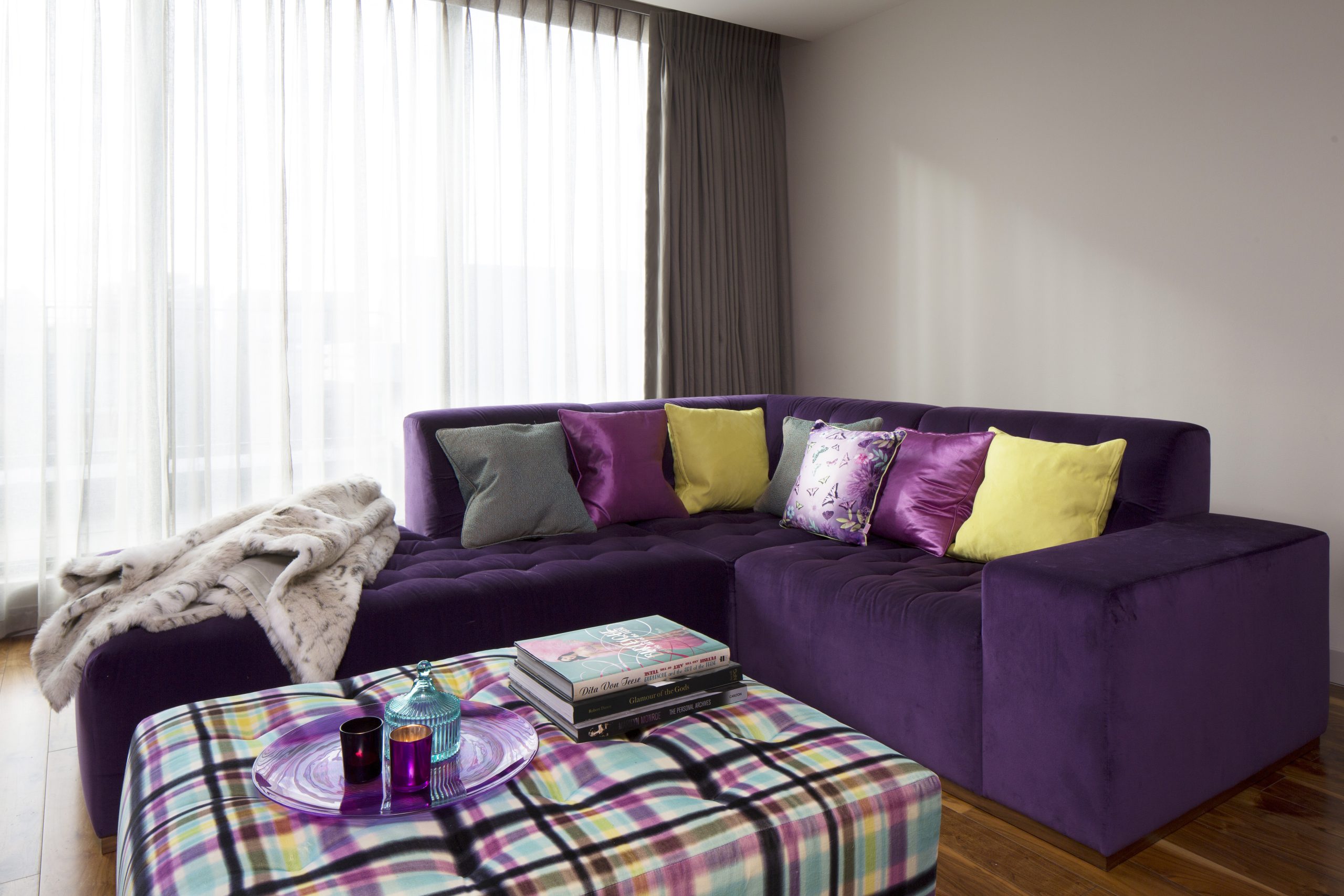 These rich, jewel-coloured cushions are the perfect complement for the deep purple sofa and oversized ottoman we chose for this contemporary Shoreditch apartment. We added a touch of warmth and texture with a soft, fur stole
Get the light right
Great lighting plays an integral role within successful living room design. To keep things cosy yet practical, I like to use a mixture of architectural downlights and spotlights in my lighting plans, together with a combination of table lamps, floor lamps, and the soft glow of candlelight.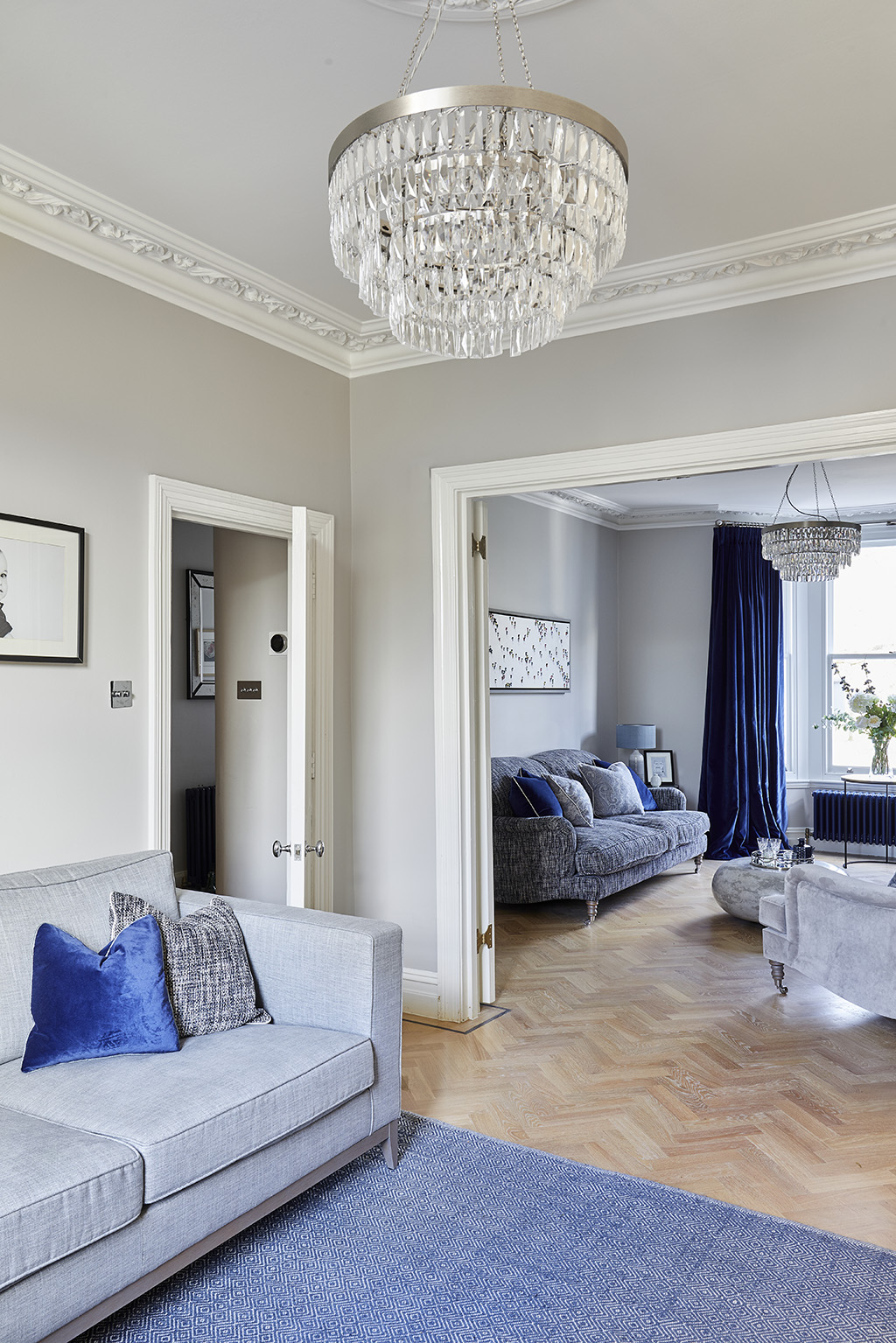 Let there be light: these statement chandeliers add a touch of sparkle and grown-up glamour to these front and rear London lounges
Create & curate living room design
For my clients, function and form are equally important. To keep your living room design super stylish, consider carefully what to showcase – and what to conceal. Avoid clutter, but add personality with a few, well-chosen decorative elements. And don't let your TV dominate your living room. Instead build it into a bespoke media unit. This ensures it's at the right height for viewing, but will hide away any unsightly cables.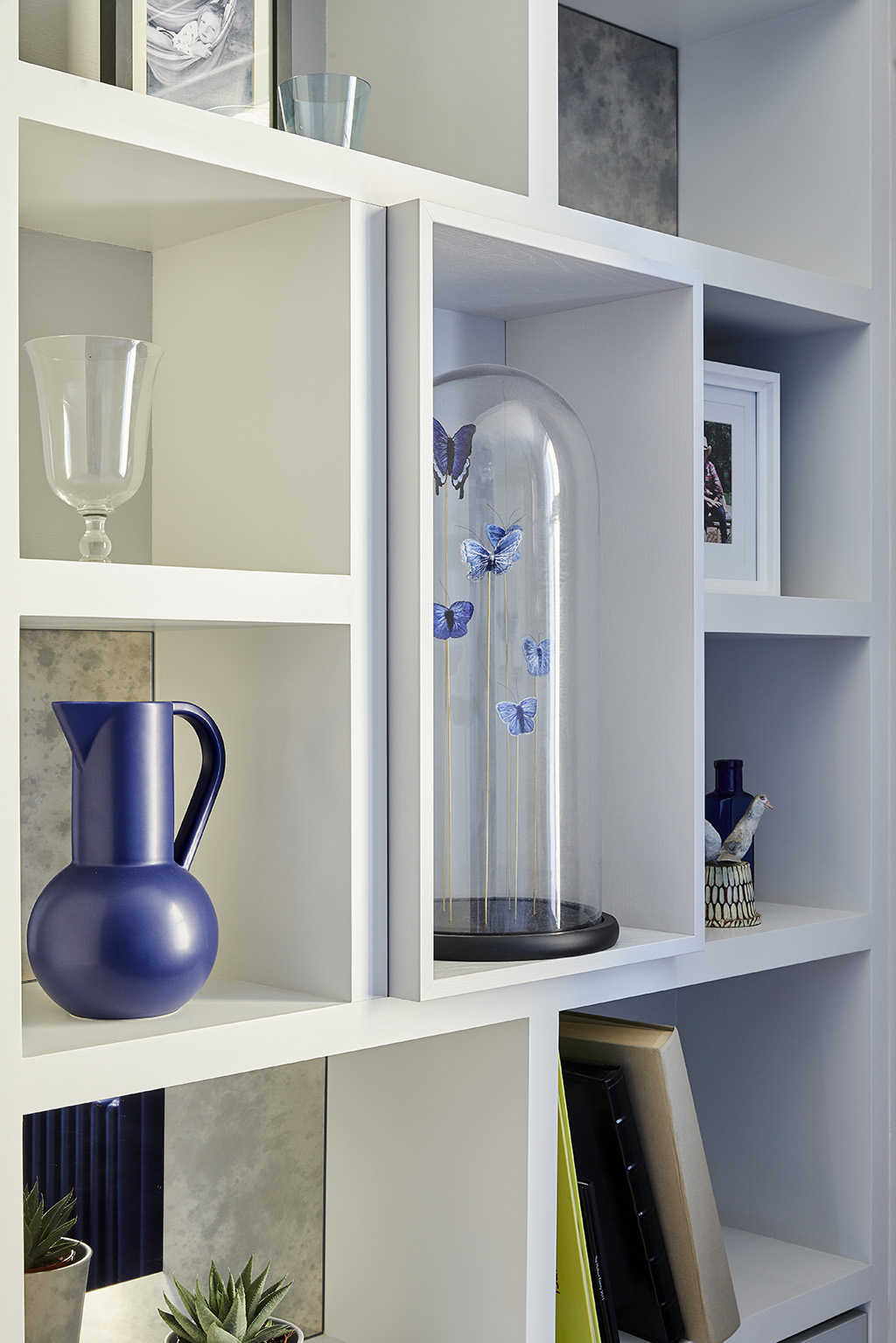 In the media room in this Wandsworth Common townhouse, we created a bespoke bookshelf to showcase the client's stunning silk butterfly collection
A neutral base is timelessly stylish. Materials such as marble and wood add a luxury finish – but do consider your acoustics. If all your surfaces are hard, the sound will be too.
Always eschew too much matchy-matchy. Don't be afraid to experiment, and mix modern pieces with classic items. This old/new contrast is a great way to add interest and edge. Lastly, be inventive! If your living room has no natural focal point, such as a fireplace, create your own with modern art instead.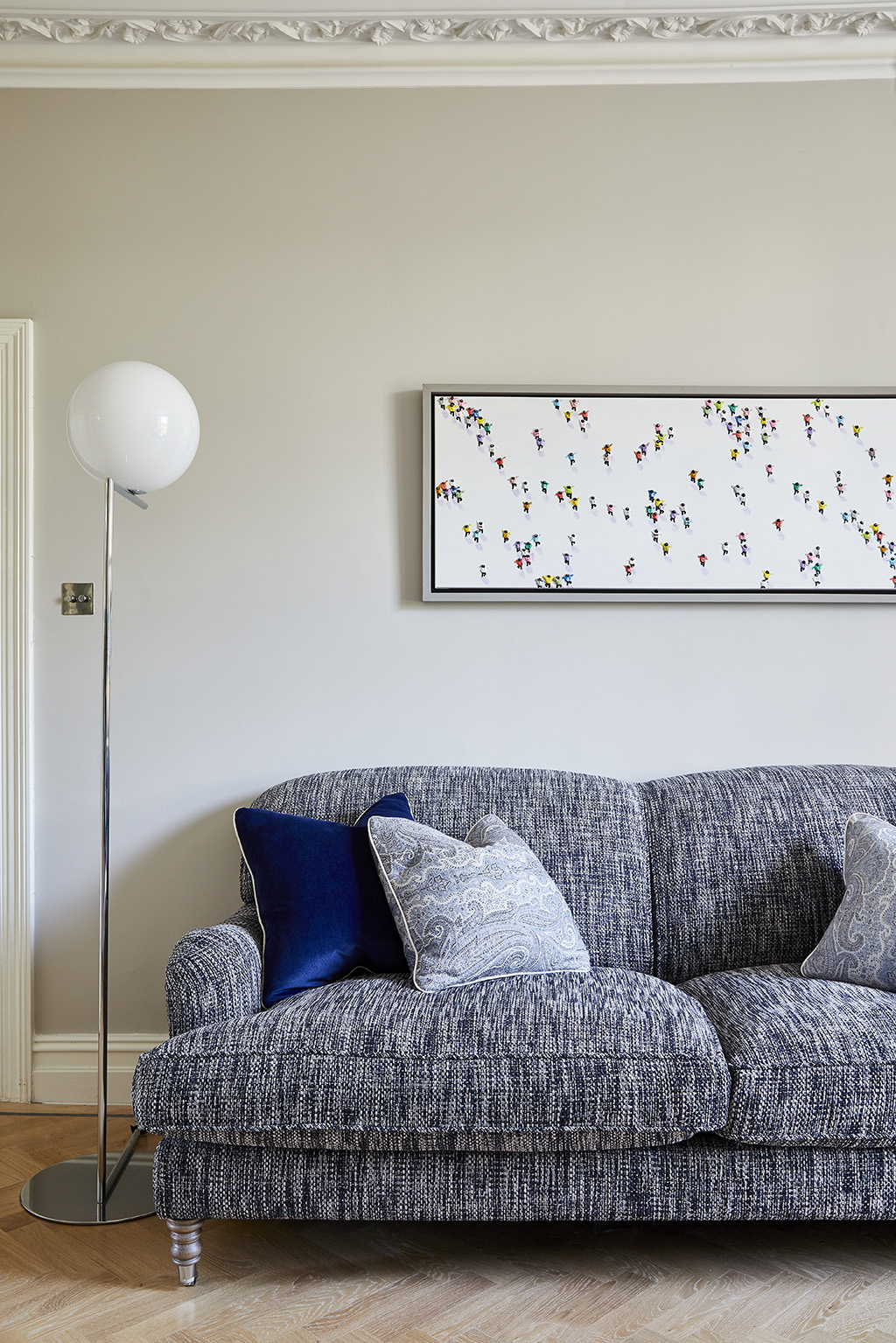 Artwork is a wonderful way to add a focal point to your living room. And don't be afraid to mix modern elements with traditional pieces – in this case, a traditional sofa shape with a contemporary Flos floor light – to create a unique style statement
Ready to embark on a New Year interiors transformation? Click here to learn more about our full-service design