Do you know the differences between custom and bespoke? We often use these terms in the world of luxury interior design to describe furniture or furnishings, which have been made to suit your own individual needs. In short, custom describes a pre-existing design, which we then tailor for you. Bespoke could be a completely unique piece, such as a sofa, cushion or even a cocktail cabinet, for example. However, we will design this piece from scratch, working closely with specialist furniture makers.
Custom furniture & furnishings
At Emma Green Design, we specialise in designing and creating curated custom pieces of furniture. This comes as standard within our Full Service Design package. So, we not only design and plan the space but furniture and furnishings, too. We may well choose bespoke furniture for a particular space. However, there are some superb luxury pieces on the market that we can customise to suit your unique space.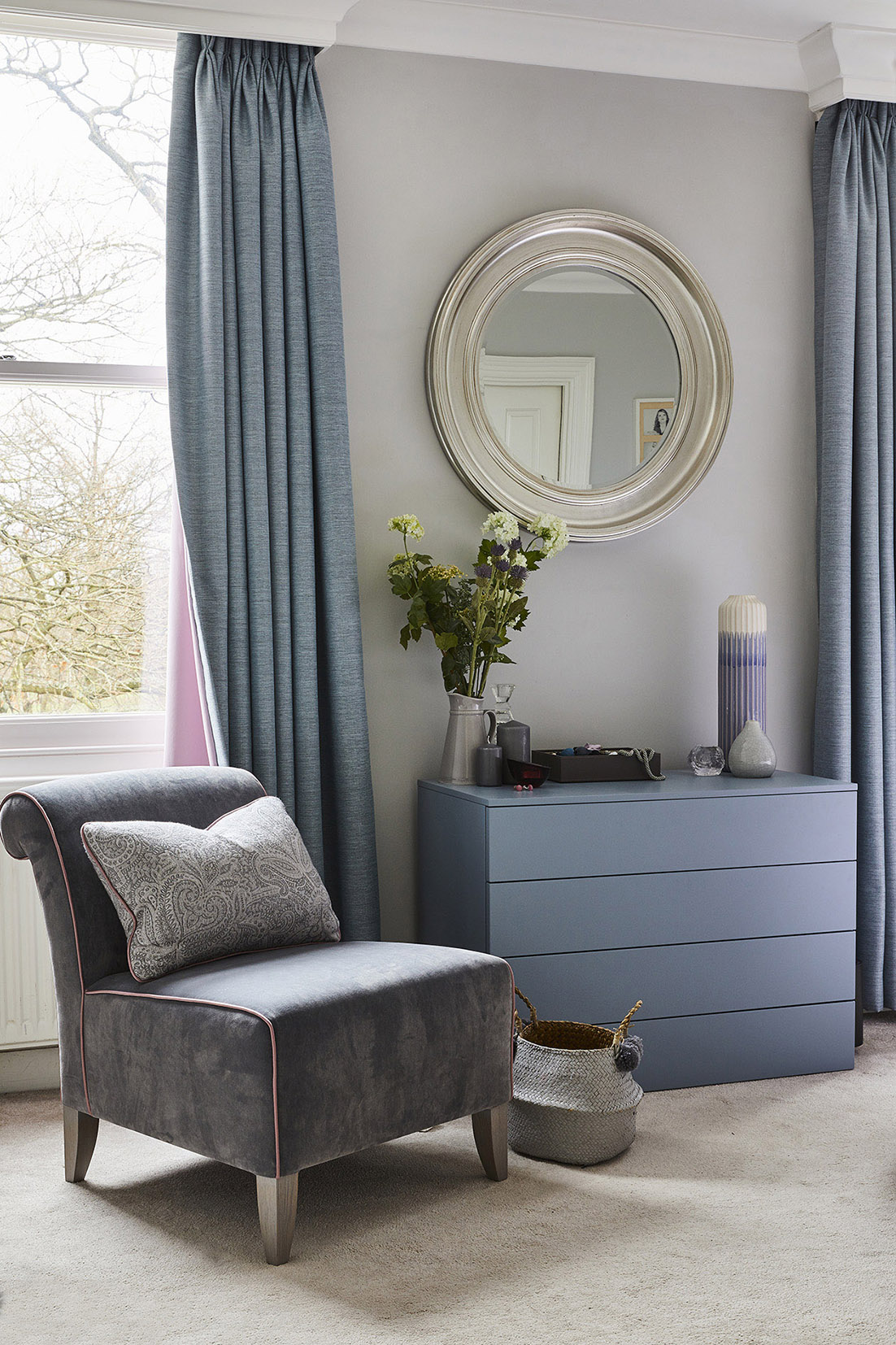 We designed this custom furniture in a property in Wandsworth to complement a master bedroom with opulent grey velvet. This material is durable and the colour and style works well with the rest of the scheme. Pink piping matches the fabric on lampshades in this room exactly, which is only an option if you choose custom design
Luxury living that lasts
Whether you are looking for a simple or complex piece of custom furniture, we look at the pre-existing master design. Then we tailor this to fit to your exact requirements. Here, our mantra is 'luxury living that lasts', which means we create timeless one-off pieces that look stunning. However, we also ensure these customised creations will accommodate day-to-day family living and stand the test of time.
We create original concepts with meaningful, unusual custom finishing touches, from brass trims to luxury fabrics. Working closely with carefully selected master craftsmen, we design every detail, which they then produce using time-honoured techniques. As a result, you can feel confident that the finished product will meet every expectation. However, your custom furniture will also last for years to come thanks to the high-quality design, materials, finishes and build.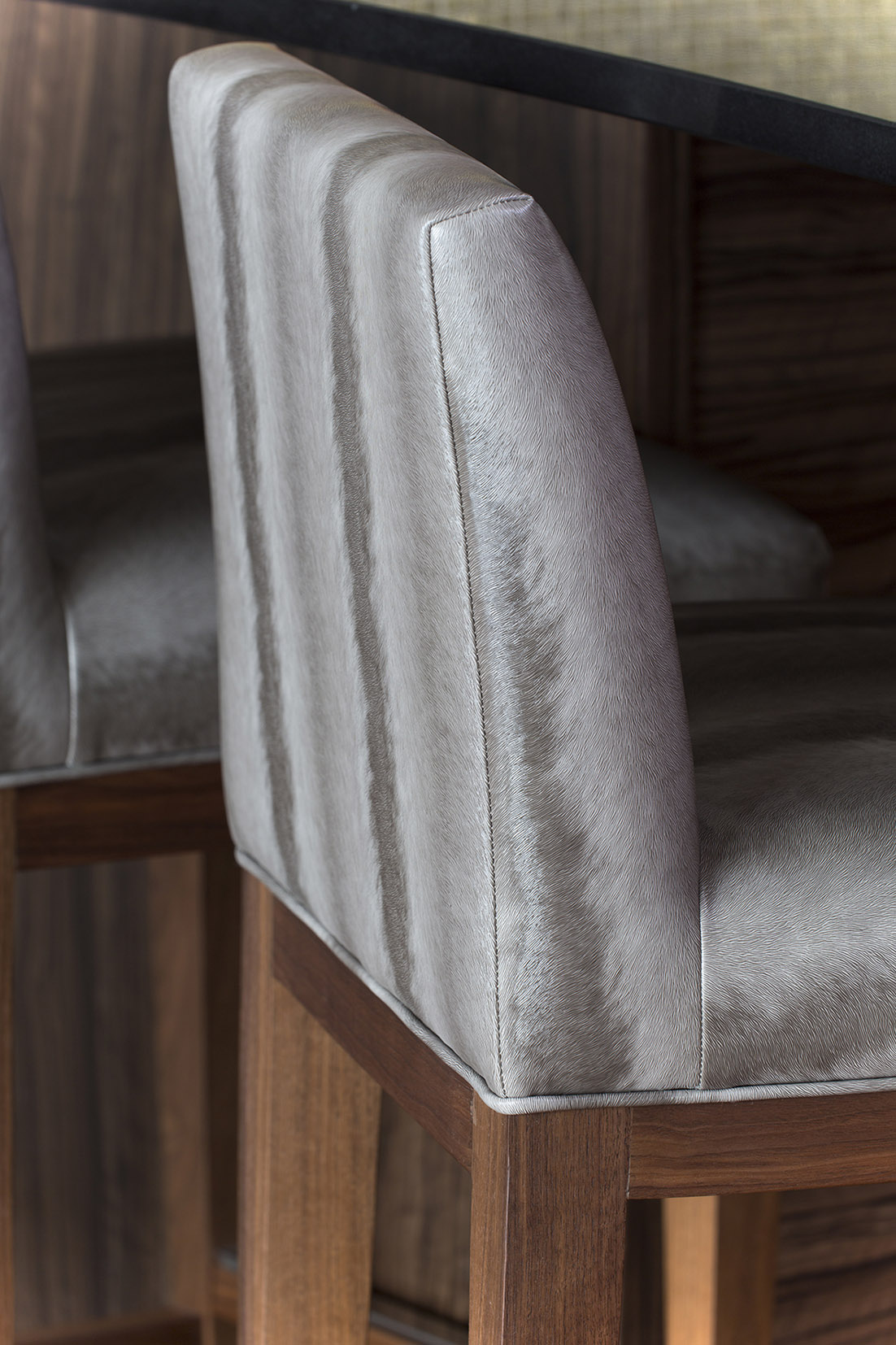 In this kitchen in a Shoreditch home, we created custom bar stools with legs to match the existing wooden floor. Also, our client requested seating with backs for comfort when eating at the breakfast bar. We chose faux leather, because this is not only glamorous, but also hardwearing and wipeable, making this an ideal choice for a functional, stylish, kitchen
Adding personality with custom furniture
We ensure every piece (this includes bespoke furniture) reflects your individual personality and lifestyle, and showcases new and on-trend materials and finishes. This way, our custom furniture will provide you with the exact colour, size, pattern and features. We will also always work within your budget, which means we can consider a wide selection of materials while focussing on quality. So, we may peruse different woods, veneers or metals and will still create a unique combination to suit you.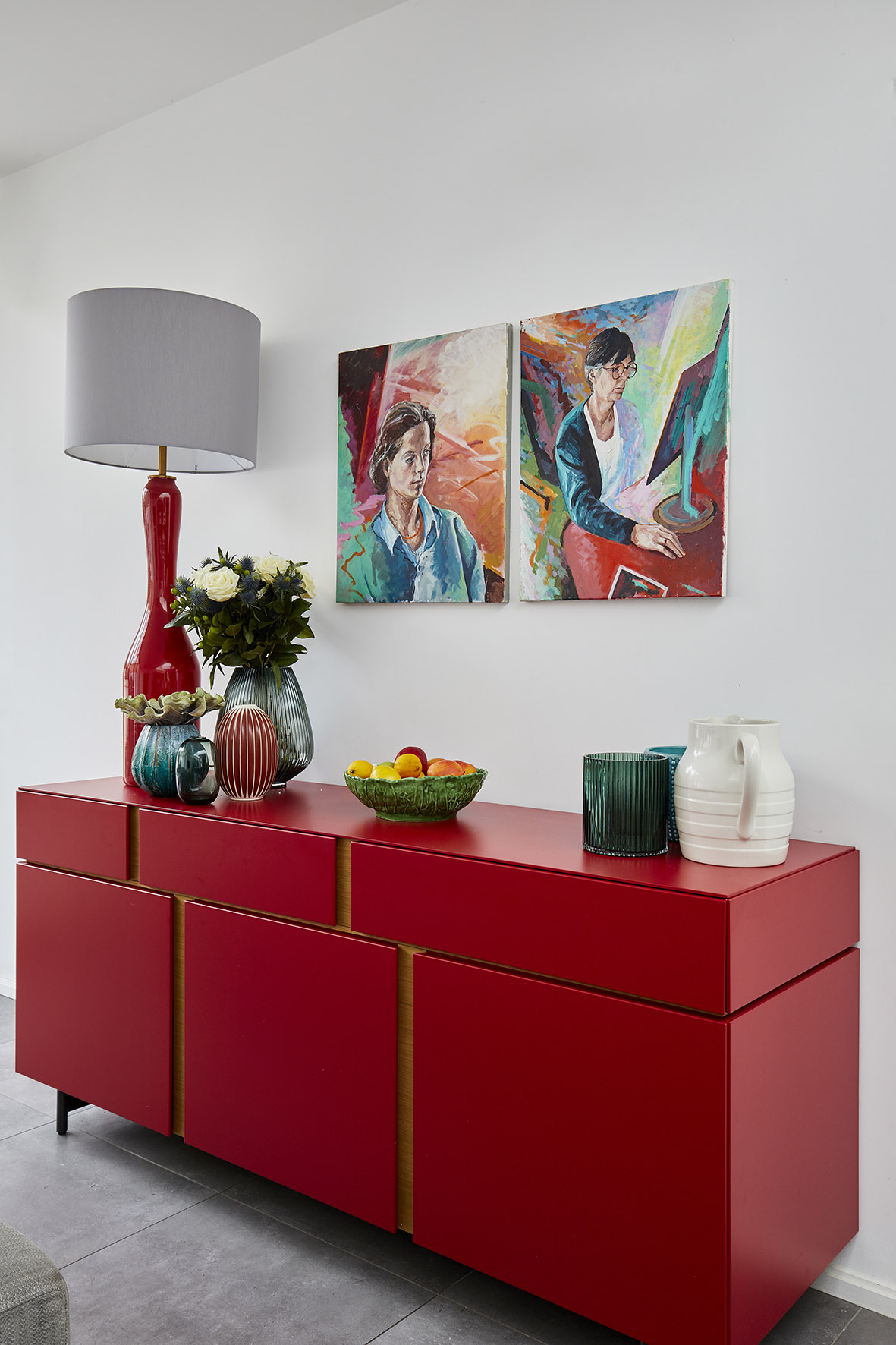 Sometimes, we will create custom furniture with very slight amendments. In fact, this sideboard in the family space in an open-plan kitchen in a townhouse in Wandsworth is one such example. We designed this to accommodate storage, from plates and vases to place mats. However, we wanted this to be a statement piece, which would add a splash of colour to the kitchen space overall. We chose red to match the exact same shade in the homeowner's artwork, so this colour is custom. Other custom aspects include the metal legs and contrasting wood on the cabinet behind and around the red doors, which tie in well with the kitchen units
Form matches function
At Emma Green Design, we consider both the form and function of every piece, which we describe as 'ease of glamour'. So, you can expect practical, yet luxurious, custom (or bespoke) furniture. We take every practical consideration into account, too. Who will the piece be for? Which functions will it need to perform? Where will this furniture be positioned, in the sun, for example? How often will it be used – this is where we may check the rub test of the fabric sample to ensure its durability? Our AutoCAD drawing technology enables us to achieve precision, so your design will be accurate with meticulous attention to detail.
The integral link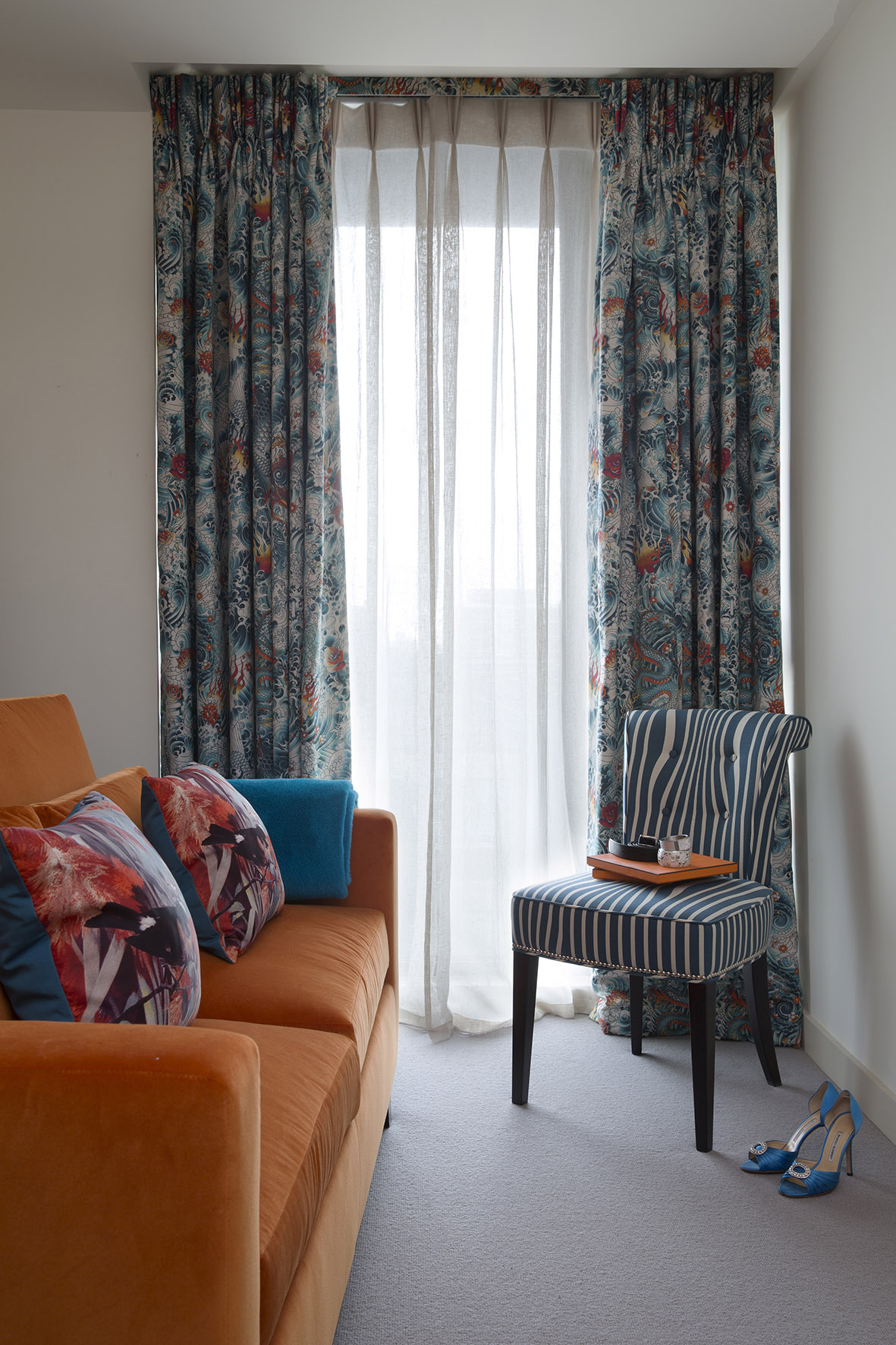 In this Shoreditch apartment, we designed this custom sofa bed in a durable fabric for this compact guest room come dressing area. We picked this tangy orange shade, which our client loves, to add vibrancy and create impact when entering this space. We picked the occasional chair in an unusual blue animal print fabric to add a quirky addition
The link between an interior designer and custom furniture can be integral. We will consider the entire room's flow, size, shape and where the custom furniture (or furnishings) will sit. We will also incorporate the piece into the room's wider scheme and consider the ergonomics of the piece and space around it.
You can sit back and relax while I handle every detail of your custom (or bespoke) furniture for you. Using my wealth of experience and skills as an accomplished interior designer, I enjoy weaving intricate details into every bespoke and curated design using my own established, trusted process.
If not managed well, this process can feel fraught and disorganised. After all, there are multiple decisions to make, from furniture styles to finishes, such as tiles. Too much choice can feel so overwhelming and time-consuming. So, this is where my organisational skills come in as time is the new luxury!
Our custom furniture process
There is no doubt that custom furniture (and bespoke furniture) must be precise by its very nature. After all, specifications need to be exact and we need to consider all the finest details. At Emma Green Design, thankfully we follow the same trusted process you can expect from our other services.
The consultation
To start, I want to make sure you enjoy the process. So, we discuss your ideas as part of a full brief in my initial consultation. This enables me to find out who, when, how and what will be using the space and how you want it to look (or not look). I think it's important to discuss how you want your customer furniture to make you feel and the type of home you live in. For example, if you have a busy family, we'll need to consider a range of factors, from durability and practicality to material safety matters. We can then balance these with ways in which we can achieve a luxurious finish for you.
The design process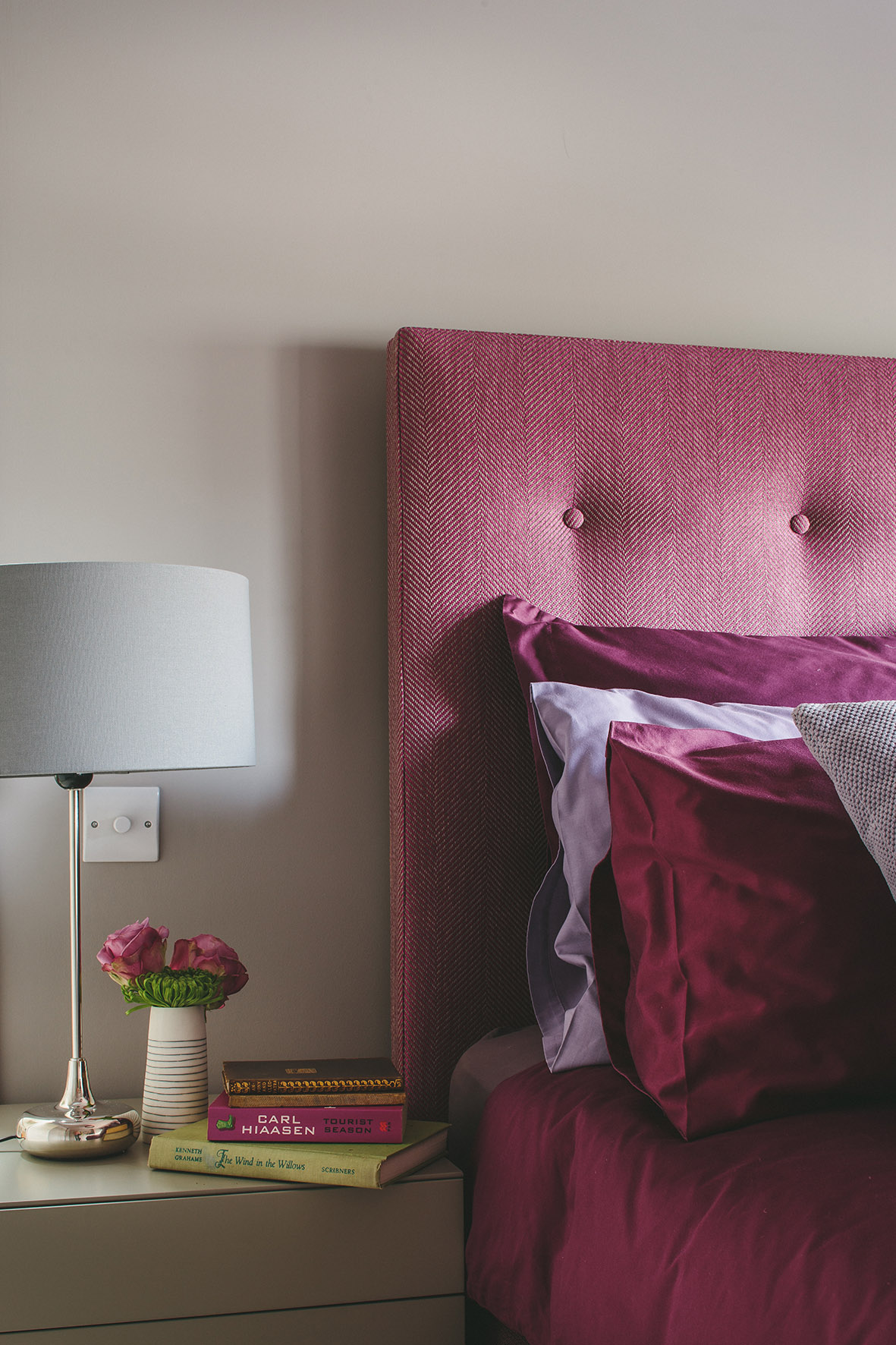 In this West London home, we designed this custom headboard for a stylish guest bedroom. This hard-wearing fabric features a herringbone design which instantly adds texture in a deep pink shade. This colour adds more depth to this design with an inviting touch, when it's time to go to bed
We check and measure the space around the piece, draw up plans and consider every element for its use and beauty. However, we also ensure that the available space is apportioned. Then we work on the finishes and provide you with a variety for your custom furniture and/or furnishings. This way, you won't feel overwhelmed by all the styles, patterns, sizes, materials and so on.
Using our expertise as interior designers, we can also make the right suggestions to help you make your preferred choices. With our distinct knowledge of fabrics and finishes, we know what's available where, what will work and how to give your design the wow factor. Then, when it comes to the build, we work closely with trusted craftsmen, discussing every detail and managing their process, right up to and including when your custom furniture (and bespoke furniture) is installed.

In this Wandsworth family home, this custom sofa and bespoke cushions, in the rear of this shot, features luxurious blue weaves. These reflect traditional elegant period features in the adult entertaining area. With a custom pale grey oak colour for the legs and nickel feet, these complement silver accents and grey and blue tones in this room perfectly. You can also see the full benefit of custom design in the media area at the front of this reception room shot. This space is modern and features a sleek, angular sofa in a cool, durable linen, which picks out the paler tones of the cushions in the front reception room. The parquet flooring throughout pulls this scheme together
Why not ask us to help you design your own custom sofa, for example? At Emma Green Design, we understand you will require a special piece, which will fit proportionally and maximise the use of the space. However, this will also need to work beautifully with the colour scheme and we'll need to consider how it will be used in the room and by whom. Last, but not least, we will ensure your custom furniture will look super-stylish and be built to last. We pay precision to detail when it comes to every process so we consider the:
Sofa size, style & shape
Size of your space and plan this carefully to see which scale will work best in the room
Style, which could range from transitional through to classic or contemporary
Shape that will work well in the available space, from standard and corner to curved or u-shaped. Modular can also be a consideration, if you're looking for flexibility with the ability to move different pieces around to suit changing needs
Property access
Access into your property and the room itself so the installation will run smoothly and you won't have to remove windows to fit it in!
Filling, finishing & the frame
Best filling to use. We will look at exactly how firm you would like your sofa to be, whether you like to plump your cushions and take any allergies into account
Finishing features, such as which metal to choose for studs to complement the decor or which contrasting fabric colour could be used for piping
Frame material – if you choose wood, we will think about the colour and tone and whether this will work with existing wood features in the rest of your home
Fabric details
At our fingertips, we have a little black book of trade suppliers with exquisite, unusual, eye-catching fabrics. With unlimited access to these, we can really make your scheme pop
Fabric, which could affect our decision for those with families and/or pets. Durability, for example, is an important factor so checking its test results will be key. Is the fabric easy to clean and/or is it stain-resistant?
We will also think about the position of your sofa in relation to the sun. Will the fabric fade easily and which material will perform the best over a period of time?
Safety, delivery & care
Safety. Is the material fire-proofed or should we send this away to be treated first?
Sofa delivery. Checking the lead time and ensuring there is a clear delivery time and date with parking for the installation team
Sort of service. Is this white-glove and will they take away the packaging?
Where exactly should this be delivered?
Sofa and property condition – does the sofa have any faults or damage? Is you home in the same condition it was before delivery?
Cleaning and care instructions are left with you
The finer details
Which cushions make the sofa stand out and will complement your décor
Find out why bespoke joinery may help you enhance your home and reflect your individuality here