Why should anyone hire a home interior designer? As an experienced, successful professional in this field I can think of so many answers to this question! In fact, there's a misconception that home interior design is prohibitively expensive – a service that's the sole preserve of the super-wealthy or the elite. And, if you've never used one before, I understand that hiring a designer might seem a little daunting. But the right home interior design professional has so much to offer, in terms of knowledge, experience, resources and contacts. That means we can save you money, time and stress, and deliver the finished project of your dreams.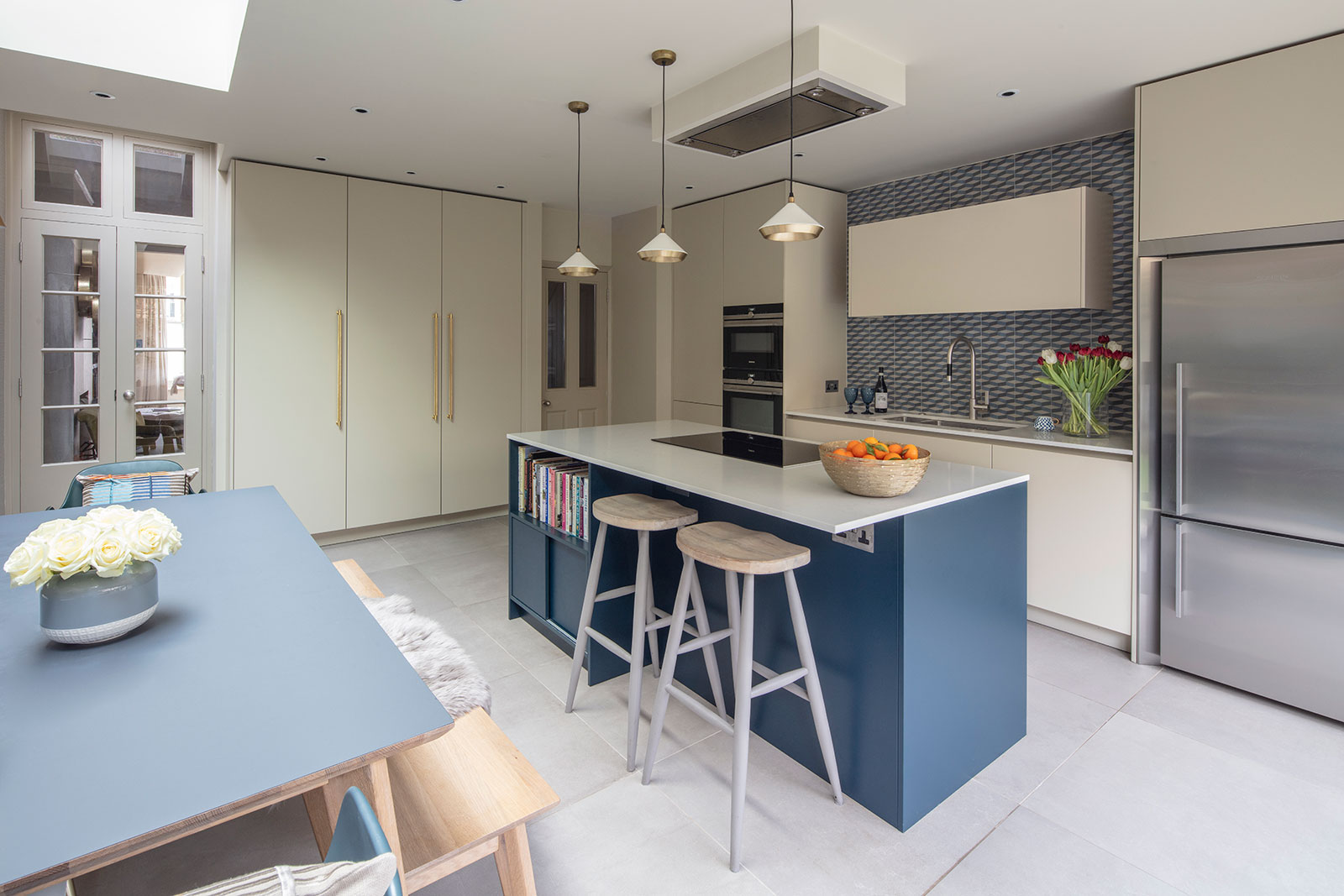 Kitchen renovations, like our Clapham project, take time, money and effort to get completely right. A professional interior designer will offer invaluable insight, experience and inspiration, to create a room scheme that's truly unique – and perfectly suited to the client and your lifestyle
Giving you what you want
Sometimes potential clients don't really know what they want. Or they do know – but don't quite know how to express it, or achieve it. I specialise in creating transitional interiors for busy executives with families who may have upsized, but feel overwhelmed about how to transform a new, spacious property into a stylish, functional home. This is where a home interior design professional really comes into their own. I handle every meticulous detail, using my wealth of experience and skills, which I weave into every bespoke and curated design via an established, trusted process. This leaves you to spend more time doing the things you love, in the beautiful surroundings of your family home.
Some clients are reluctant to use strong colours in their home. But choosing the right shades – and the right tones – is a wonderful way to add interest, a dash of personality, and brighten up a room scheme
The benefits of full-service interior design
Handing over a project, in its entirety is, I truly believe, the best way to bring your interiors vision to life. Full-service design (also known as a turnkey service) involves every single element of a project, from start to finish. To summarise, our full-service design option is basically a great partnership between our clients and my team. We design the concept and handle all the details. We fulfil the function of design consultant and concierge, project manage every detail, take care of your investment and assist with the purchase and installation of all fixtures, fittings and furnishings.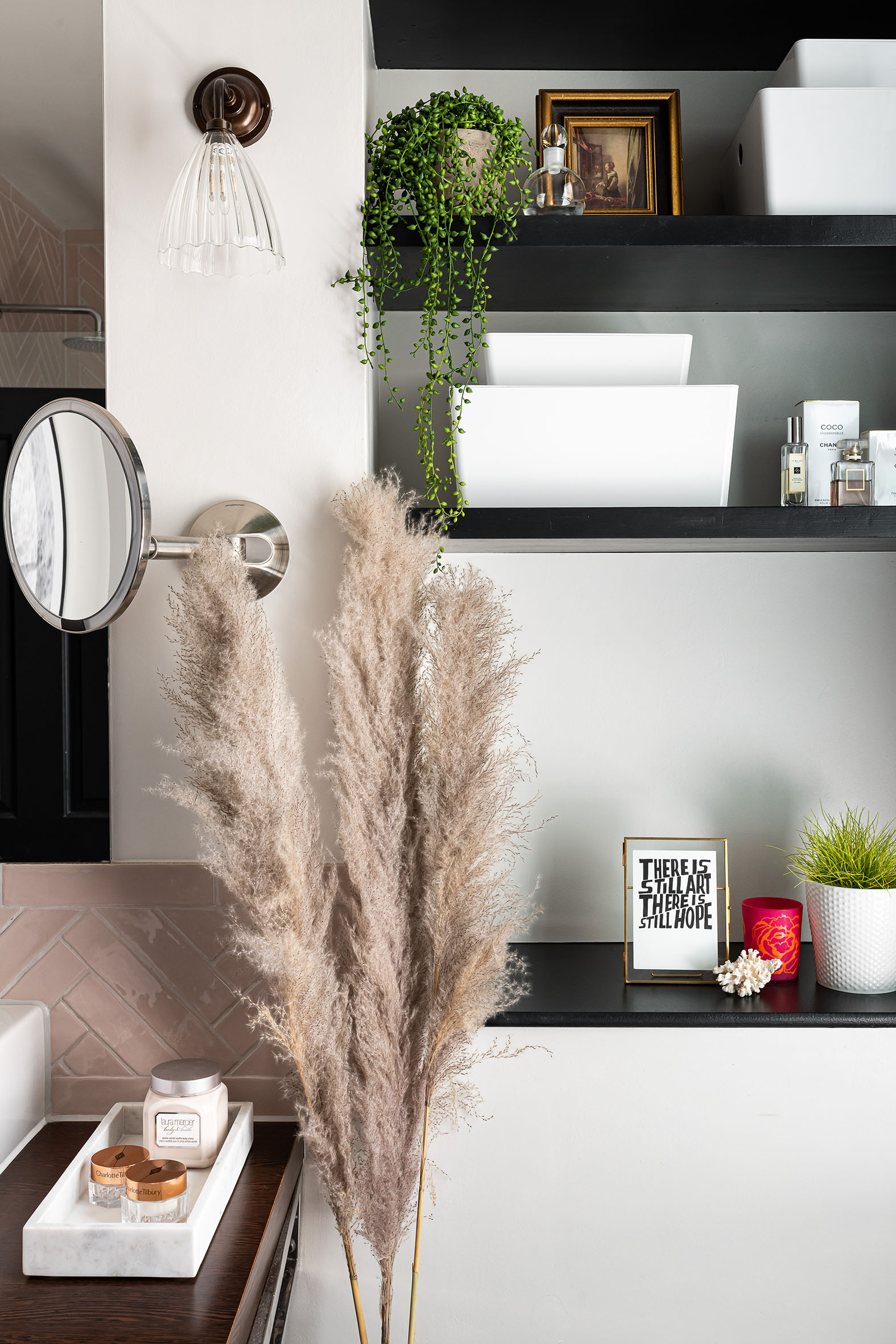 Don't know where to start (or even envisage the finish) of a home interior design project? Our full-service design option – which incorporates everything from architect liaison to paint colours – could be the solution
Saving you time
Redecorations and renovations can't be rushed. Time is the new luxury – nobody has enough of it. So why waste yours? Whether you are running a business, a family, or both, the hours can feel never-ending. This is where we can help. Hiring a home interior design expert saves you time. You won't have to spend precious weekends furniture shopping, trying to decipher an architect's plan, dealing with contractors' quotes, or trying to pull a colour scheme together.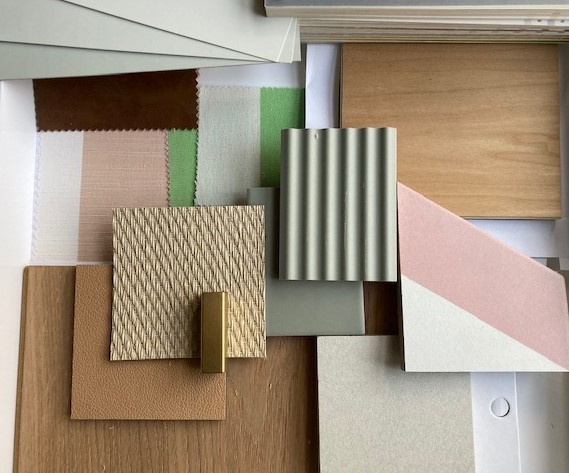 A sample or 'vibe' tray is a wonderful way to showcase proposed fabrics, finishes and materials. This selection is for an exciting pool house project my team and I am currently working on
Saving you stress
Redecorations and renovations can be stressful. We deal with any difficulties or delays, so you don't have to. Employing an interior designer means you won't have to chase deliveries or stalk sub-contractors, or deal with any difficult conversations. You just read the weekly report in your inbox, and get on with your life. Working with a professional is, without a doubt, the best way to take away the stress of renovating your home.
We eliminate the 'overwhelm' from the very outset. At Emma Green Design, we bring a calm, organised approach to what can be a disorganised and fraught process – if it's not managed well. In addition, we excel at problem-solving. My 20 years' experience is invaluable when it comes to quickly thinking of solutions for any unexpected issues that may arise. We relish a challenge, and love to solve our clients' design problems in a thoughtful, detailed and honest way. How we do this is just one of the reasons our clients hire us over and over again, and recommend us to their friends. I'm an advocate for my clients throughout the home interior design process – but always add a dash of humour where necessary!
We chose pretty pastels for this bedroom – part of a comprehensive Wandsworth Common home refurbishment project. As a colour specialist/consultant, I know what a powerful interior design tool colour can be, and how to use it to transform the mood and function of a room
Saving you money
It might seem counter-intuitive, but hiring a home interior design professional will actually save you money. It's the best way to avoid making costly mistakes. As an experienced interior designer, I know what works – and what doesn't. My team and I work with you from the initial briefing and design concept stage, right through to procurement, implementation and installation. We ensure that deadlines are met, and budgets adhered to. We know the correct prices to pay, how to reduce unwarranted expenses and make every penny of our investment count.
An interior designer will MAKE you money, adding maximum value to your home both now or in the future.
If you're thinking of selling your property, now or in the future, it pays to have a well-designed, practical, yet timeless, home. This is where a good interior designer will help boost your home's attraction to potential buyers. We can also enable it to stand out from the competition and usually help you to obtain a premium price. This is an important factor, in pressured property markets such as London, the Cotswolds, Surrey and so on.
It's always good to get feedback from clients and you can see some of the testimonials elsewhere on my website. This is one such example, which provides a case in point:  "I wanted to let you know that we have sold our house. We put it on the market last week and had a number of offers the same day! Everyone loved the decor and I just wanted to say thank you very much for your help. I think the master suite definitely sold it to a lot of people!"
Investing in yourself is also about living your full and hectic life, alongside your renovation or design work. When professionally managed, we can honour your valuable time. So, this can continue with your peace of mind and your full lifestyle intact.
Our design approach and values
Deciding to hire a home interior design expert is only the first key step. Ultimately, the success of any project depends on hiring the right one for you and your family. So, it's vital to take a professional's design approach and values into account before you make any decisions.
I think our values are clear and concise:
Friendly & fun: Never pretentious and always approachable. You can depend on us to bring your vision (or even vague ideas) to life
Honesty: I tend to say it how it is and do what I say, which is fundamental to my process
Hard work: Our meticulous design process makes your experience seamless. We check everything to ensure no detail goes unnoticed
Gratitude: Always grateful to have clients who truly appreciate the value a luxury design service can bring
Passion:  Passionate about design and colour, and helping you discover your desires and preferences. It's our zone of genius or magic sauce!
Vision: Have a strong vision for the space borne out of our in-depth conversations with you early in the process. Our unique process for getting to know you, produces a design you love, which is truly yours.
We pride ourselves on understanding our clients' needs from a lifestyle perspective. Beautiful designs are pointless if they aren't also practical. I want to create homes that adjust to families' lifestyles, and function in line with their needs, while still telling their own story for years to come.
My team and I are known for creating beautiful, original and timeless spaces that work. In fact, our design approach is all about producing a cohesive story that flows from room to room, with carefully curated pieces. We create unique designs that blend the preferences and styles of each person living in your home.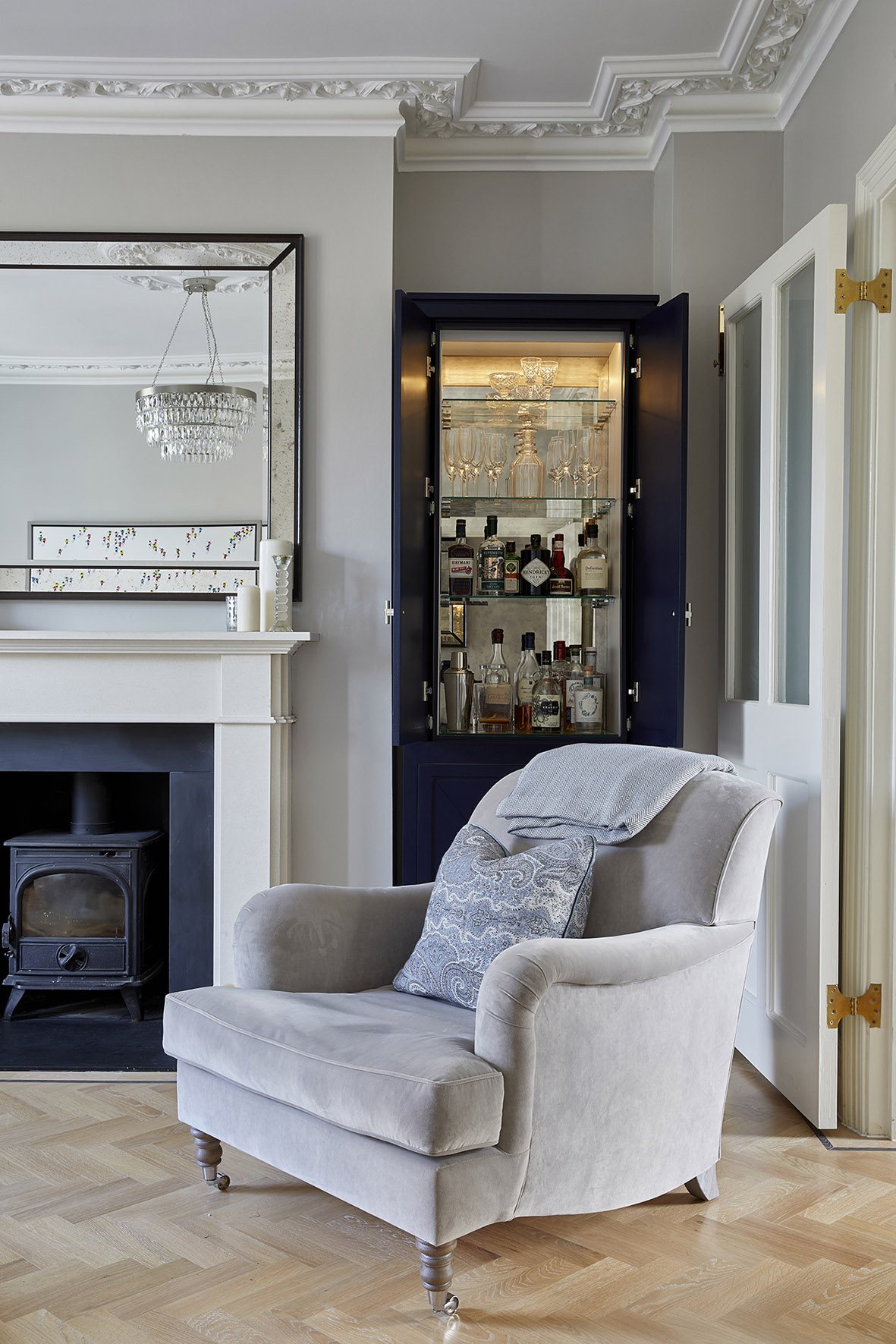 Bespoke joinery is part and parcel of the work we do. After all, this attention to detail can make a huge difference to an overall room design. This bespoke bar is one such example, which we designed to fit neatly into this alcove, working closely with specialist joiners
The advantage of expertise
We know how to update classics, blend the masculine with the feminine, and combine new and old in a refreshing way. We are also passionate about colour, and pay meticulous attention to detail. And, while we take home interior design very seriously, we consider ourselves to be fun and friendly. In addition, we are never pretentious, always approachable, and absolutely honest. You can rely on me to say it how it is – and to do what I say.
If the notion of full-service interior design appeals or perhaps you'd like a designer consultation instead, we offer these services and more so please get in contact here for more information.