Sometimes it takes us a little time to discover what we're really meant to do in life. Certainly, my route to becoming a London interior designer was somewhat circuitous. I originally studied law at university, and enjoyed a successful City career in legal recruitment before finally following my dream and enrolling at the KLC School of Design. I set up my own business in 2008, three years after graduating, and gaining invaluable experience at two prestigious design companies.
How I became a London interior designer
Looking back, it seems strange that I never really considered interior design as a career option from the outset. My father was a surveyor for a brewery, so I grew up surrounded by plans, drawing boards and real-life interiors transformations. As an adult, I was constantly renovating my own home (and a rental property) – I even remember being asked then if I was a professional designer! One day, I had a light-bulb moment, and knew I had to do what I really loved and was passionate about. The rest, as they say, is history.
At KLC, I won the Nina Campbell Award for Best Classic Interior Designer and I'm now a Full Member of the British Institute of Interior Design (BIID). In fact, I've worked hard to build my business into one of London's premier custom luxury interior design studios. That said, the experiences of my first career are certainly not wasted. As a busy London interior designer, I make good use of my business and legal background, problem-solving skills, and painstaking attention to detail every day.
My mission as a London interior designer
I specialise in full-service interior design, working with clients to create expressive, yet practical, homes using carefully selected décor and workable layouts. My mission is to create beautiful, original and timeless spaces. I take great care to make sure each project is truly unique, by incorporating unexpected and meaningful custom touches.
In fact, I think the way in which I approach each project as a London interior designer is key. In a world of noise, I take time to truly listen to my clients. Of course, practicalities are important. But, in addition to asking when and who will use a space, I also incorporate 'how'. In fact, I always start with asking how my clients actually want to feel in the space. Most people require their home to feel welcoming, stylish and comfortable. I help clients work out their best way to live, designing homes that reflect who they are and what they do. I aim to delight my clients, by creating interiors that are beautiful, practical and accommodate all their needs.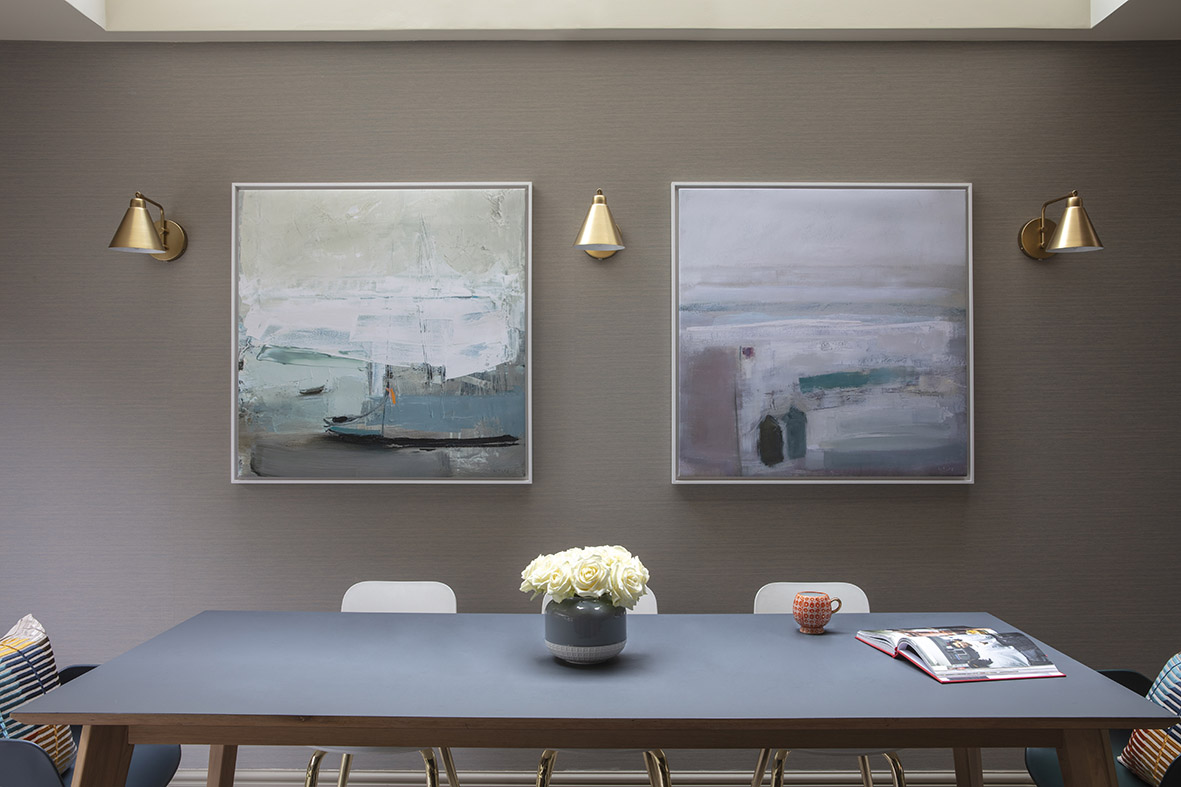 Emma always starts by asking clients how they want to feel in their space, in order to create interiors that are welcoming, stylish and comfortable
My style & specialties
I'm a London interior designer and colour specialist. I have a great eye and I love putting schemes together, mixing unusual colours, and adding an unexpected twist here and there. Clients can sometimes be reluctant initially to use colours in their home. I understand that this prospect can be intimidating if you don't know how to use it. And, of course, I can create neutral schemes too. In fact, my favourite trend this year is the re-emergence of warm neutrals. They are very forgiving in our colder UK light!
However, when I do use colour, I make sure it's with sophistication, so it isn't scary. I also love working with different textures. Lighting is another big passion of mine and a good design can totally transform a room/space. I create lighting schemes, which can include everything, from spotlights and wall lights to decorative lighting.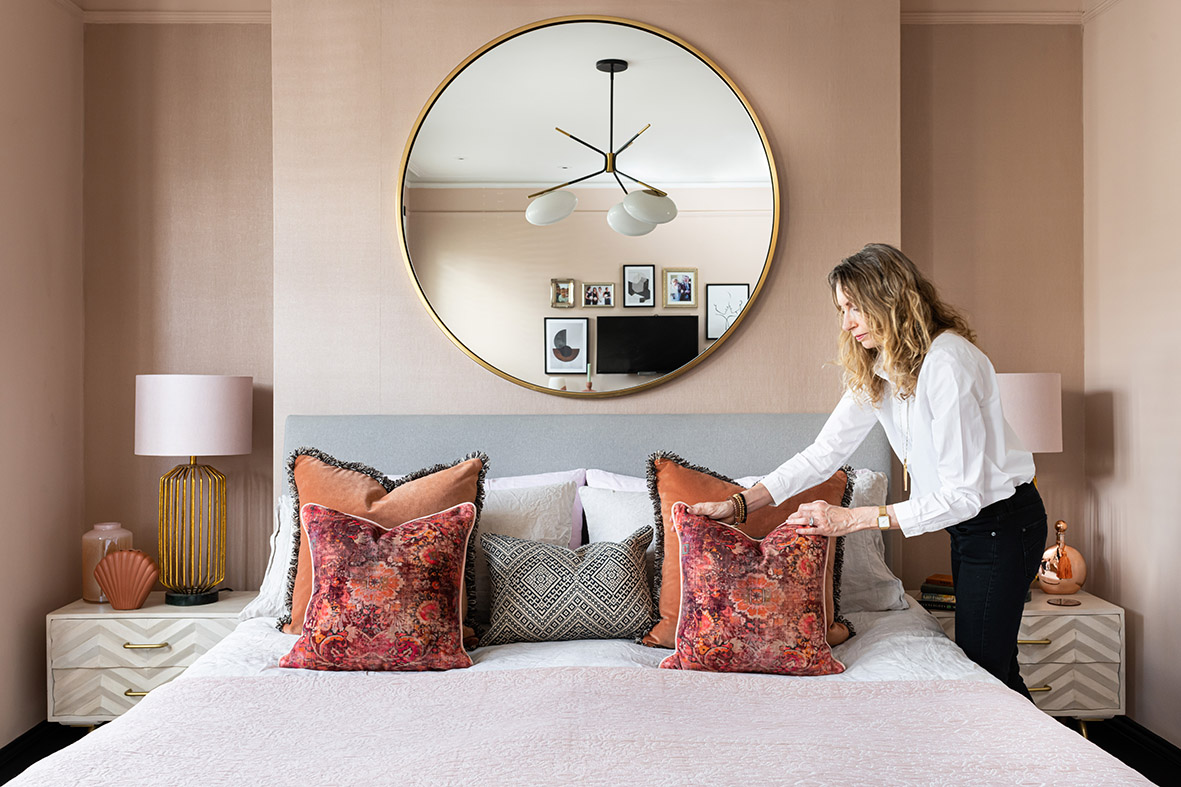 Emma is renowned for her sophisticated colour schemes, and the way she layers colour, texture and pattern to create atmosphere and interest
Above all, I see design as an investment in my clients' home – not an extravagance. I create designs with personality and colour, but also finesse. In addition, I would describe my style as subtle, delicate, contemporary and timeless. I like to layer colours, textures and patterns to create movement around a space.
My inspiration & motivation
I'm best known for being a London interior designer, as this is where I'm based, but my inspiration is drawn from nature and the world all around us. Natural elements such as light, patterns, materials and colours can have such a positive impact on wellbeing. Where appropriate, I try to capture the essence of biophilic design and 'bring the outside in'. Travelling and visiting other countries is another rich source of inspiration for me. I consider sustainability and quality in my design work, too. I love creating timeless homes, so I source high quality pieces and furniture that are built to last from trusted manufacturers and craftspeople.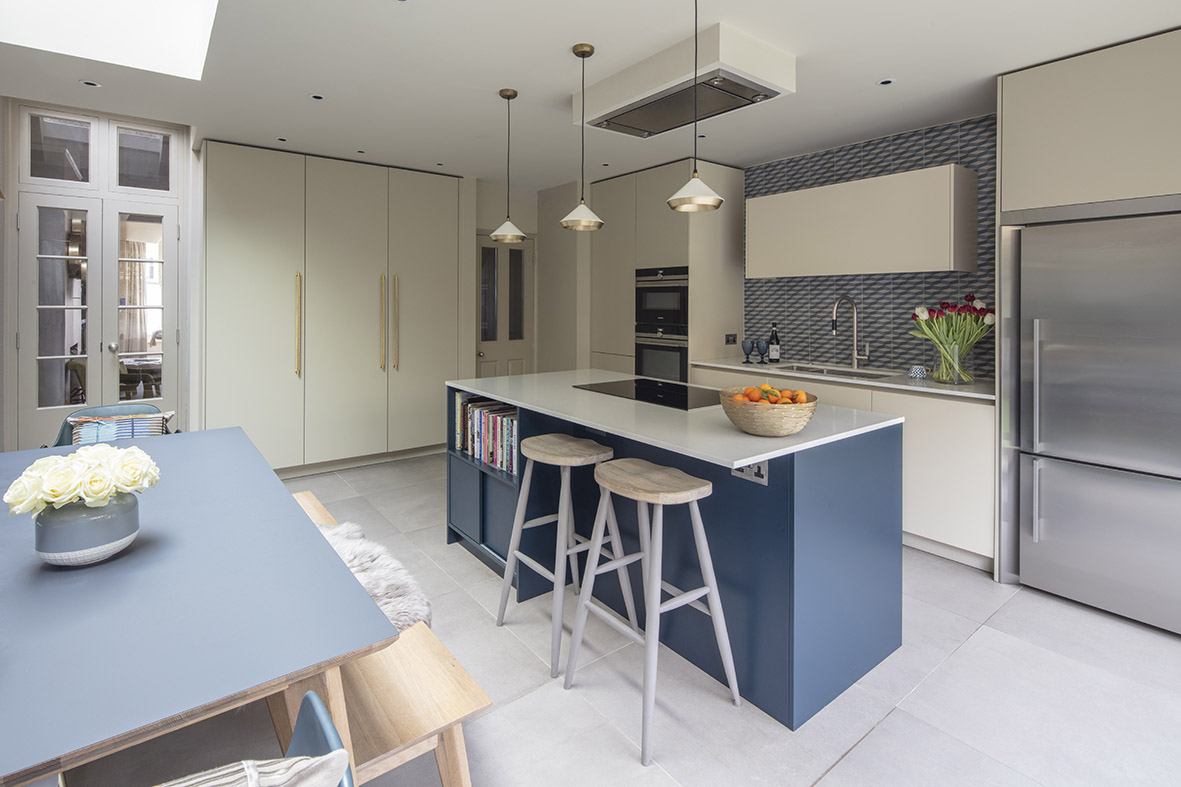 Lighting is another big passion for Emma, whose lighting design schemes include spotlights, wall lights, task lights and decorative lights
Doing things differently
There's no shortage of interior designers, but I like to think my values and vision set me apart. Fun and friendly aren't words you hear too often in this industry. I take my job very seriously, of course, but I also strive to make the process enjoyable for my clients. It's meant to be a pleasure, not a pain. Above all, my clients can rely on me for honesty and integrity. My Yorkshire roots mean that I tend to tell it like it is, and I do what I say. My clients can have complete peace of mind that they always get what they expect. I make sure the project stays true to our design and the vision.
My skills as a London interior designer
I love what I do – and I'm full of gratitude for the opportunities that I have – but it isn't easy. I work hard for my clients, and I stand up for them, too. Creating an effortlessly chic home is actually far from effortless! It's a time-consuming and complex job, but we take great care of our clients throughout every step of their renovation and design. As a London interior designer, I have a proven process that I follow precisely from concept to completed installation. I think it's important for clients to also be familiar with the process the project will follow before it begins.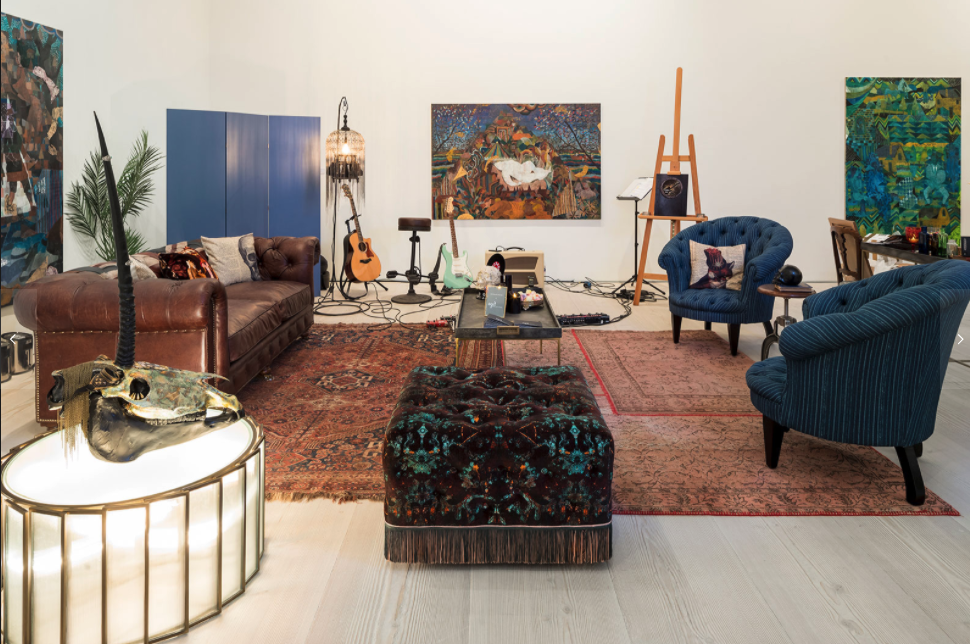 In 2018, Emma Green Design partnered with Global Fund for Children – and showcased her exquisite eye for colour and texture – to create a steampunk-themed chill-out room at the Saatchi Gallery Game Changer Event
I always have a strong vision of how a client's space will look, and I'm passionate about the transformations we achieve. Another big part of my role is to add value through cohesive design and meticulous planning. I'm adept at understanding the upheaval and challenges a renovation can represent, thereby relieving stress, saving time, avoiding costly project pitfalls, and providing invaluable access to trade-only resources.
Planning & positioning
The best piece of advice I can offer to a homeowner pre-renovation is "plan, plan – and then plan some more!". Include room layouts, ideas for paint schedules, flooring and bespoke furniture. Getting the relevant trades onboard from the beginning is also essential. This helps everyone to visualise the whole project, and to eradicate lengthy building delays once the project actually starts.
My other insider tip? Move your furniture away the wall! This will enhance the room's flow, and make it appear much grander. If space is tight, angle furniture slightly inwards. Or move it just a few inches away and place a shelf or console behind it.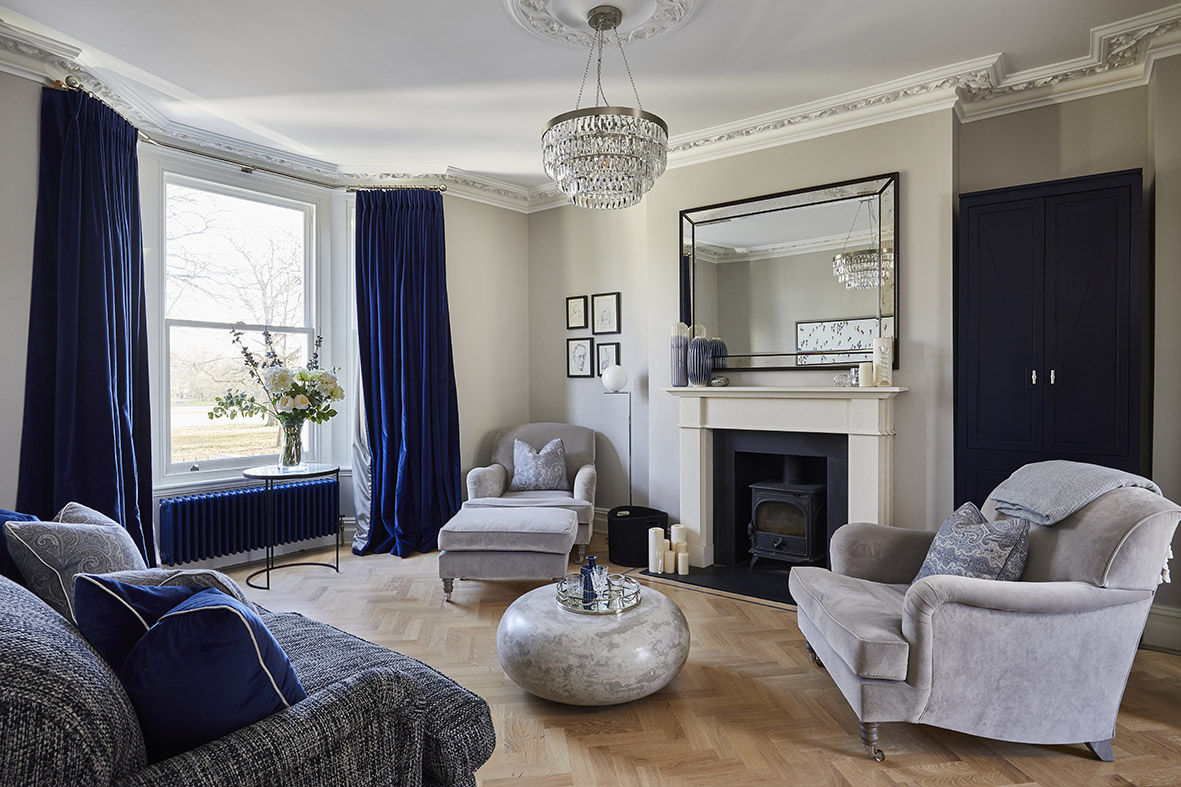 Emma used rich velvet curtains, bespoke upholstery fabrics, a glamorous chandelier and a sculptural coffee table to create this gorgeous, "grown-up" double reception room
"A trusted and necessary resource"
In my business, there's no substitute for personal recommendations. It speaks volumes that our clients hire us again and again – and recommend us to their friends. In fact, the project I'm most proud of is for a 'repeat client' I have worked with for many years. I was initially hired to renovate the staff apartment within their Surrey home. This led to a project in their main home, transforming their large lounge and entrance hall.
Following this, I was engaged from the very beginning to design, purchase and implement the complete transformation of their large manor house. I helped to appoint the architect, tender for the contractors, and designed everything from the use of the rooms, layout plans, paint colours, lighting plans and bespoke cabinetry, to every last accessory and window dressing.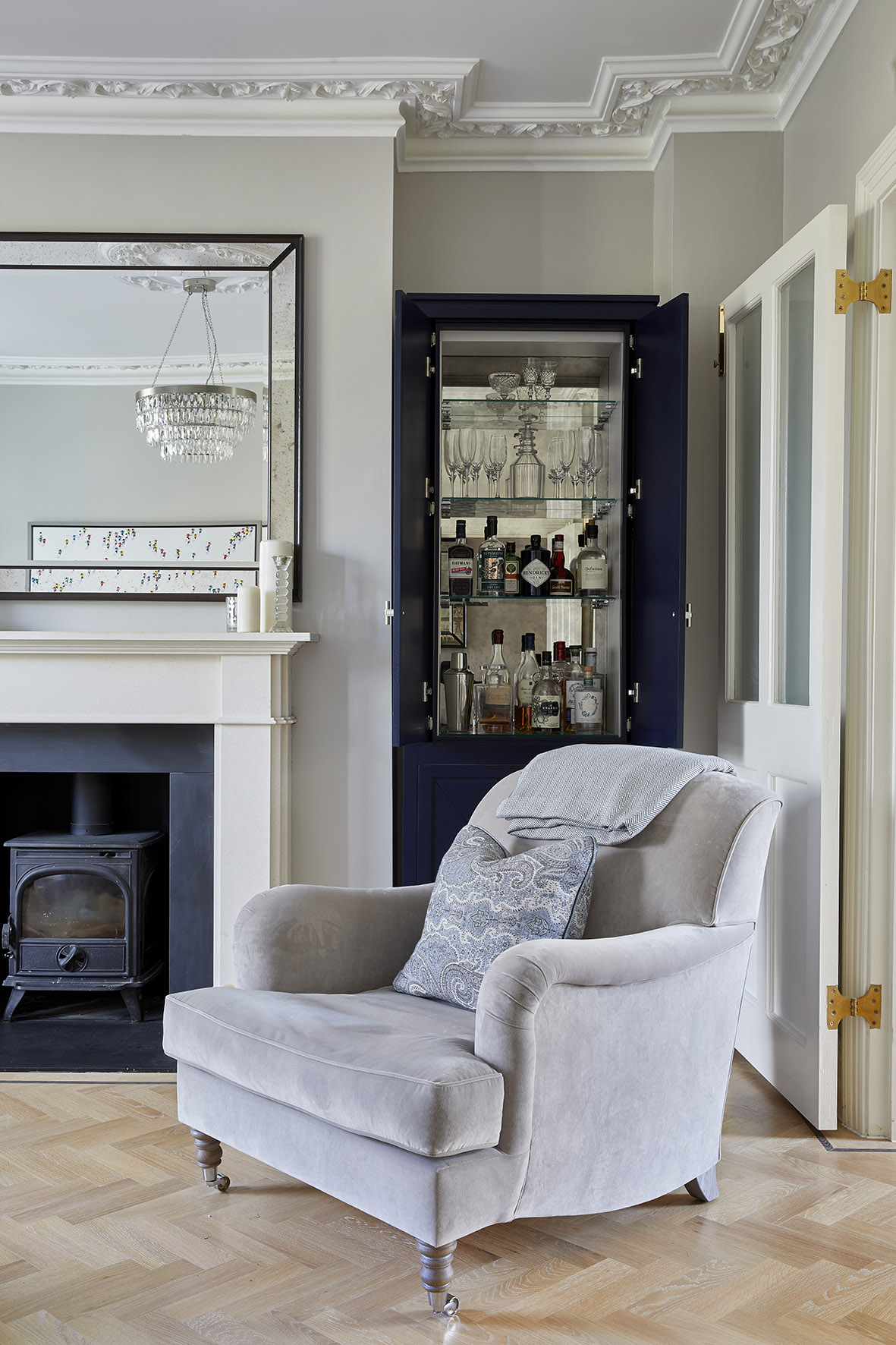 Sourcing bespoke furniture and cabinetry design are among the many interiors services Emma and her team offer
I'm particularly proud of transforming the very small kitchen into a large, open-plan family area overlooking their expansive garden. The master-suite comprises a large bedroom, dressing room and a bathroom, which is now a classic yet contemporary hotel-like cool, calm space. I even created a fun shower room for their children, with patterned tiles and a Hollywood-style bulb mirror!
My next commission is to transform their pool house to accommodate a gym and a sauna. It's been a real privilege to see this project grow and develop, and to be repeatedly asked back by the same client, with whom I've built a really good relationship. In their own words, I am "a trusted and necessary resource".
Would you like to keep up-to-date with my latest news and projects? Follow me on Instagram, Linkedin and Pinterest.