Most of us think nothing of swapping over our wardrobes when the seasons change. When the mercury drops we pack away the summer dresses and strappy sandals, and welcome back the warm coats and woolly jumpers. But do you think to do the same for your interiors? Because it's not just our sartorial needs that change with the weather. What we expect from our homes is very different from season to season. We all live quite differently in the summer versus the winter – and Christmas is virtually a season all of its own! Of course, it's not practical to undertake a full property redecoration four times a year. But certain changes really are worthwhile. So I've put together a selection of my tried-and-tested home decorating ideas for winter, to help you make the seasonal transition successfully.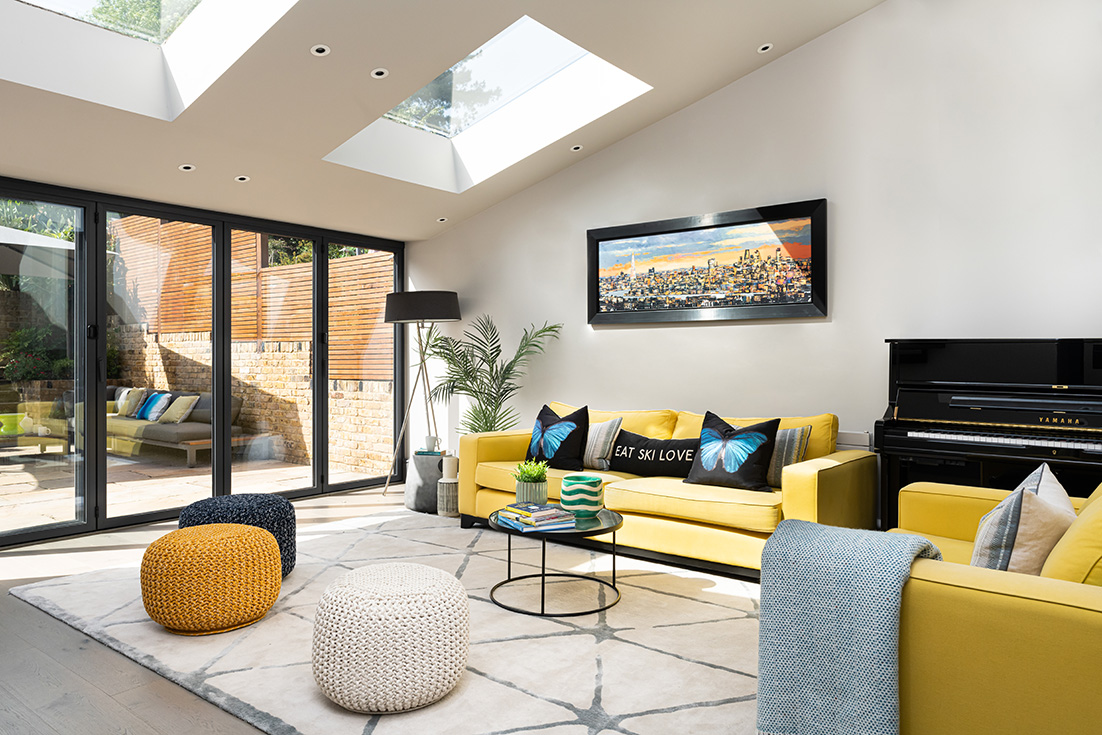 Textured linen sofas, rope pouffes, cushions and a wool throw soften the angles of this Wimbledon family home extension, while making the space feel cosy, warm and welcoming
Update your colour palette
As a colour specialist, I understand that colour is a powerful interior tool. The right colour palette can completely transform the mood and function of a room. Colour creates feelings, and can even influence our behaviour. So, it's understandable that it's one of the first things on my list when I'm asked about home decorating ideas for winter.
Many of us associate certain colours with specific seasons, such as green for spring and orange for autumn. Traditional winter colour palettes include greys and browns, darker blues and deep plums. Warm red and gold accents are also popular, especially at Christmas. So, if you're thinking of switching up your design scheme, now is the perfect time to consider some new seasonal-appropriate shades of paint or wallpaper. However, a full redecoration is by no means the only option. Adapting what you already have with soft furnishings is a fast, fun and cost-effective way to experiment with new home decorating ideas. Change your bedding, introduce different coloured throws and cushions, and/or invest in a new rug. Refreshing your art collection is another way to re-balance your home's seasonal palette.
All fired up
There's nothing quite like cosying up in front of a roaring open fire when it's cold, dark and pouring with rain. Wood-burning stoves remain popular, but whichever type of fire your home has, curating the right hearth really does make a difference. Painting the walls around a feature chimney breast intensifies a room's cosiness. Prioritise colours rooted in the natural world. Or choose a textured wallpaper backdrop to enhance your fire's glowing embers. Glass objects on a mantelpiece will also bounce light. Or consider high-quality faux leaf garlands woven with LED fairy lights.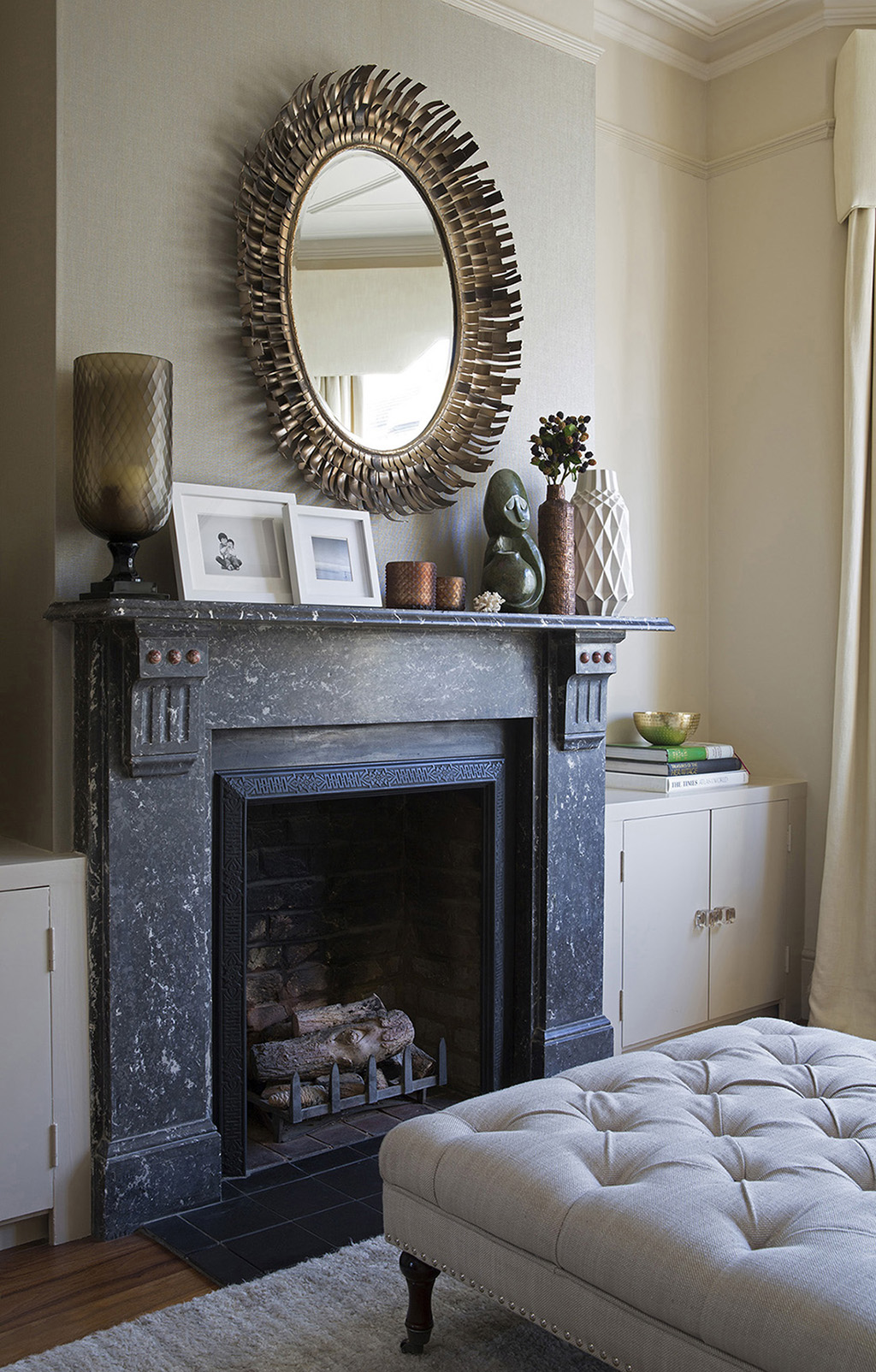 For this Clapham project we dressed the open fire mantelpiece with accessories in rich winter tones of green, rust and orange, offset with antique brass accents. The heights are deliberately different, yet the eye can still easily follow from one piece to the next
Home decorating ideas to elevate your entertaining
Christmas is the season of entertaining. So, it's easy to see why creating a bespoke bar is one of my most popular home decorating ideas for winter. Why fight your way through frightful weather to a crowded pub, club or restaurant, when you can host family and friends in the comfort of your own home instead?
Whatever size, style or shape you have in mind – and whatever space you have available to accommodate it – we can create a bespoke installation that suits. Freestanding home bars are glamorous, adult-only spaces that allow you to take entertaining to the next level. We can help you hone your ideas, assess how a bar will relate to your kitchen, living and dining areas, and even match to any existing joinery if required.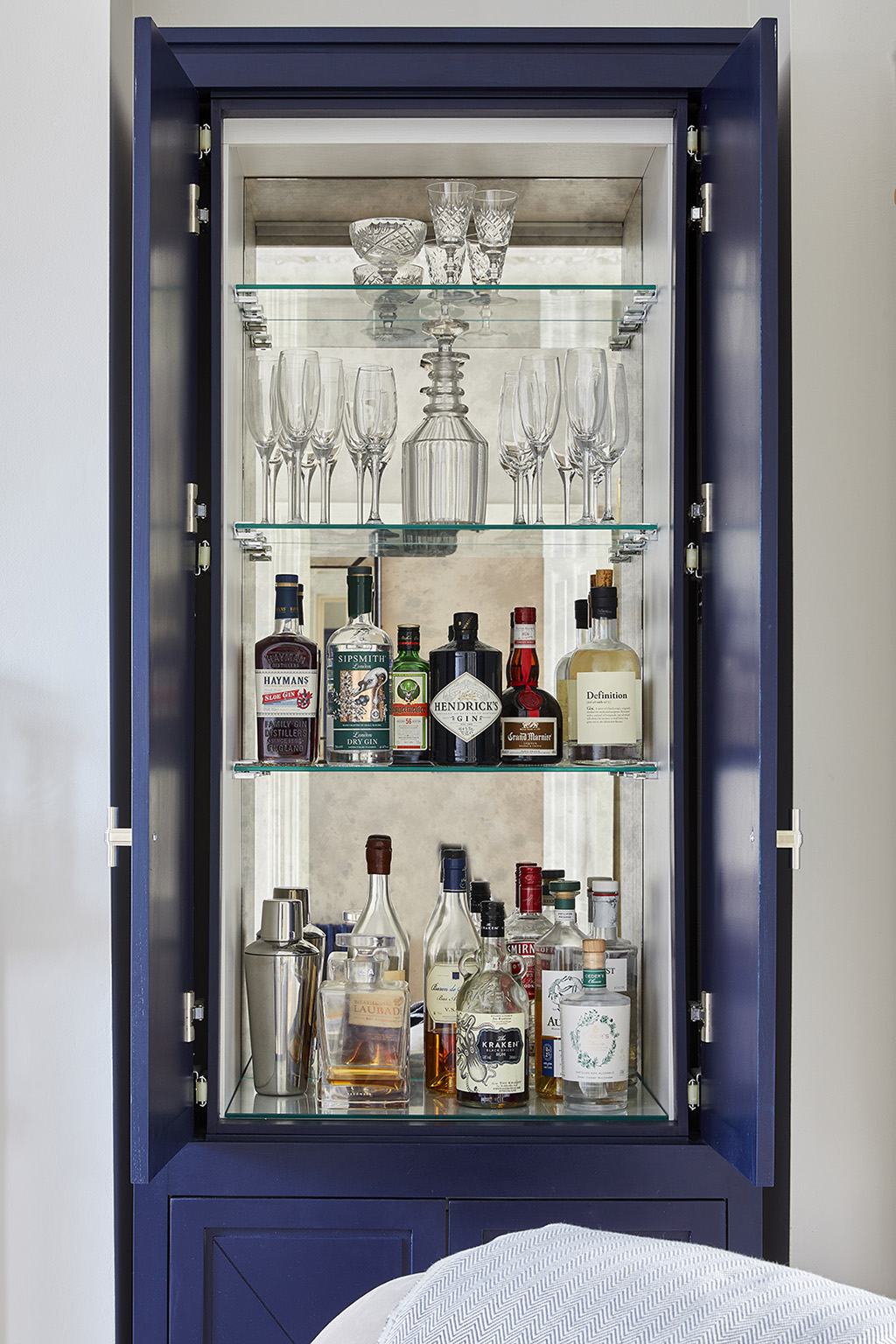 Perfect for cocktail o'clock, the bespoke navy blue /mirrored home bar in this Wandsworth Common townhouse features customised shelves designed to showcase the client's spirits collection, cut glass crystal glasses and decanter
Behind the curtain
As household bills soar, energy efficiency has become increasingly important. Did you know that certain curtains, if hung properly, can reduce heat loss by up to 25%? That's why my home decorating ideas for winter always include a curtain review. Keep lightweight linen for summer and replace with velvet or wool in the winter.
There are several different types of curtain lining, including standard and blackout. Interlined curtains are ideal for cold weather. They have an additional layer between the lining and the face fabric. Not only are they thicker, they tend to have more rounded, fuller pleats, and a more opulent appearance. I'm a big fan of this sort of practical beauty within interiors. In terms of aesthetics, remember to consider all angles. I always advise my clients to think how their curtains will look from the outside, and when pulled back, too.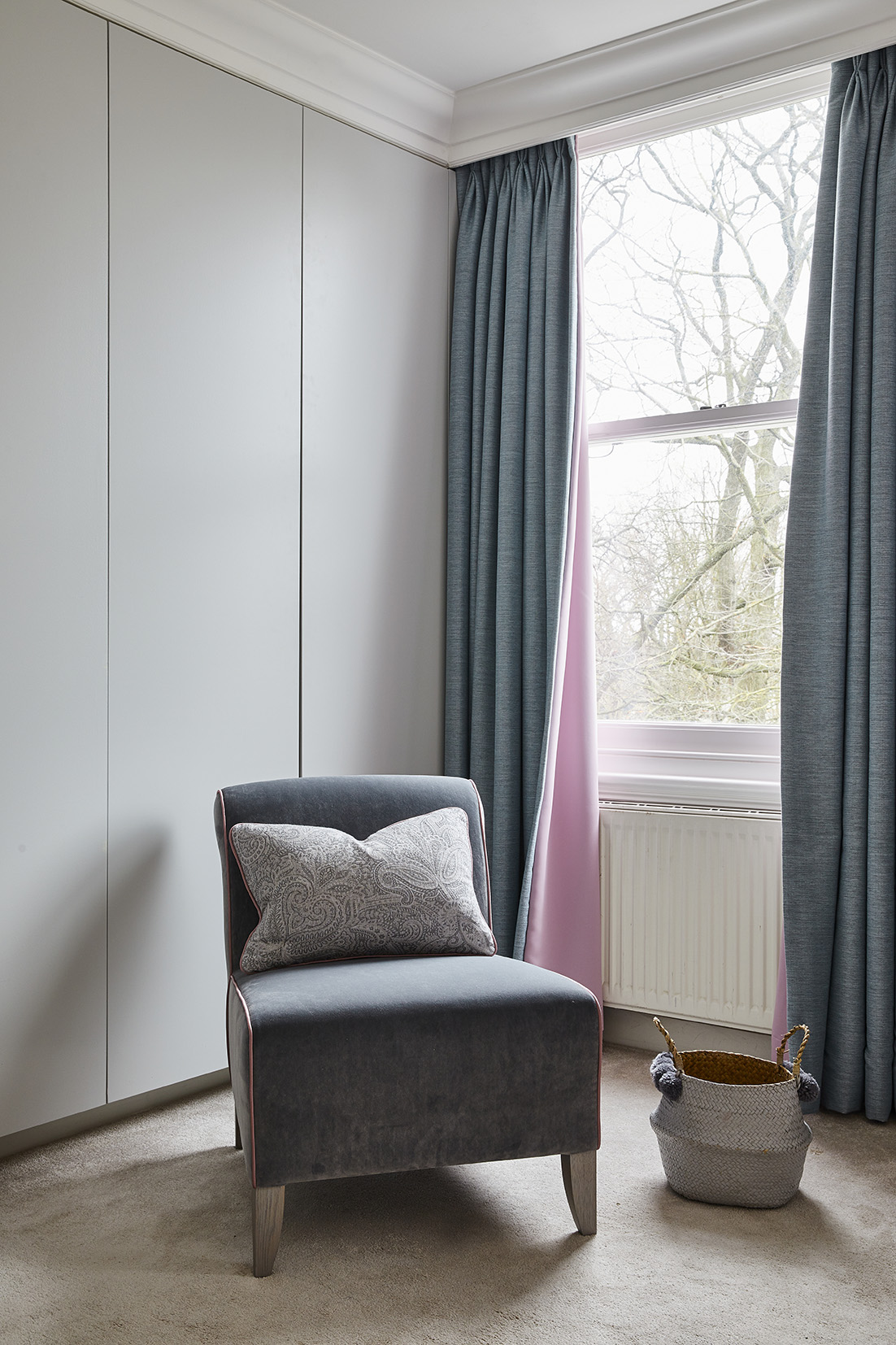 For the bedroom of this Wandsworth property we decided on a pink dim-out fabric for the curtain lining, which cleverly picks out the pink piping on the accompanying occasional chair and matching bedroom lampshades
Seasonal styling home decorating ideas
Coffee tables and mantelpieces offer really easy wins when it comes to home decorating ideas for winter. Careful seasonal styling adds warmth and interest, and makes any setting instantly inviting.
Candles, display trays, photographs and dark coloured books all draw the eye. I also like to mix in both real and fake flowers, in interesting colours. Don't overdo it; curate rather than clutter. Remember to group display items together in odd numbers. Three items placed in a triangle formation usually works well. When styling mantelpieces, item heights should always vary – you definitely don't want everything in one uniform row.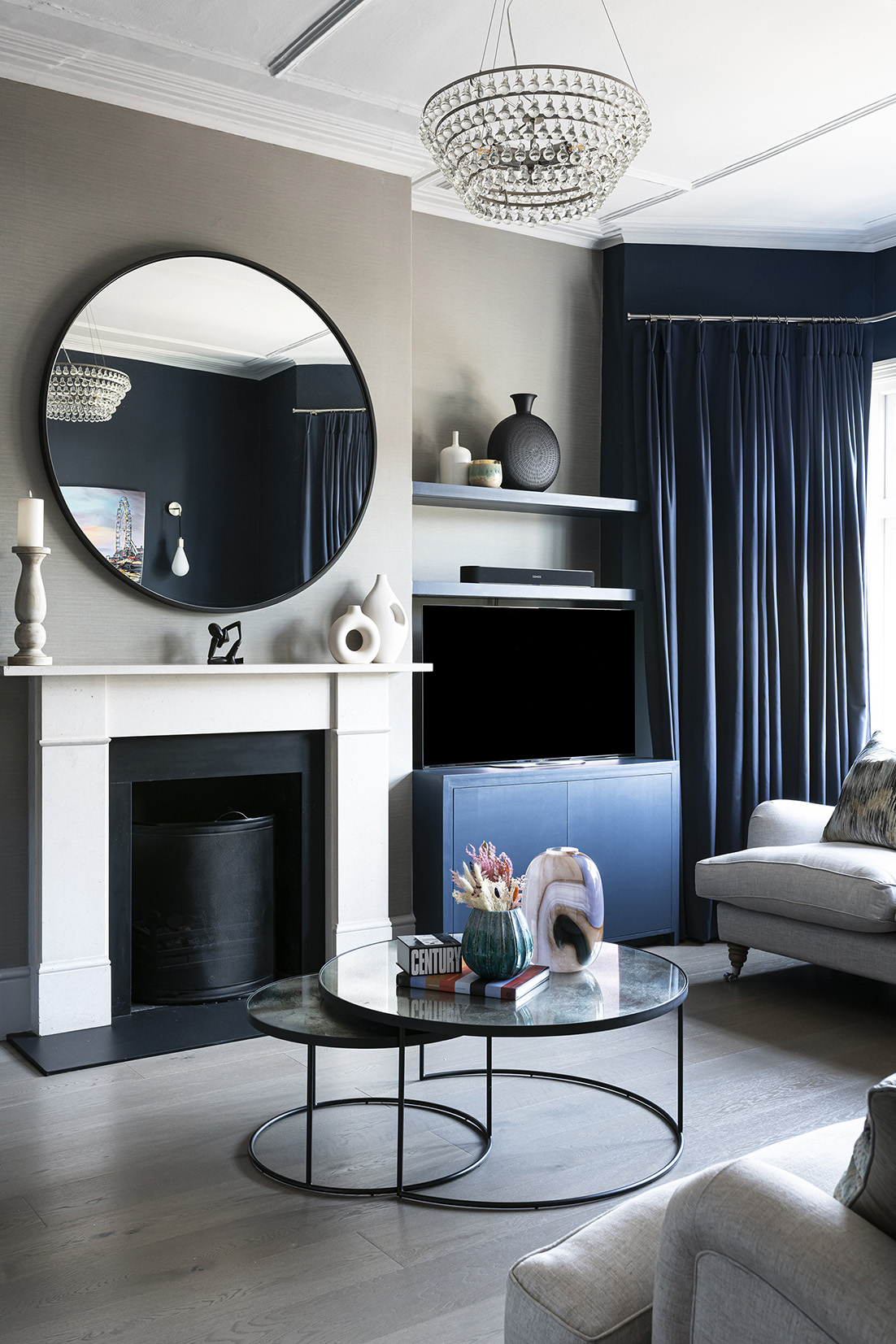 Coffee table goals: this Wimbledon family home illustrates perfectly how the right combination of carefully curated pieces adds cosiness without compromising on style
Home decorating ideas for bathing
Successful seasonal home decorating ideas should ideally include your bathroom, and definitely your guest cloakroom. When did you last reassess your lighting? I always advise having lights on dimmers and, if there aren't any small children present, light some scented candles too. Don't skimp on your towels – the softer and thicker the better! Switch your usual soap/hand wash for something a little richer, such as orange, cinnamon, clove or winter berries. Add a touch of greenery if space allows. Succulents can keep humidity levels down and look amazing in a statement pot.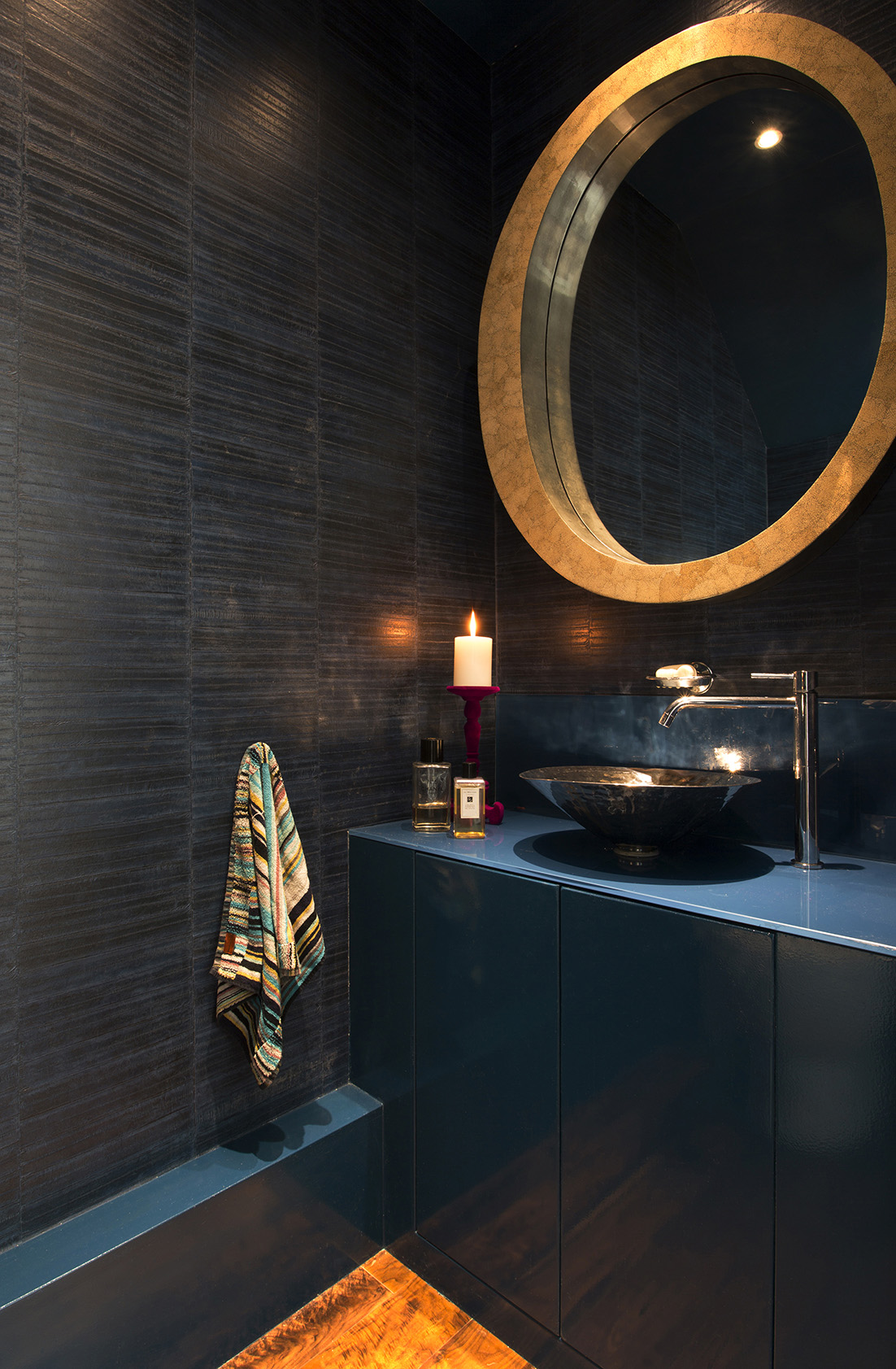 Thick fluffy towels, scented candles, and a soft, textured rug: The master bedroom ensuite in this Wandsworth refurbishment ticks all the right bathroom boxes. Keen to embrace your dark side? Go bold with an oversized mirror – a great talking point for any guest cloakroom!
The art of layering
Darker days and drops in temperature can make any interior seem colder, both literally and figuratively. The solution? Lots and lots of layers! Mix and match different colours, textures and sizes to keep things interesting. In terms of material, fleece and faux fur are warm and tactile. Rugs, throws, cushions, and blankets are the obvious items to introduce to make things cosy and comfortable. Other layering options include adding slipcovers to dining chairs. You can even 'layer' with accessories. Fill empty corners and bare spaces with stylish firewood/blanket baskets and hurricanes, and hang candle sconces from walls.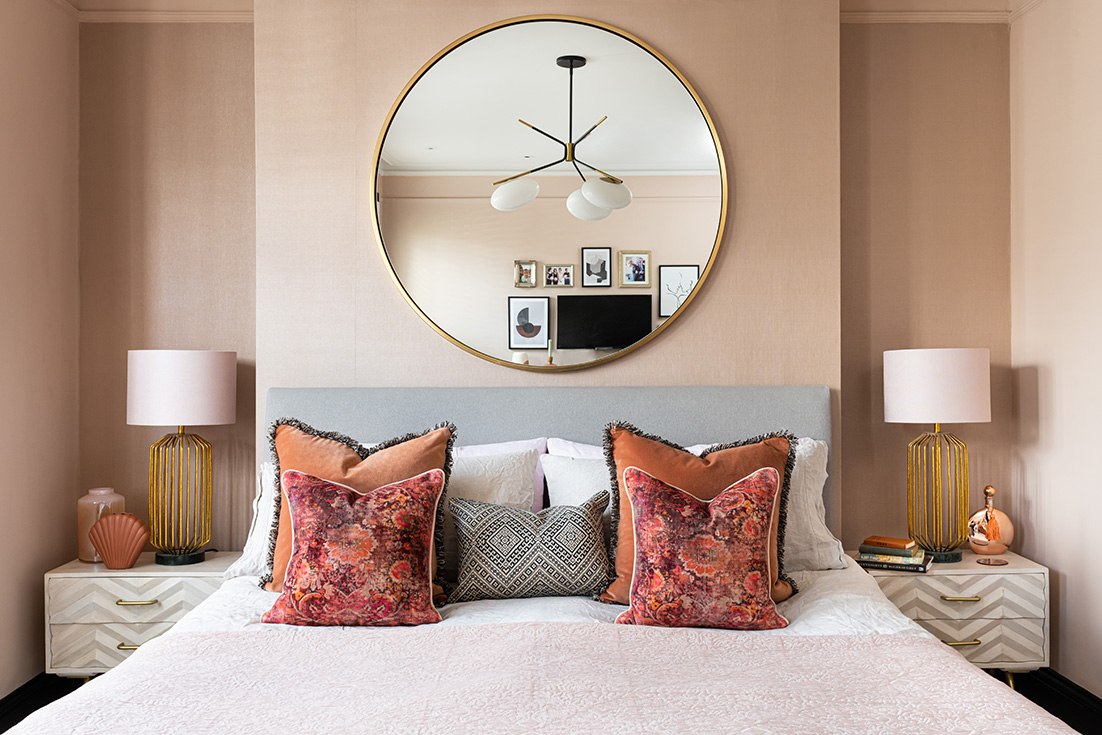 See how these bespoke cushions and pink tasselled bed throw from Soho Home combine different textures and colours, which instantly adds depth to this bespoke design
Read my blog on custom & bespoke furniture & furnishings for more expert home decorating ideas.