You may recall I was recently invited to Style & Decor blogger and journalist Sarah's garden to carefully curate a collection of outdoor dining settings for her. So, now that the sun seems to be back, let's continue to celebrate the season with my cheese & wine summer soirée and cocktail party glamour tablescapes. This post has been reproduced from the Style & Decor blog.
Isn't it time to celebrate the sunshine we now have and put outdoor dining on the menu? If you plan to make the most of the belated, but welcome, sunny weather this season, I'm guessing that entertaining will be high on your garden agenda. So, I invited leading London interior designer Emma Green to show me how to give my outdoor dining a new lease of life. Here, you'll see how she carefully curates two stunning tablescapes; one for a sophisticated cheese and wine event and the other for cocktail party glamour. So, sit back, relax and peruse part two of my al fresco dining blog!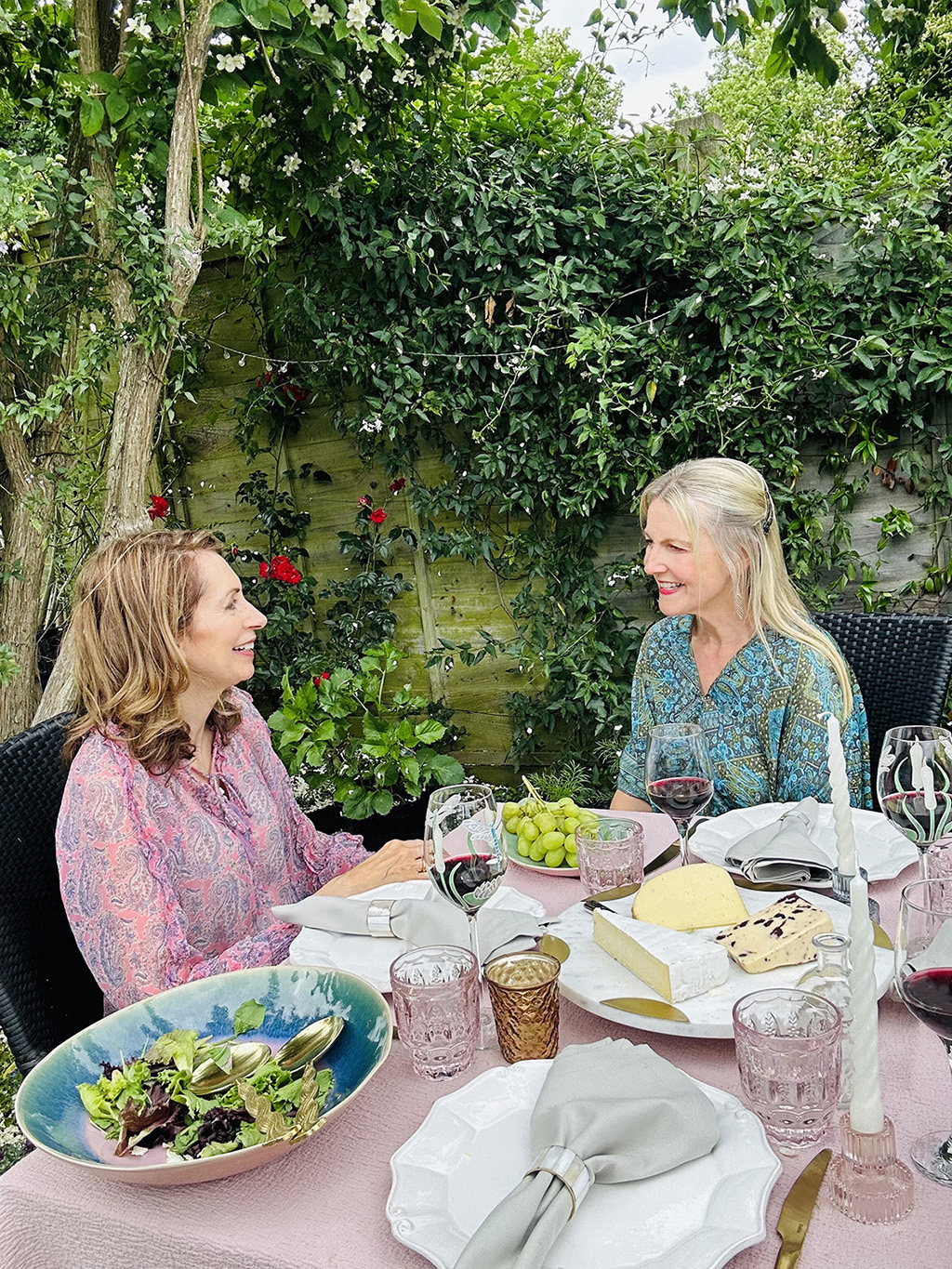 London interior designer Emma joins me on my patio where I can admire the tablescape she's designed
London interior designer Emma
Emma is renowned for her flair for distinctive style and her ability to transform houses into beautifully designed homes. With a wealth of interior design experience, Emma sees this as an investment in her clients' homes – not an indulgence. So, it was brilliant to work with her and watch Emma create two new original entertaining spaces for me to enjoy in my garden. She explains: "Everything should begin with a beautifully designed home and your garden is simply an extension of your inside living environment. I enjoy effortlessly extending living spaces for my luxury clients from inside out; this enables them to showcase their impeccable taste." You can find out more about Emma on my previous blog and visit her website here.
Table prep for outdoor dining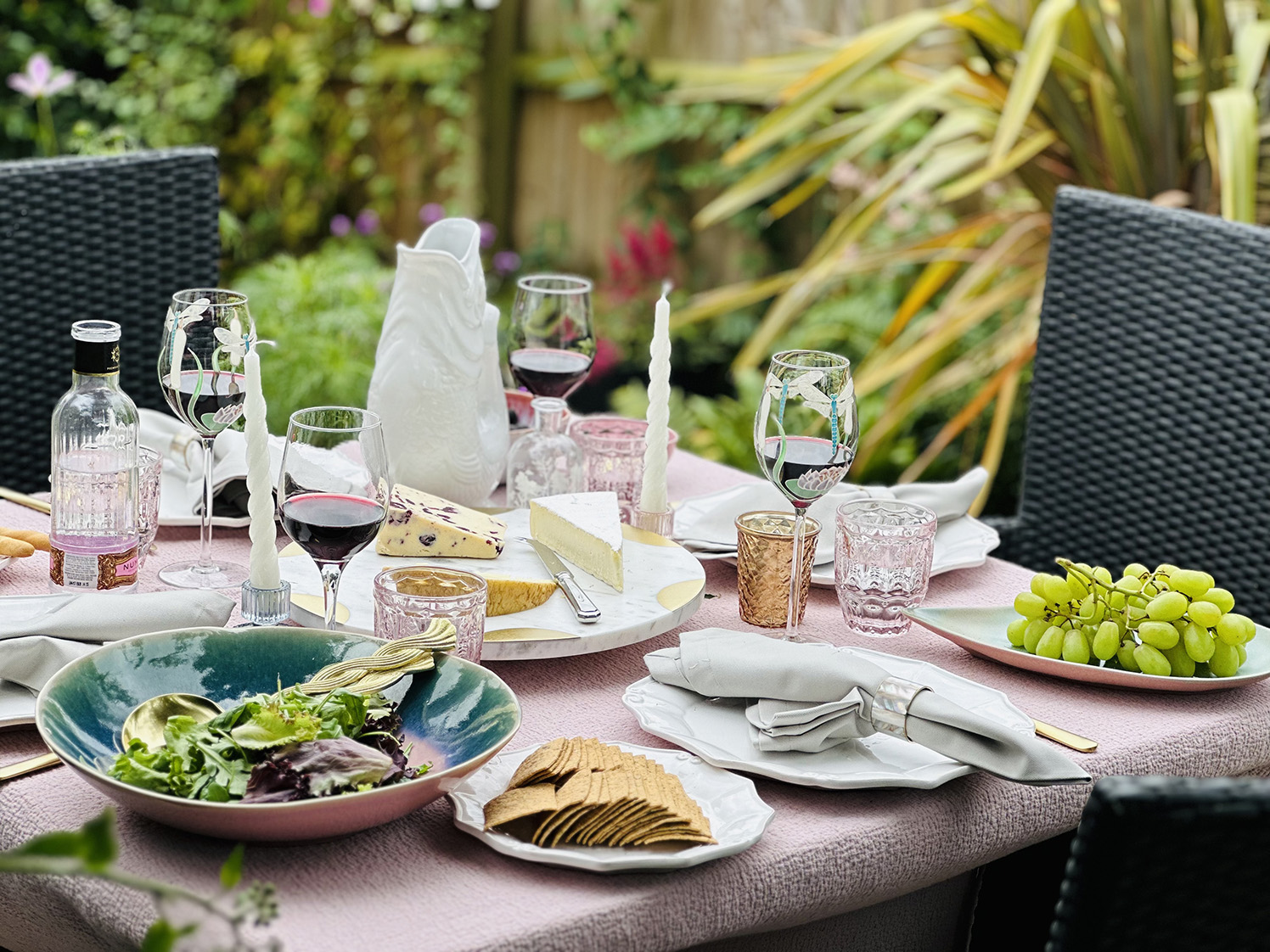 Emma suggested she use my textured throw, Madison in Dusky Pink, from The Fine Cotton Company for my cheese & wine table design
Covering my outdoor (and indoor) dining table is essential for me for summer entertaining when food is on the menu. This is why your tablecloth, or some sort of cover, needs careful consideration. For me, plain is perfect however I'm also rather partial to some texture. So, when Emma suggested we use one of my textured throws from The Fine Cotton Company as a tablecloth, I was only too happy to oblige.
Versatility reins in design
My Madison throw has been a game-changer for me in other rooms of my home and I've already used it outside. It's a double/king throw in Dusky Pink, which is perfect for cooler months on my king-size bed in the master bedroom. This matelasse throw in soft cotton also adds that extra layer. And now, when it's chilly outside on an evening, this becomes the perfect wraparound when dining al fresco with friends. The husband and I love entertaining outdoors and we try to spend most of the summer months outside if we can, although this depends on the weather!
I've also pulled this throw over me while cosying up on the sofa in our extensively glazed, open-plan kitchen. For one, I absolutely love the colour, however I also adore the textured finish – it's 100% cotton and finished with a stitched-edge design. This throw is even machine-washable and mine is the 210 x 250cm version, but you can opt for a smaller size – 180cm x 250cms. Surprisingly perhaps, Emma has now shown me that this also makes the most beautiful tablecloth!
After this shoot, I discovered that you can buy a Dusky Pink Mikado tablecloth from The Fine Cotton Company. So, I have actually snapped one up since – there's even a sale on right now where you can buy one for half price. Leading UK restaurants and hotels buy these cotton-blend tablecloths (and napkins), which is a great accolade. So, they are superb quality and they wash wonderfully, too.
What's on my table?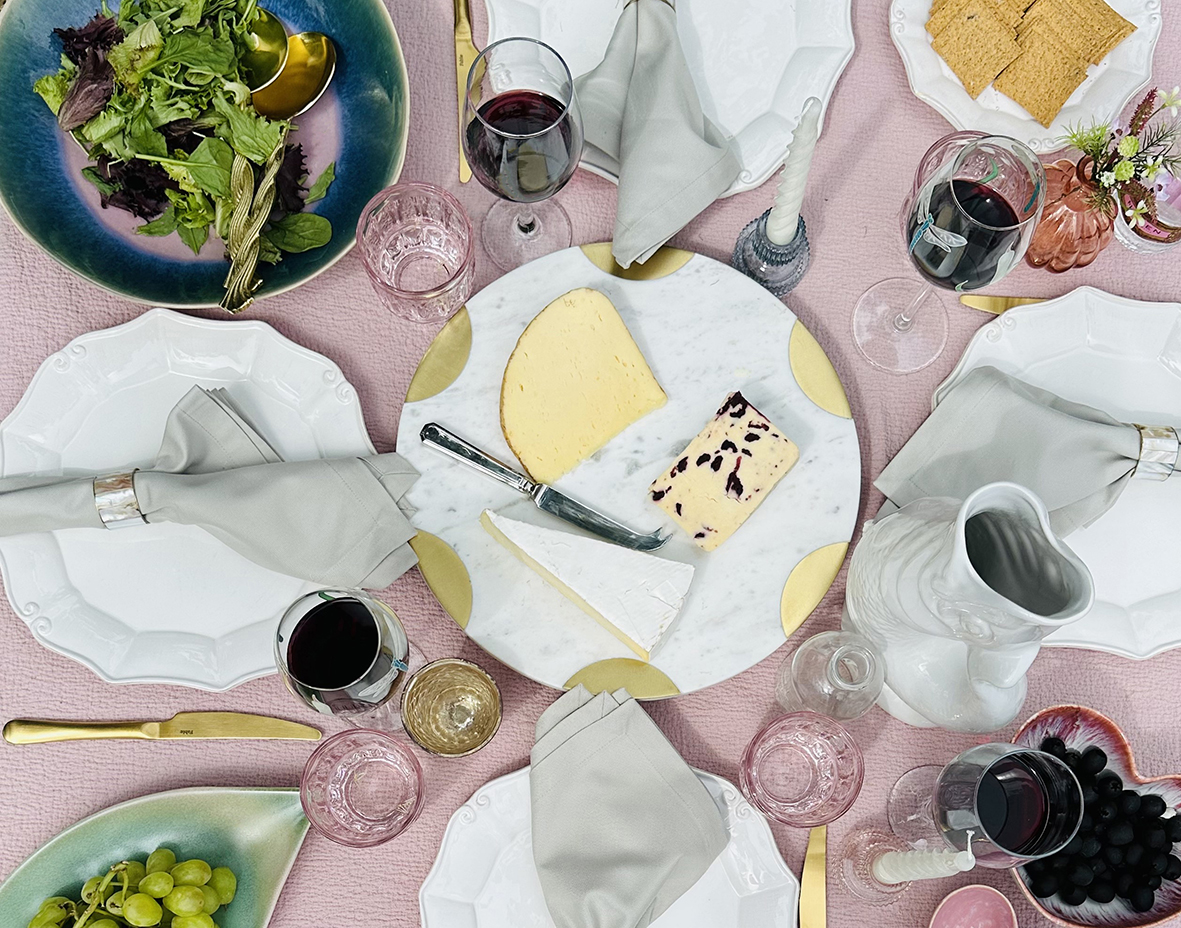 Emma designed this elegant cheese and wine scheme for me to enjoy entertaining guests this summer
For a sophisticated summer soirée, Emma has chosen soft, subtle colours in pastel shades to add finesse to this tablescape. Then styling for the season starts with my Madison matelasse throw, handpicked by Emma, for a textured finish. Emma explains: "Don't be afraid to experiment with different textiles when decorating the table and have fun! In my interior design studio, we love exploring ways to be creative. So, here I've used Sarah's pink textured throw as a tablecloth. It's just thin enough to use and adds the right amount of texture, interest and contrast."
Plate it up
This design features pretty crockery, which you'll find at Rockett St George – I love the scalloped edges in this design, which features a classic, white glazed finish. This set is 12-piece and I originally bought this antique French style to remind me of memorable holidays in France.
Emma has dressed the plates with The Fine Cotton Company's Mikado napkins in Grey, which you'll find in some of the UK's leading hotels and restaurants. With a 220gsm plainweave, these are a cotton blend and fully machine washable, which suits me perfectly. These wash so well, you can put them through their paces every day, whether you're dining alone or entertaining. Emma adds: "I've chosen Sarah's pearlescent napkin rings from Zara, which work wonderfully with the table linen and add subtle sophistication to this scheme."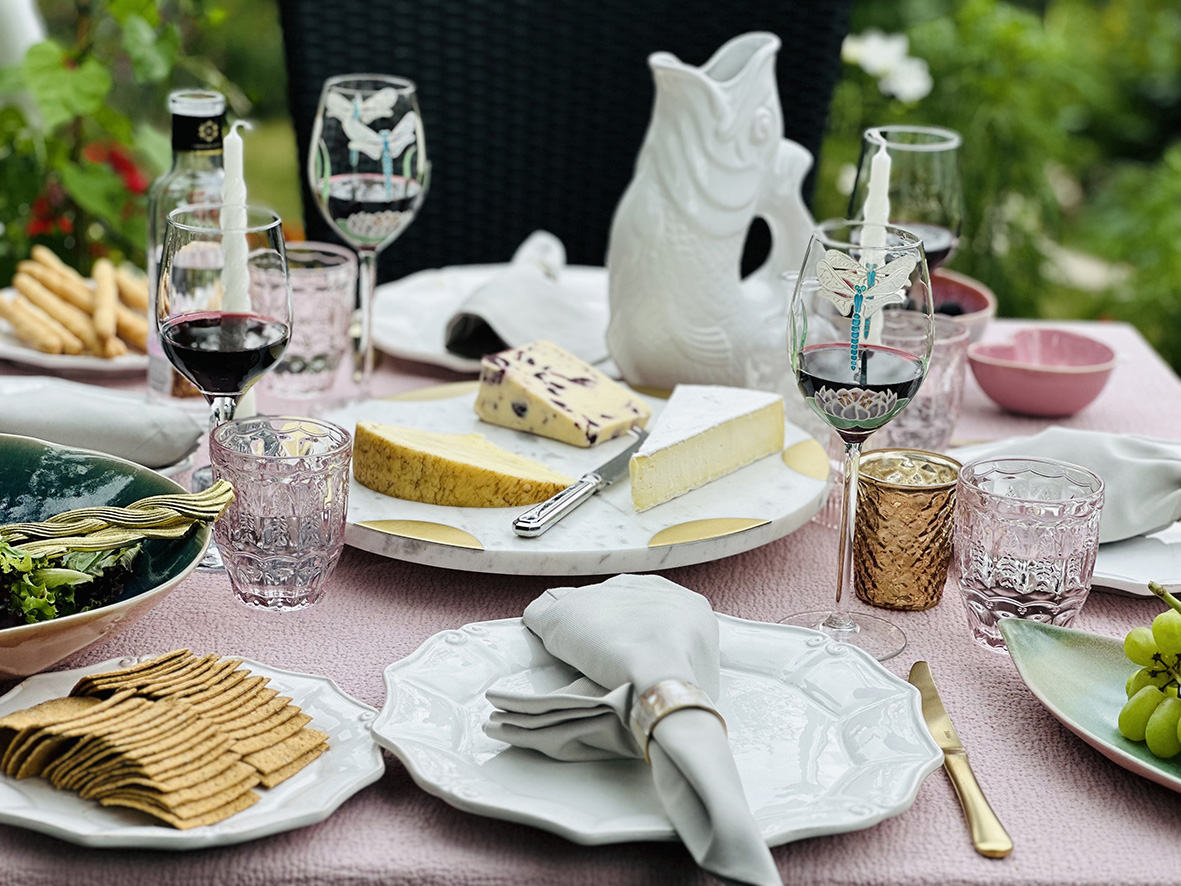 Going for gold: the table knives come in a 'matte gold' finish, which adds subtle sophistication to a carefully curated table for entertaining
My Fable flatware set in 'matte gold' adds an elegant touch to this dining table, however it's practical, too. This high-quality 18/10 stainless steel, 20-piece set is dishwasher-safe, making light work of cleaning up after guests have departed. I've washed this set on numerous occasions because I'm now using it all the time to add a sense of style to my everyday table! It also washes brilliantly, thanks to its ultra-durable PVD colour finish.
Cohesive design details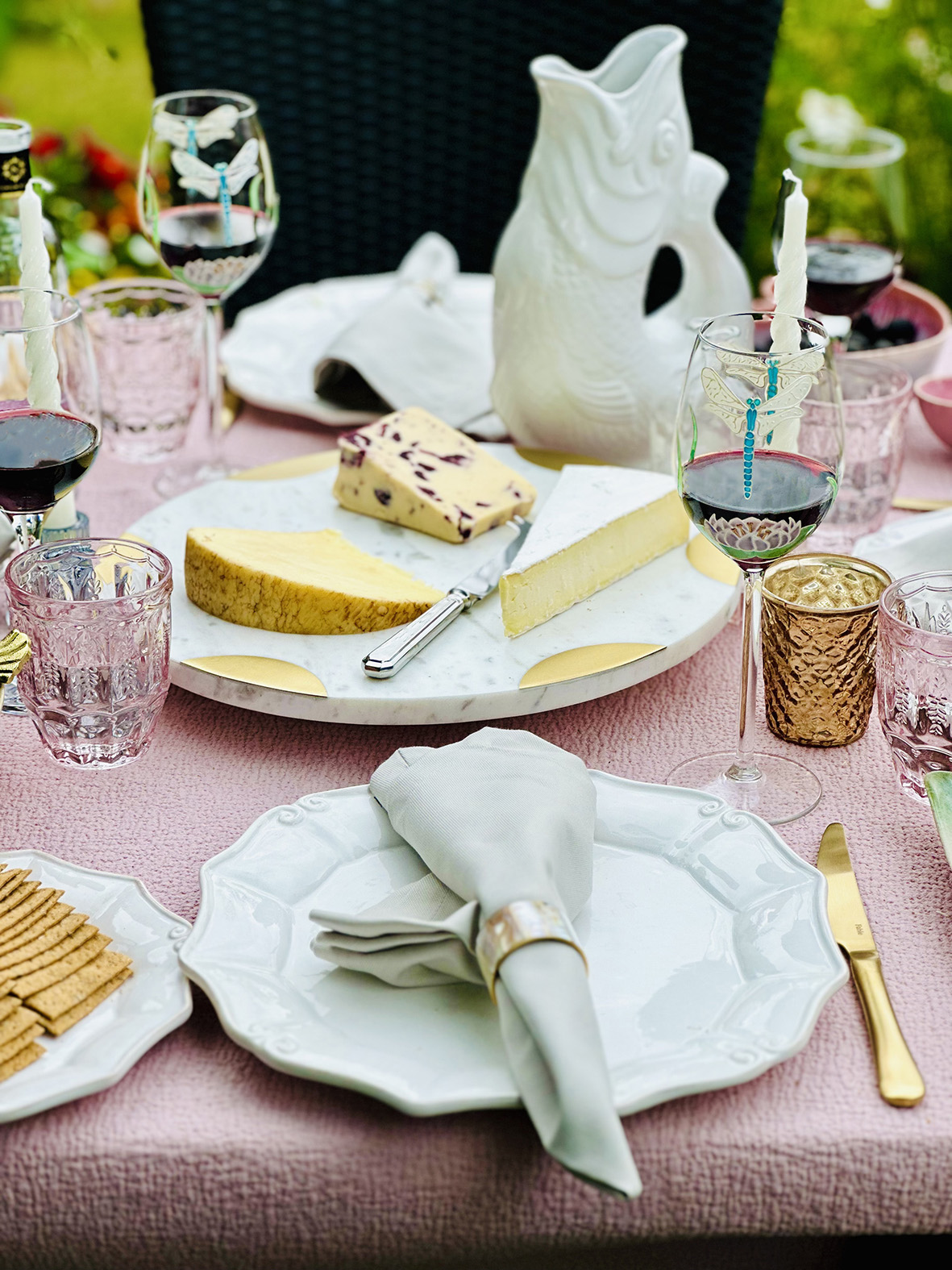 Gold accents feature highly on this cheese & wine table designed by interior designer Emma Green
Emma has decorated with gold accents throughout this beautiful, bespoke tablescape. This not only applies to the flatware but to the Oliver Bonas Golden Twist Metal Salad Servers. I love the decorative gold detailing on the handles – these stainless steel table accessories with a brass finish really are idea for special occasions, as they are hand wash and air dry only.
See how the Oliver Bonas Anjo White Marble & Brass Inlay Lazy Susan takes centre stage in this outdoor dining design. Emma explains: " You can instantly create a tempting cheeseboard with marble. Adding this luxury stone to your table not only looks glamorous, but it's practical too in terms of providing the best temperature for your cheese platter. Choosing a Lazy Susan will also ensure all the cheese is within easy reach for every guest."
Being creative with colour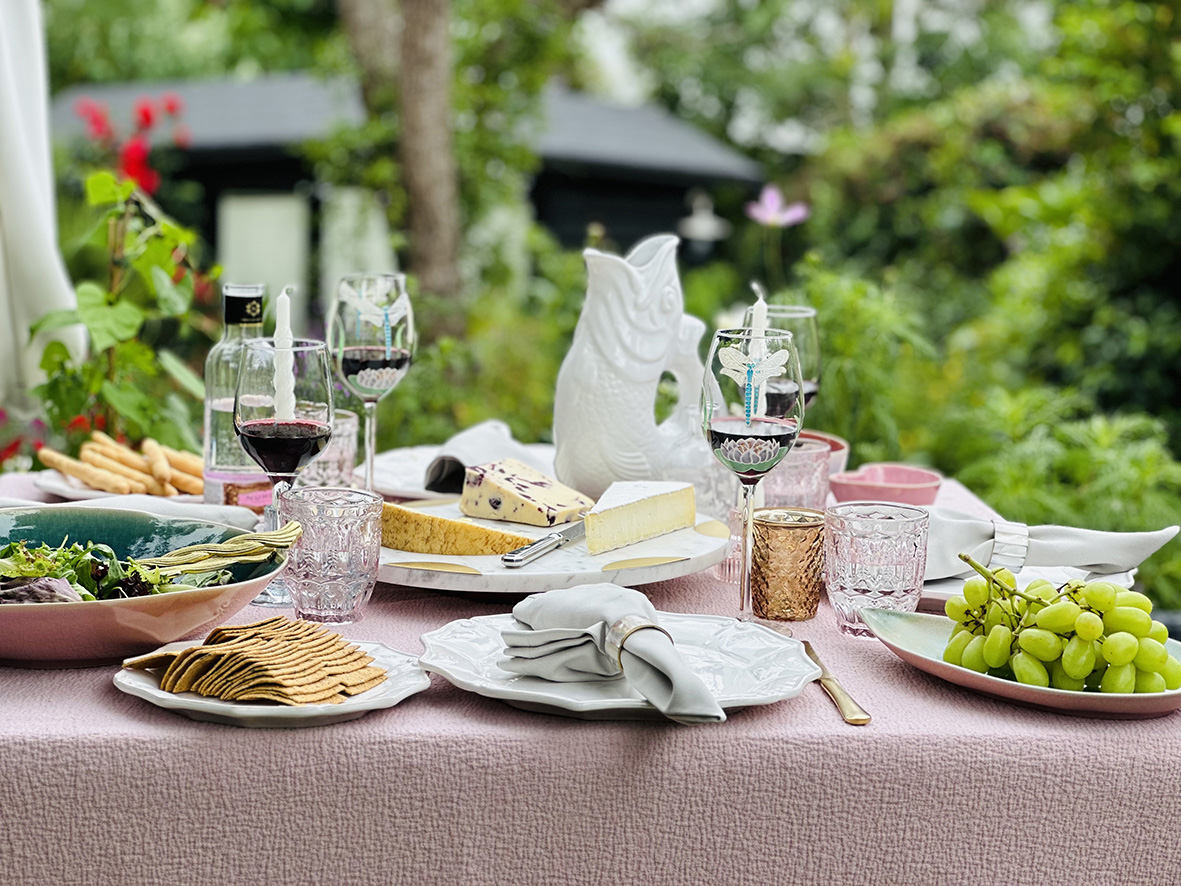 Emma has cleverly chosen soft, subtle shades for this outdoor dining table using her skills as a colour specialist
As a renowned colour specialist, Emma has chosen her colours for this outdoor dining tablescape wisely. She has handpicked soft, subtle shades and she explains: "Pastels have tied in this design, which predominately features pink and white with touches of gold and green accents. Hints of pink are apparent in the Oliver Bonas salad bowl and Leilani Green Ceramic Teardrop Platter. I've also added touches of burgundy with the Amara Pink Heart Shaped Bowls Set of Three, which pick up the deep reds in the wine and cheese with cranberries. These deep colour-ways instantly help to bring out the opulent pink tones. "
One of my prized pieces – my Oliver Bonas Berwick Blue & Pink Ceramic Salad Bowl – completes the look in an ombre design with reactive glazed finish. Emma adds: "Larger serving dishes are ideal for displaying things like salad – the greens, pinks and purples of the salad work beautifully with the colours in this bowl. Also, pick a dish in an unusual shape as this can accentuate a design, which you can see here with grapes on a teardrop platter."
Let's raise a glass
Emma has mixed and matched the wine glasses on this table, which I'd never considered doing. I love this idea as it brings more depth to the design. The patterned ones feature a bespoke hand-painted dragonfly design by Monique Low at Toasted Glass. I commissioned her to create this design after visiting Monique's stall at an RHS event. You can ask her to create any design to produce a bespoke finish for your dining table. These glasses feature pastel shades, which complement the pale pink Jasmine glass tumblers set of four from Oliver Bonas perfectly. You may recall the Large Pure White Gluggle Jug in the breakfast table design Emma carefully curated for me recently.
Cocktail party ideas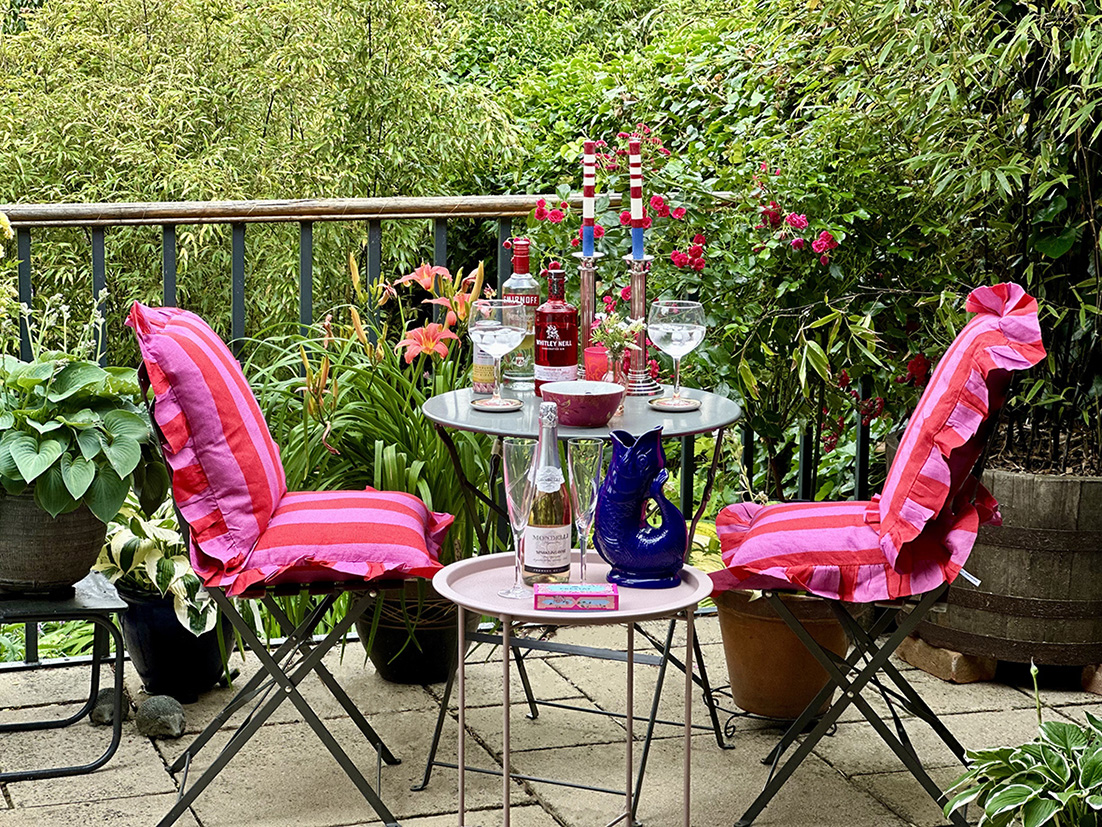 This home or garden bar has been carefully curated just outside my open-plan kitchen to provide guests with easy access to refreshments
One way to impress your outdoor dining guests has got to be with a mini, portable home bar. Surely there's no better way to shake up your summer entertaining? So, it was with this in mind that I also asked Emma to deliver a pre-dinner drinks transformation in the confines of my garden. She chose my John Lewis bistro dining set (in steel) and our terrace for the location, which is where I tend to enjoy breakfast, so this made a great change!
This compact dining set is in a great position as it's just outside our bi-folds and open-plan kitchen living space. Emma explains: "Practicalities are key when designing a tablescape for pre-dinner drinks or a cocktail party – it's important to think how far you'll want to walk with glasses, and a tablecloth in this instance isn't necessary if you've got a wipe-clean, outdoor bistro table."
Emma has some top tips on how to create a bar area: "Its natural to want your guests to enjoy themselves but acting as a bartender throughout an evening can quickly overwhelm you. So, why not set up a beautifully curated drink station fit for a cocktail party on the terrace? This way, you can offer guests a fully-stocked area where they can replenish their glasses at their leisure. Wine coolers and ice buckets will also help to keep drinks chilled on balmy summer nights."
Let's peruse my party table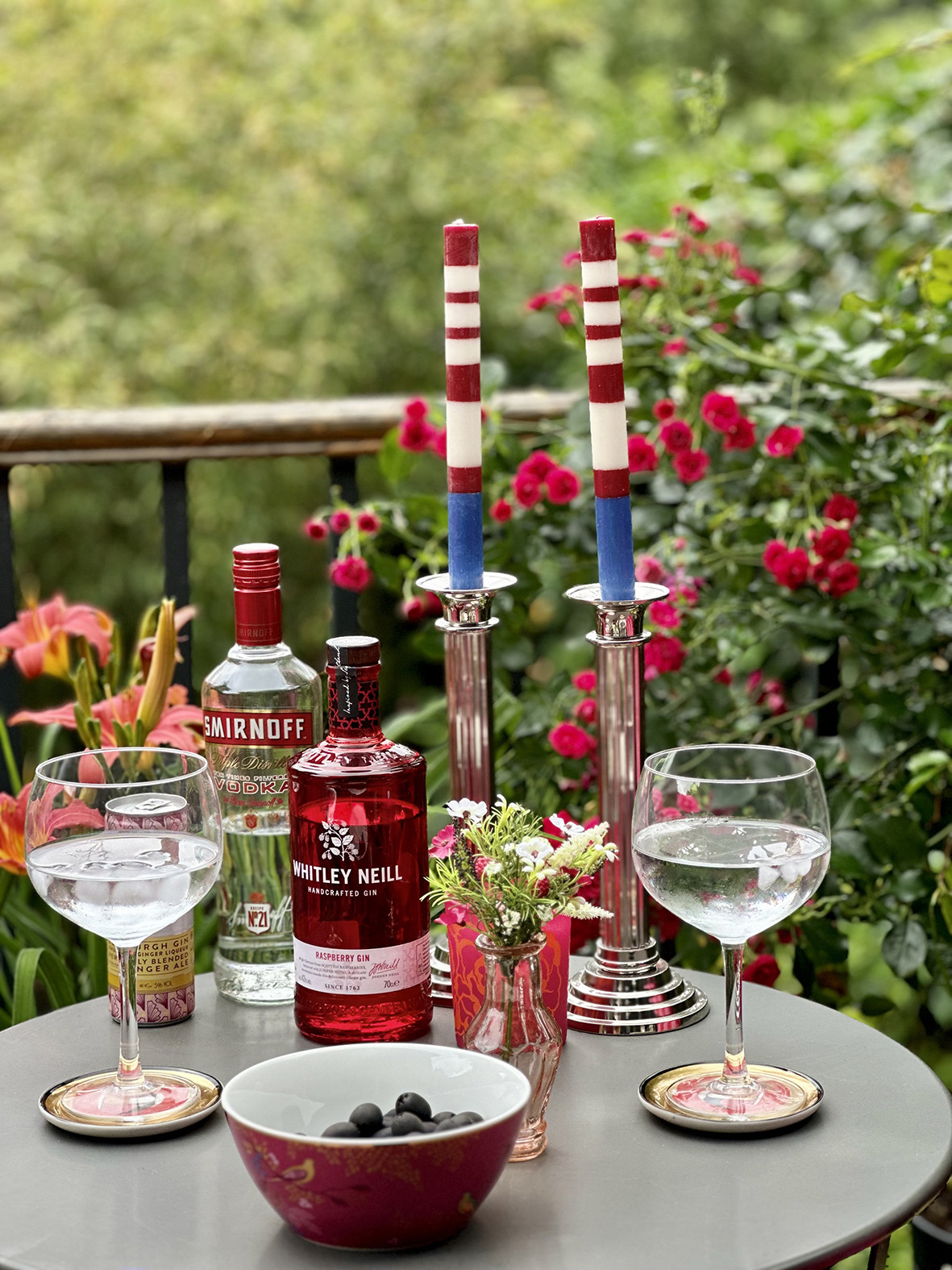 Emma has cleverly contrasted formal with fun in this inspirational cocktail party tablescape
In terms of setting the mood for party night, Emma has used striped candles from Fenella Beaumont to add a subtle glow on an evening for a more relaxed vibe. I must admit, I've had my candlesticks for a number of years and I really can't remember where they were from. However, I do buff them up with a silver cloth from time to time and Emma has used these to add a more opulent look. " I like contrasting formal with fun as this can help to add more impact to interior and exterior design," she adds.
Emma suggests adding more permanent outdoor garden lighting too and she explains: "I tend to plan and design mains-operate garden lighting when I'm working on client's kitchens or family rooms. Nothing will enhance the mood in the evening quite like this and it's good to use a mixture of lighting styles." Emma's own Diptyque candle adds another glow and it features vibrant pink with tangy orange for the perfect mix of blend and contrast with the cushions.
Statement stripes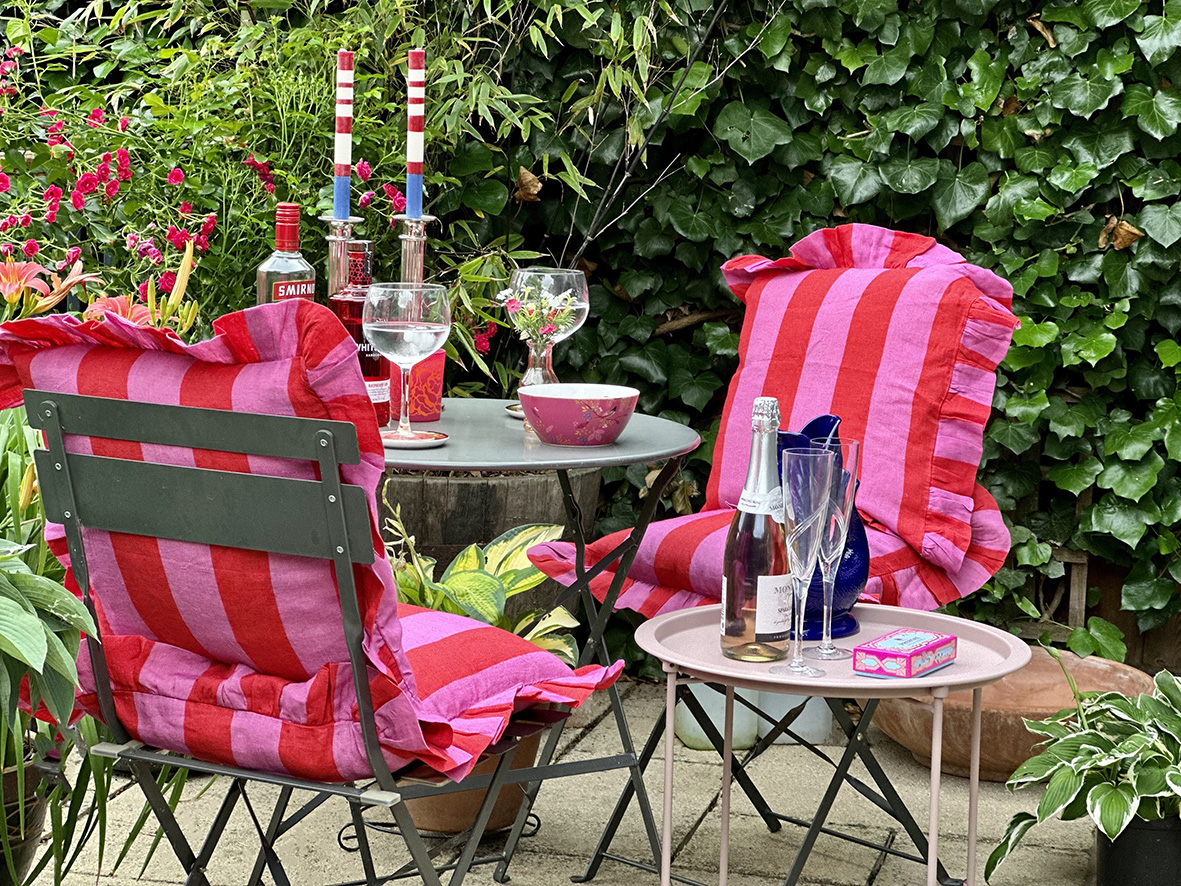 Super stripes are bang on trend in fashion and the home this season
One of the key fashion trends for 2023 are stripes, so I'm keen to apply this look with finesse to my home. In this tablescape, Emma has chosen bold 'super stripes'; these have already appeared on some of the leading runways last year showcasing this year's summer styles, such as Moschino. Emma explains: "These statement stripes are bolder and brighter than ever for the summer months. In the home, this distinctive style can easily translate onto cushions and these Amuse La Bouche covers reflect this look perfectly. The cushions also work well with the stripes on the candles."
Pretty in pink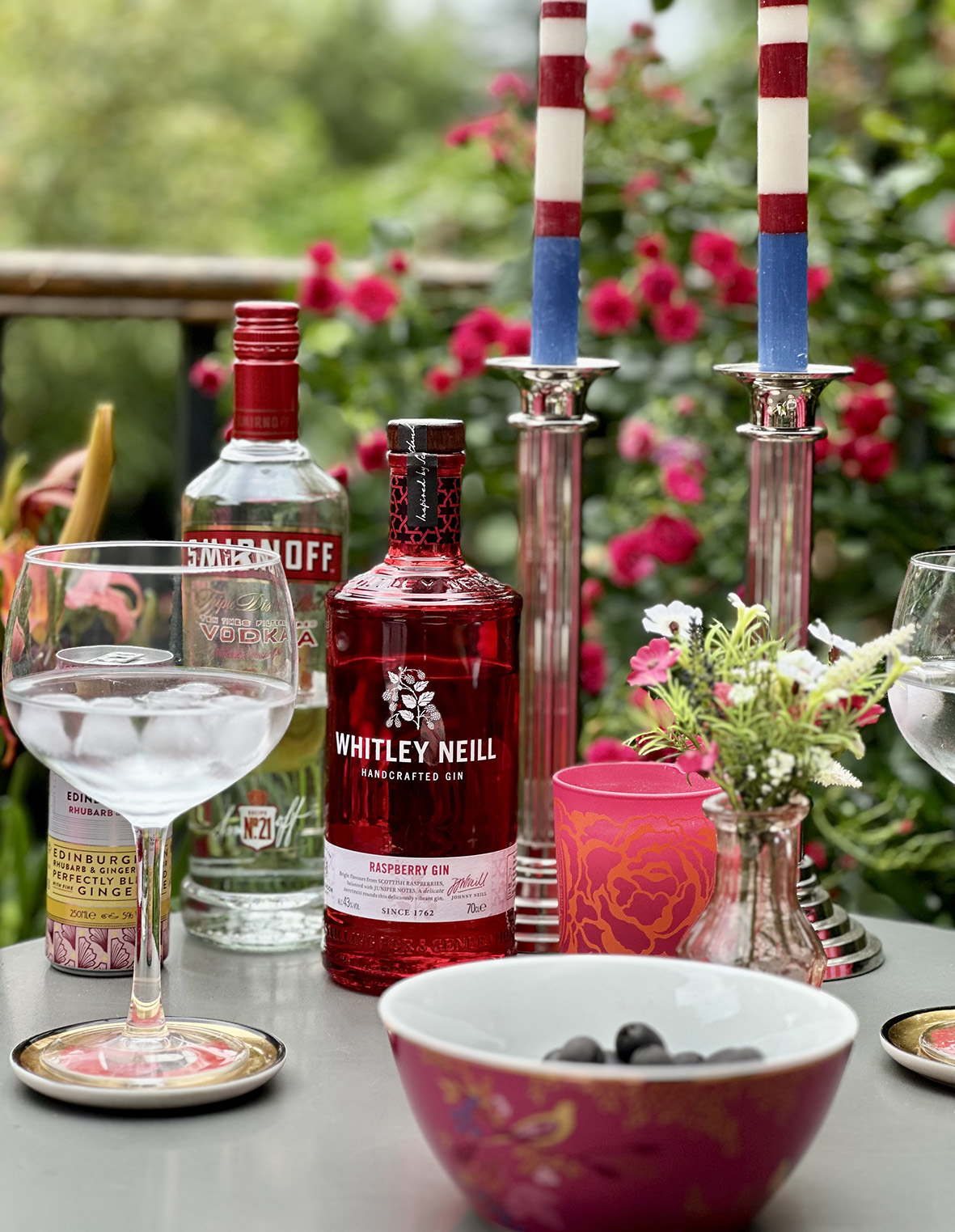 If you're looking for 'just what the decorator ordered', you can't go wrong with my Jonathan Adler Full Dose coasters! 
My Jonathan Adler Full dose coasters in porcelain are described as 'just what the decorator ordered' on their website and I entirely agree with these sentiments. I absolutely love them! They are great fun and they always make a talking point when we're entertaining, too. In fact, Emma has used a couple of these (they come in a set of four) to add a sense of style and fun to this display. She has also introduced my pink table from Hodge & Hodge with a couple of cut-glass Stuart Crystal champagne flutes and some sparkling wine to help set the mood for a party. I find this powder pink table so handy; I can use the top as a tray and simply flat-pack this and the legs to store when not in use.
Emma adds: "This area reminds me of being on holiday on a balcony in Amalfi. My design features a collection of objects styled at different heights to create maximum impact and add hints of drama to your garden bar. Here, guests can help themselves to drinks in a vibrant area, which features an unusual mix of colours. With views onto the garden, the finishing touches help to bring out the colours of nearby plants with reddy pinks and orange hues.
Other finishing touches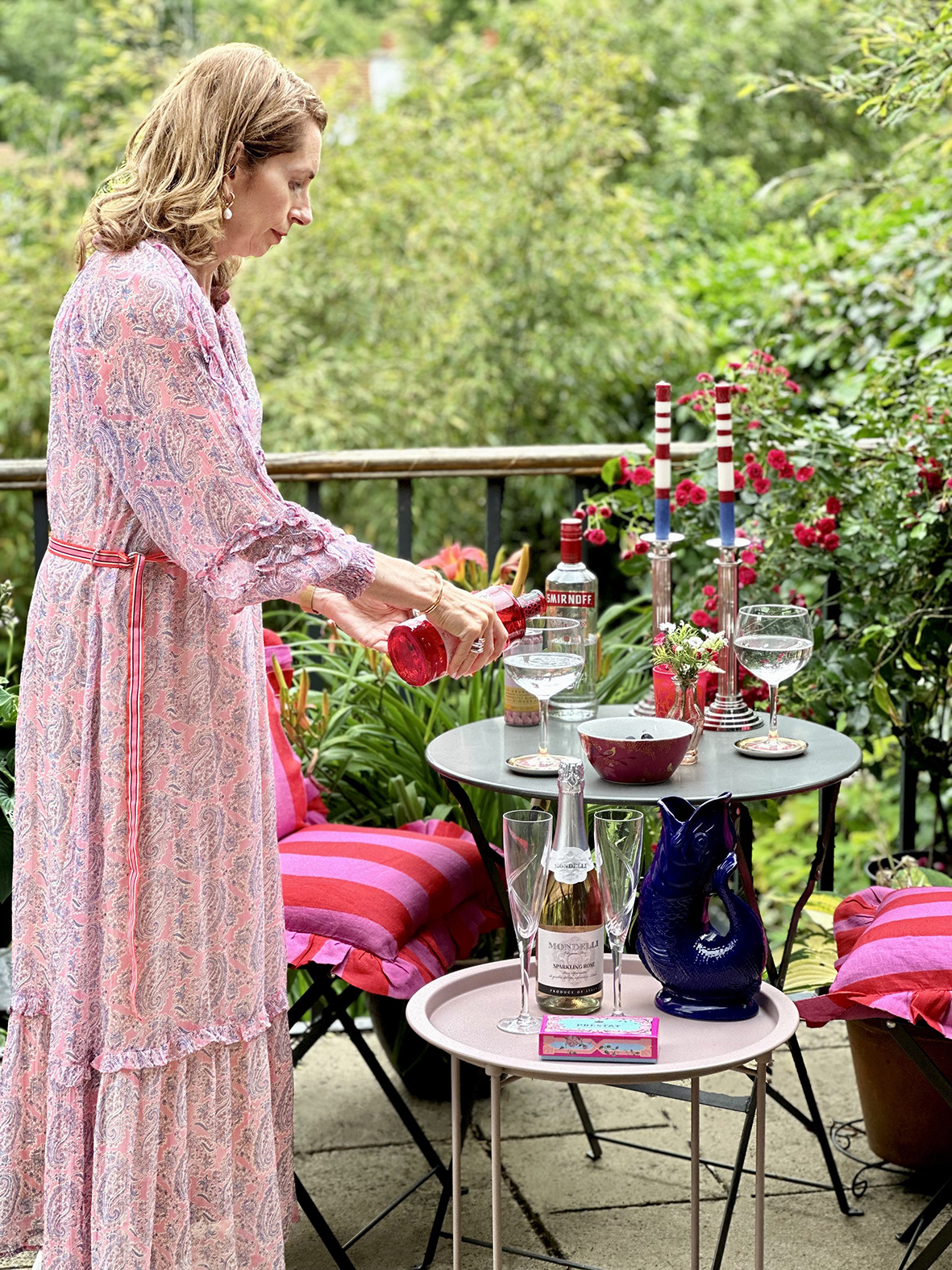 Emma chose the Cobalt Blue Gluggle Jug, which she has filled with water, to help keep guests hydrated in the summer heat
A friend of mine loaned me the large Cobalt Blue Gluggle Jug – do you remember the white one in part one of my al fresco dining blog? Well it also featured on my cheese and wine spread and the same friend has got two (lucky thing!). Emma chose this one to provide a touch of tonal shade with the blue stripes on the candles. She adds: "Guests always need hydrating and these Gluggle Jugs instantly add fun; this is in terms of how they look and the sound they make when pouring water from them. Here, you can see the blue is a perfect shade for evening vibes and it has provided a good way in which to add deep colour."
The bowl, which features a stunning bird design with 22-carat gold detailing, comes from my Sara Miller Chelsea 12-piece ceramic dinner set and is perfect for nibbles. Emma has added some of my favourite tipples – gin, vodka and a bottle of sparkling wine for a special occasion. Then, to complete the look, a small posy of faux flowers in one vase from a recycled glass vintage bud vases collection, (a set of three) from Sass & Belle, add further interest. Emma says: "I think flowers can help to create a large or small display depending on the size of your setting. Consider where you're placing them as you want to be able to see your guests! Also, remember that you may not need so many for outdoors as you would inside, as you're already surrounded by nature."
Outdoor dining tips
Emma concludes: "You can choose different areas in your garden according to each occasion. For example, larger, more secluded areas work well for longer/bigger meals. This also keeps the noise at bay from neighbours and allows you and your guests to fully relax. This area can then become a secret haven, however don't forget to consider practicalities. Your home or garden bar should be easily accessible to the chef in the kitchen and guests in a less formal setting for standing and mingling.
Did you miss part one, which features more al fresco dining ideas for entertaining in style in your garden? If you're looking for a guide on how to create blissful breakfast and lounging lunch tablescapes, you can read all about it on my blog here.
AD: This is a joint collaboration between our director Emma and Style & Decor blogger, Sarah Worswick.