Do you want to enhance your home and reflect your individuality with luxury interior design? Bespoke joinery is a fantastic way to help you do this as part of the design process. At Emma Green Design, we will design a unique piece for you, which a bespoke joiner then hand-crafts, to be functional, visually satisfying and integrates seamlessly into a design scheme. From walk-in wardrobes and media units to cocktail cabinets and built-in bars, we can always find a design to suit your individual needs. When I'm designing or planning the layout of space for clients, from a living room to a bedroom, bespoke joinery always plays a crucial role.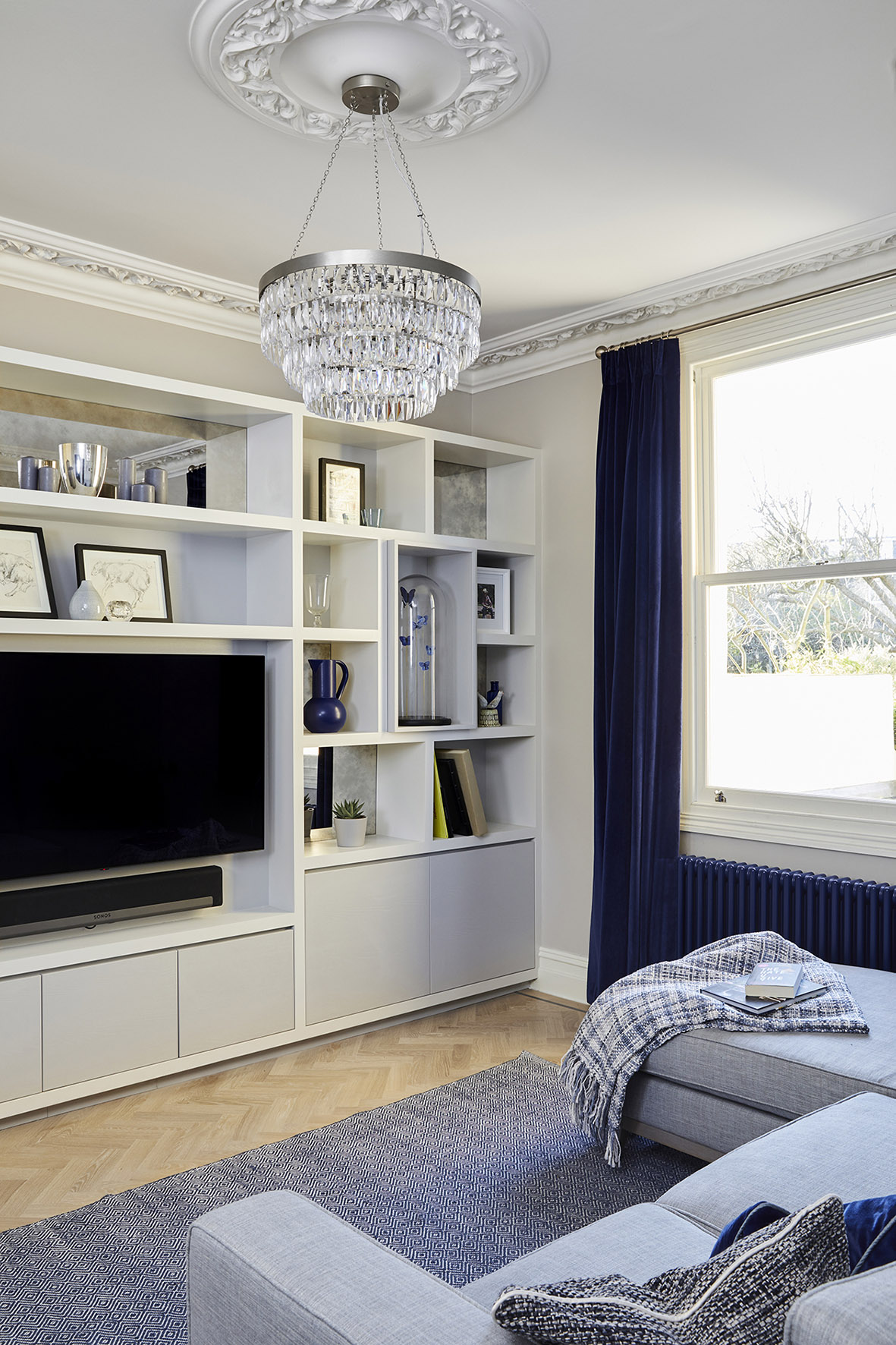 This bespoke joinery media unit features contrasting finishes on the shelves and doors, which add depth and structure. A television takes centre stage and the shelves were designed to be slightly asymmetrical. Different shapes and heights help to create a sense of interest and move the eye along this impressive display
Functionality is crucial when it comes to bespoke joinery, however the opportunity to add a unique, original feature to your home can be visually satisfying, too. Bespoke pieces, which will integrate seamlessly into a design scheme are our speciality. Here, you can discover my thoughts on this subject and why you should consider this for your home:
What does truly bespoke mean?
Let's consider what the term 'bespoke' really means. A truly bespoke design always starts with a blank canvas. With bespoke joinery, you can use this expertise to create a completely unique representation of your client's personal vision – their story. You'll find each element is carefully considered at the start of every individual project. In fact, bespoke joinery can cover a multitude of different aspects in design, from door styles and drawer depths down to the colour, shape and size of a handle.
Adaptation with customisation
In luxury design, the word 'bespoke' is often confused with 'customised' and 'made-to-measure'. However, the latter terms refer to anything, which has been designed from a pre-existing template. It will then be tailored to fit your individual needs. One way to look at processes, such as customisation, is the adaptation of an off-the-shelf item. With so many design choices available, it's no wonder you may not be sure, which route you should choose. However, this is where our expertise comes in. We specialise in bespoke design, which means you can collaborate with a highly-skilled interior designer to establish your unique vision. After all, bespoke design is fundamentally about creating a product, that is precise to your brief or specification.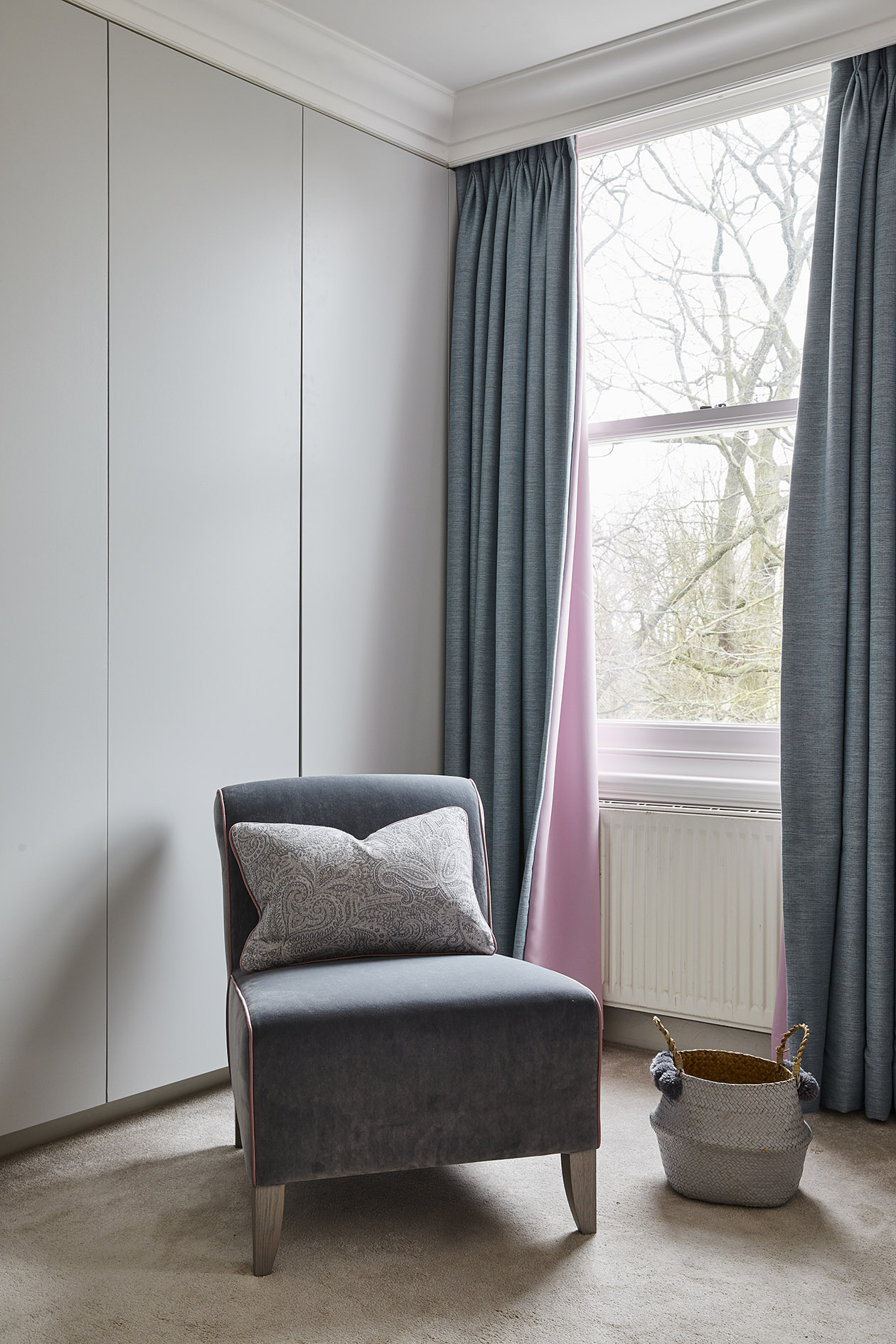 We designed this bespoke wardrobe in a London townhouse with a sleek, unobtrusive look in order to let the rest of the room, and a view onto Wandsworth Common, shine. With a spray-painted finish, I designed the interior to incorporate his n' her clothing and shoe storage with shelves, drawers, half-and full-hanging areas. I chose a handleless design for a sleek finish
When designing luxury interiors, many components come together to create a curated look. Consequently, each aspect – truly bespoke, custom and off-the-shelf – must be carefully and individually considered. This way, you can feel reassured the finished piece will suit the space you have and meet your exact needs with unique visual appeal. In fact, some pieces can fall into more than one category – antiques are one such example.
Case study: bespoke media unit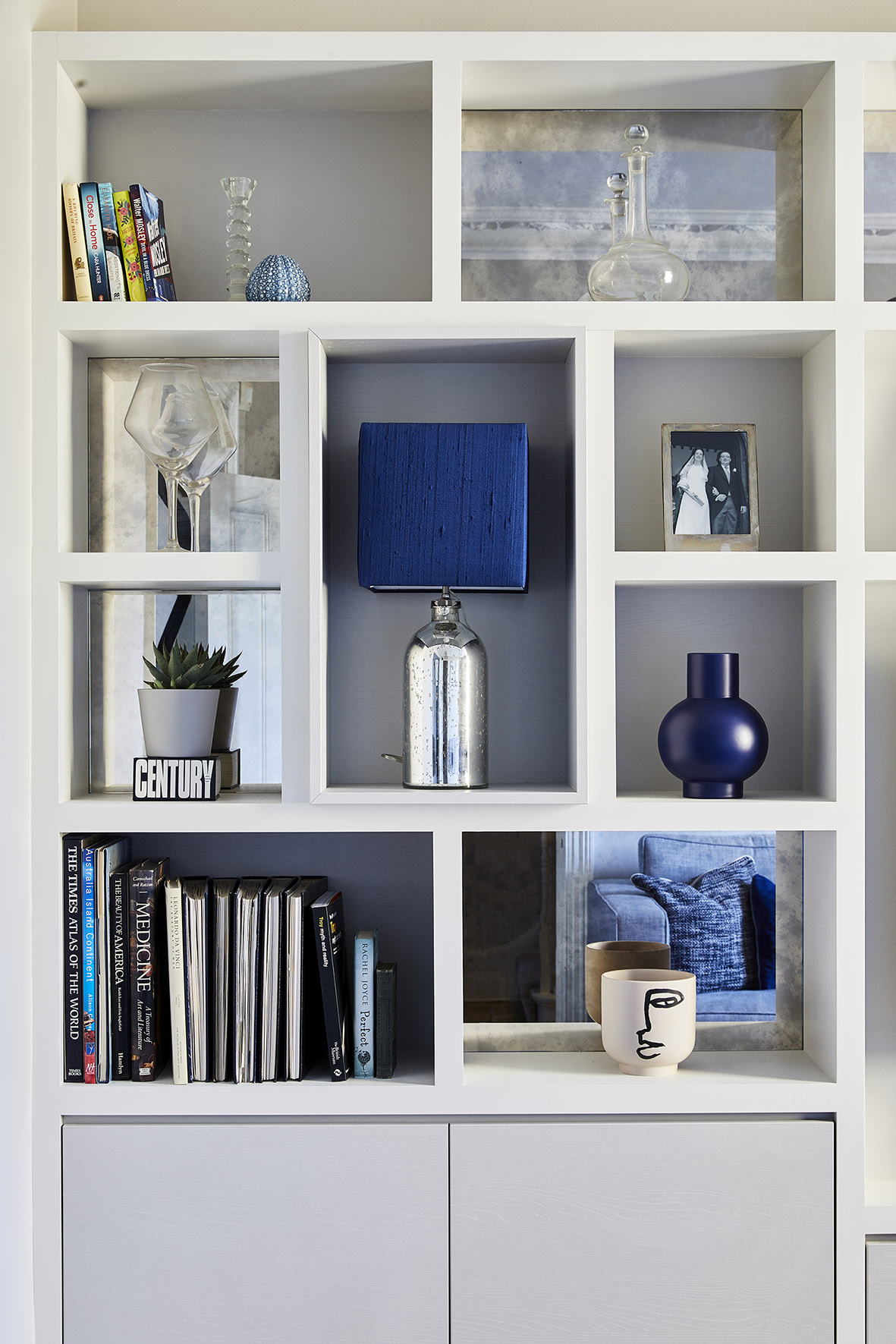 This is a close-up shot of our bespoke media unit, which has been specified down to every last detail. Antique mirror, at the rear of some areas in the open shelving, helps to bounce light around. Meanwhile, muted colours help to enhance the interior design in the overall room. This bespoke joinery extends the full length of the wall to maximise available space. I designed the base units to allow for additional storage, and hide unsightly TV wires, for this busy family. We even designed space and wiring to feature a table lamp, which adds a lovely soft glow and an unusual height. The shelves feature my client's personal possessions and prized books. I find the design glamorous, yet functional – it sits wonderfully in the overall scheme, which cannot be achieved this well with made-to-measure or off-the-shelf pieces.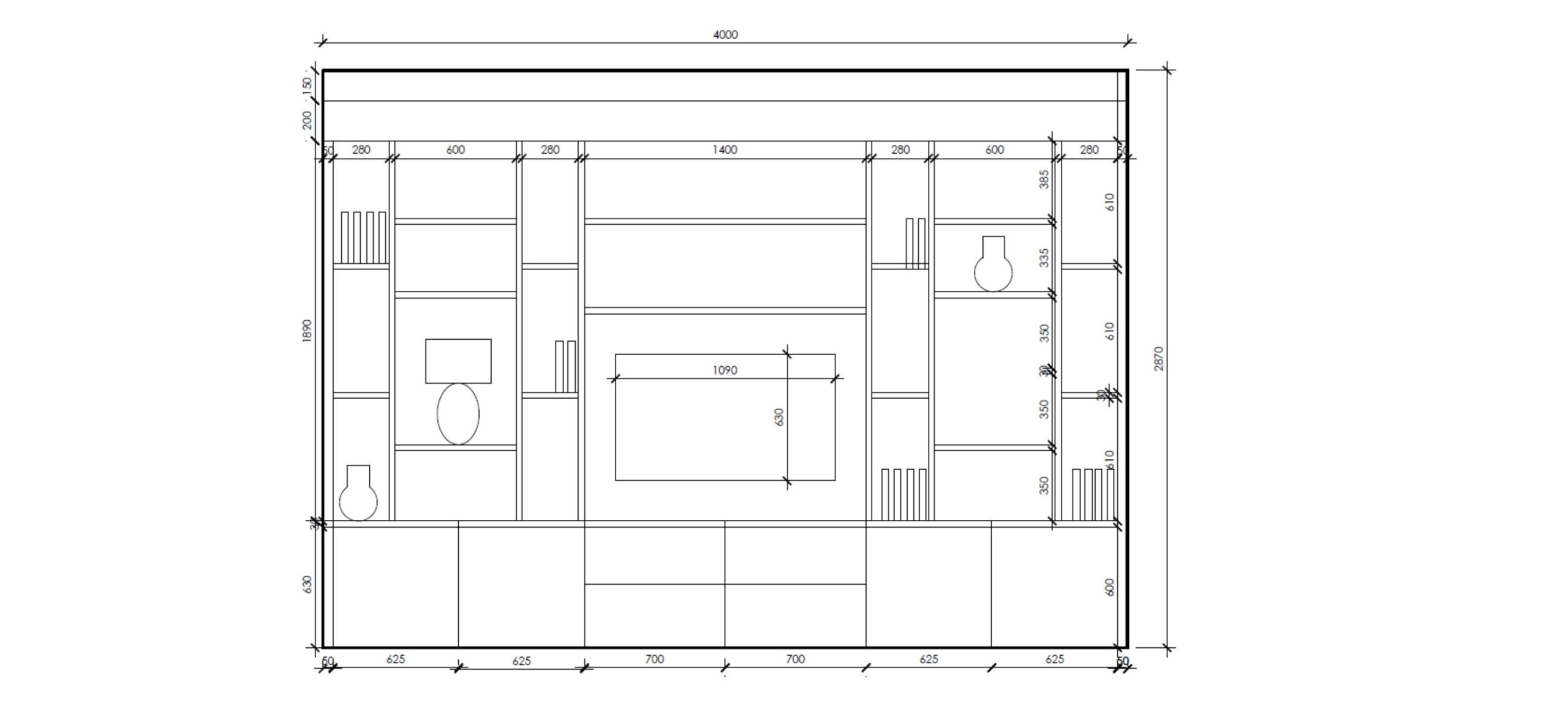 Bespoke joinery drawings showcase our initial plans for the media unit before it was produced to our specifications
Why should you consider bespoke joinery?
There are a multitude of virtues for bespoke joinery. With the help of a bespoke joiner, I can produce an item that fits perfectly in your space and works within the interior, creating a unique home. Here are some key reasons why I think you should consider this method:
The perfect fit
Bespoke joinery allows you to enjoy the benefit of a piece, which works within that individual interior and fits and maximises the space you have, perfectly. It will be made to your exact instructions and every detail will be considered.
Unifying the look
To deliver the crème de la crème, this really is the best way to create a truly unique home. The key is to work with an interior design expert, such as Emma Green Design, who only works with trusted joinery specialists. With these vital components in place, you can feel confident the piece will look stunning and meet all your expectations.
Adding value
Investing in pieces, from made-to-measure wardrobes to bookcases, will save space and instantly add value to your property. Bespoke carpentry is sought-after by estate agents and buyers alike, regardless of whether you're renting or selling a home. I think this is particularly true in cities, such as London, where space comes at a premium. Regardless, your bespoke joinery will be made to last and hold its value.
Utterly unique
The piece you choose will be truly unique – it will be made especially for you to fit your own sense of style and the way in which you live.
Adapting to your needs
When collaborating with a bespoke joiner, we design your piece to fit within a space, which will adapt to your needs, not vice versa. From bespoke wardrobes to innovative storage, it's all about finding an intelligent, aesthetic solution for a challenging space or functional issue.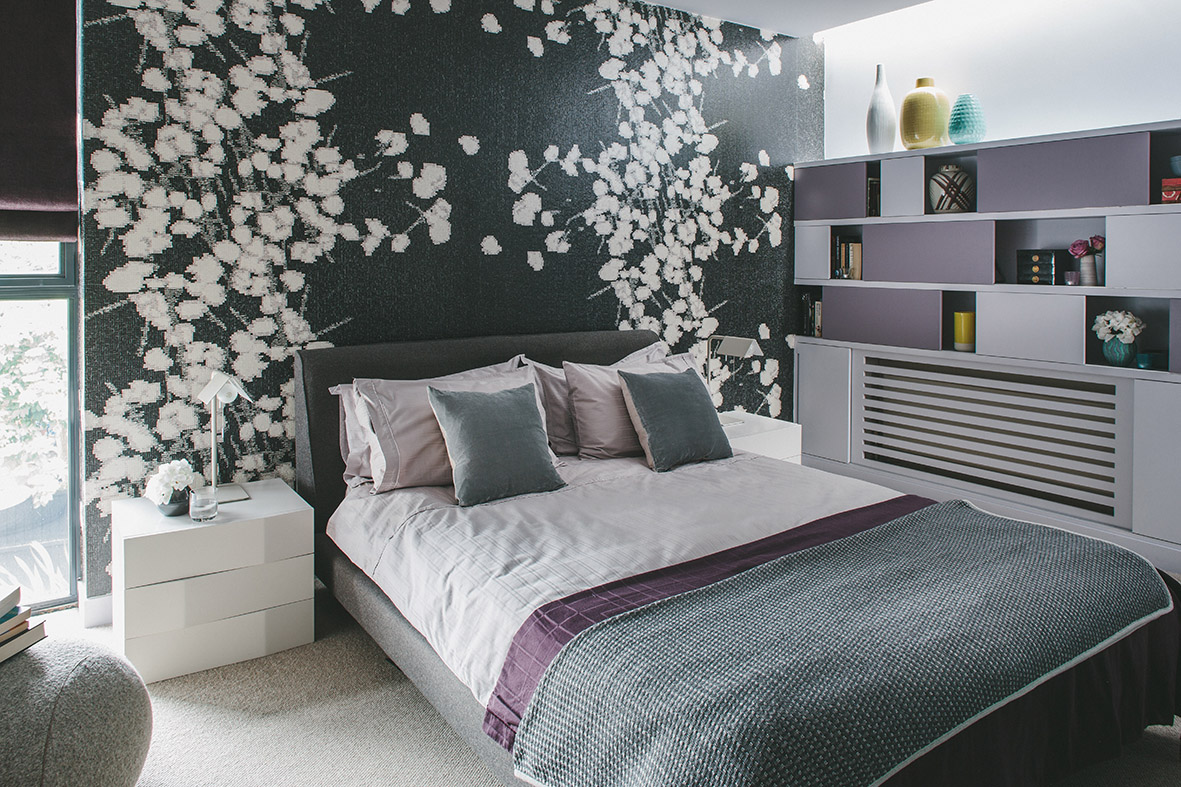 In this master bedroom, the brief was to cover an ugly radiator, display our clients' prized vase collection and provide room for a mirror, hairdryer and reading books. I designed this bespoke unit with sliding doors to hide books, at my clients' request, and the hairdryer. Meanwhile, my clients' vases are clearly on display. The radiator is cleverly hidden behind this bespoke slatted joinery to let heat into the room. I used muted tones and bold wallpaper to create more contrast
Working well with awkward spaces
Designing a bespoke piece is often about finding an intelligent solution for a challenging space or functional issue. And awkward spaces can range from unusual angles to compact areas.
Creating a focal point
Your designer can select materials and finishes, which are fit for purpose. However, they will also complement the overall design scheme. As a result, you'll benefit from an exceptional signature piece, which can create a striking focal point.
Case study: bespoke kitchen reading nook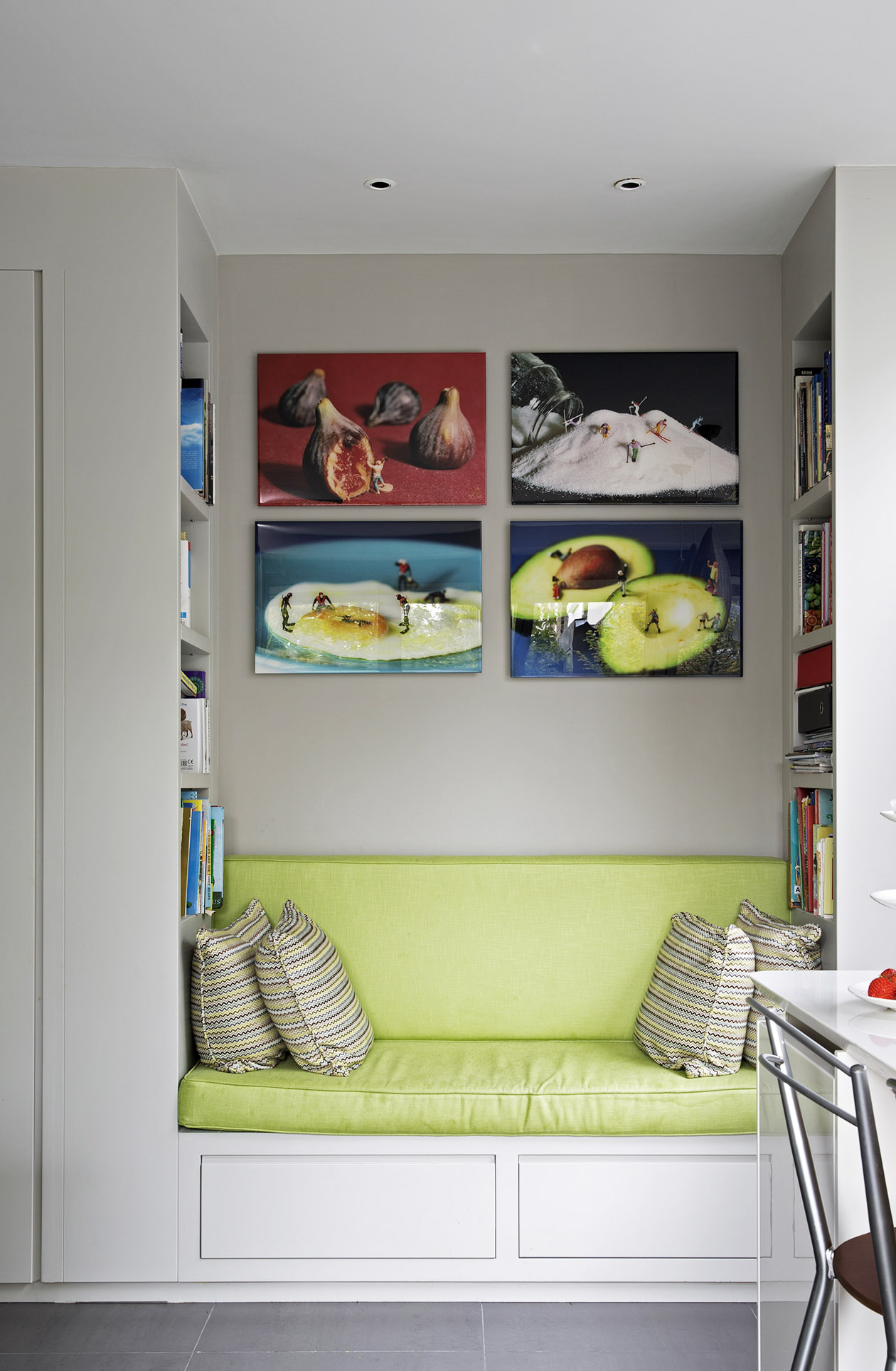 This bespoke reading nook and storage area creates a striking focal point in the kitchen of a London family home. The brief was to incorporate space for food prep, cooking, dining and a reading area for the children. However, our clients also required storage books, toys and somewhere to display their treasured artwork. After all, collectables, such as artwork, will create a unique piece, making it truly special for the client.
In this design, we had to skilfully incorporate comfy seating, reading, storage and the art display in one zone, due to space restrictions. So, I created a bespoke storage and seating area. You can see the banquette seat in a washable lime green linen with recessed shelves either side for books. Underneath, the children's toys are neatly stored in flush drawers and seamless touch-release full-height cupboards flank the seating area for additional storage.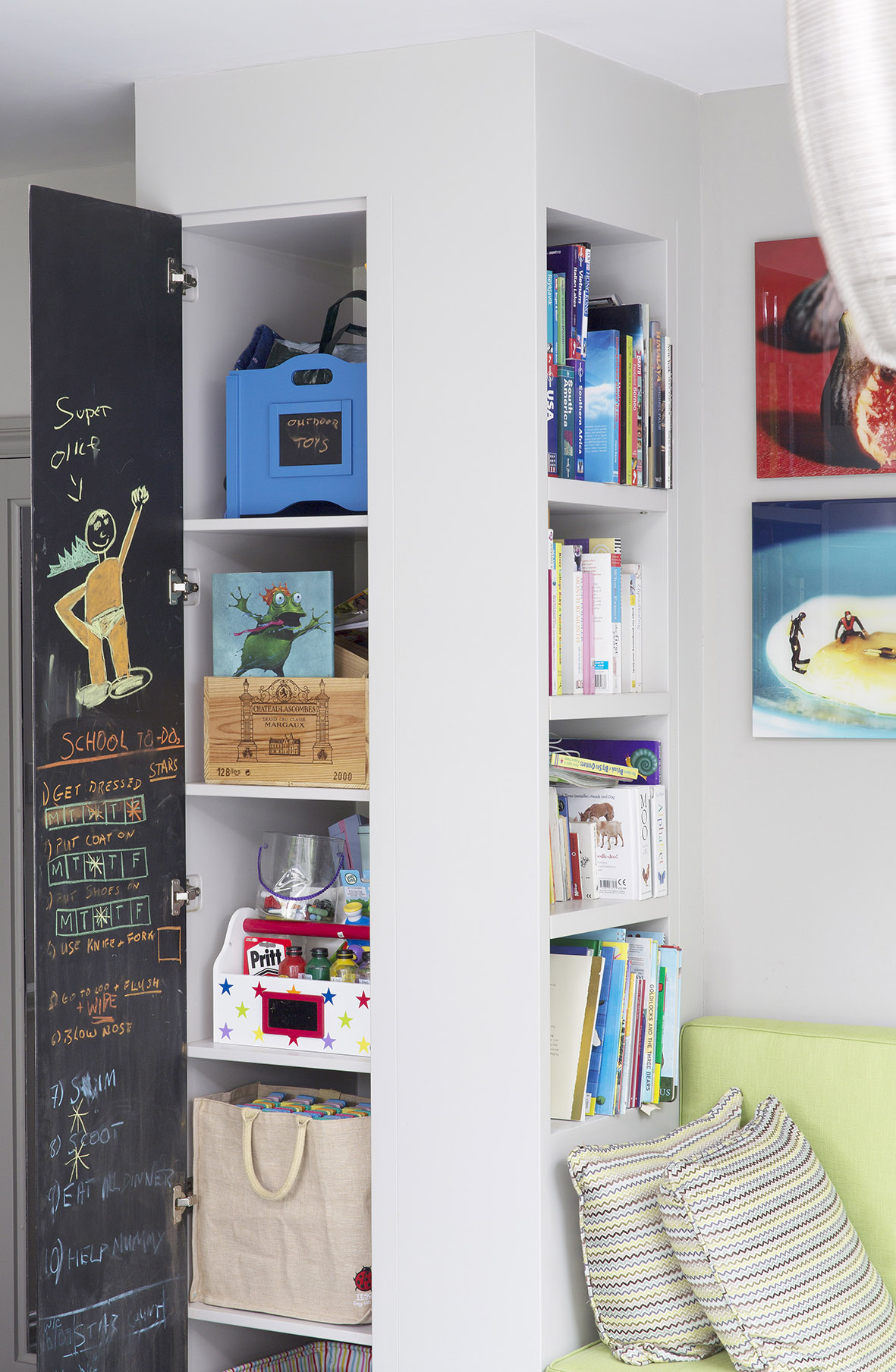 Inside the cupboard doors, we've used blackboard paint to allow our client's children free reign for creativity! Their funky artwork is also proudly on display with carefully considered downlighting to illuminate it. This bespoke joinery has created a compact, multi-functional space and a very happy client (plus their children!).
Transforming homes with bespoke joinery
On a practical level, bespoke joinery allows us to create space for exactly the items you want to store. For example, I recently designed bespoke built-in joinery for a client's study, which housed their printer and shelves at just the right height to fit their files.
Aesthetically, with hand-crafted joinery, I can feature bespoke colours and various materials, from striking woods to gorgeous brass trims. The item can be dressed with a choice of handles, inset designs and materials on the cabinetry, such as fabric or wallpaper. These finishing touches are just as important as they would be when it comes to fashion. Think where you might add a Chanel handbag or a Tiffany necklace to finish a super-stylish outfit. On the same subject, I've even designed a bespoke shoe cupboard for one of my clients in Shoreditch.
Space matters
An expert interior designer and bespoke joiner will consider the best use of space, the client's needs and vision, foresee any issues and plan around them for you. Space comes at a premium in the UK, especially in London. So, good joinery, which is planned and designed well should allow for maximum use of space where possible. This is why a fully qualified interior designer and bespoke joiner can help to solve a multitude of problems with small and awkward space design.
As the yearning for the unique and exceptional continues, so will the demand for bespoke homes. Bespoke joinery is a crucial element of this. What could be a better investment?
You can find out more about my latest news and projects if you follow my blog. To find out how Emma Green Design can bring your room or home to life with bespoke joinery solutions, please get in touch here.