How well do you sleep at night? For many people, a good night's sleep is becoming increasingly elusive. Did you know that around one-third of Brits experience insomnia at some point in their lives? So, if you're tossing and turning for hours, regularly wake up too early, or experience disrupted sleep, you're far from alone. Insomnia has many causes, which can include physical conditions, psychological conditions (such as stress and anxiety), or even a combination of both.
The bad news is that trouble sleeping affects both our physical and mental health, negatively impacting our mood, energy and ability to deal with stress. The good news is that insomnia can often be improved simply by changing your sleeping habits – and your sleeping environment is key. So, first and foremost, let's explore some tried-and-tested bedroom décor ideas to help you get a good night's sleep. You might be surprised to learn that colour is the first place to start.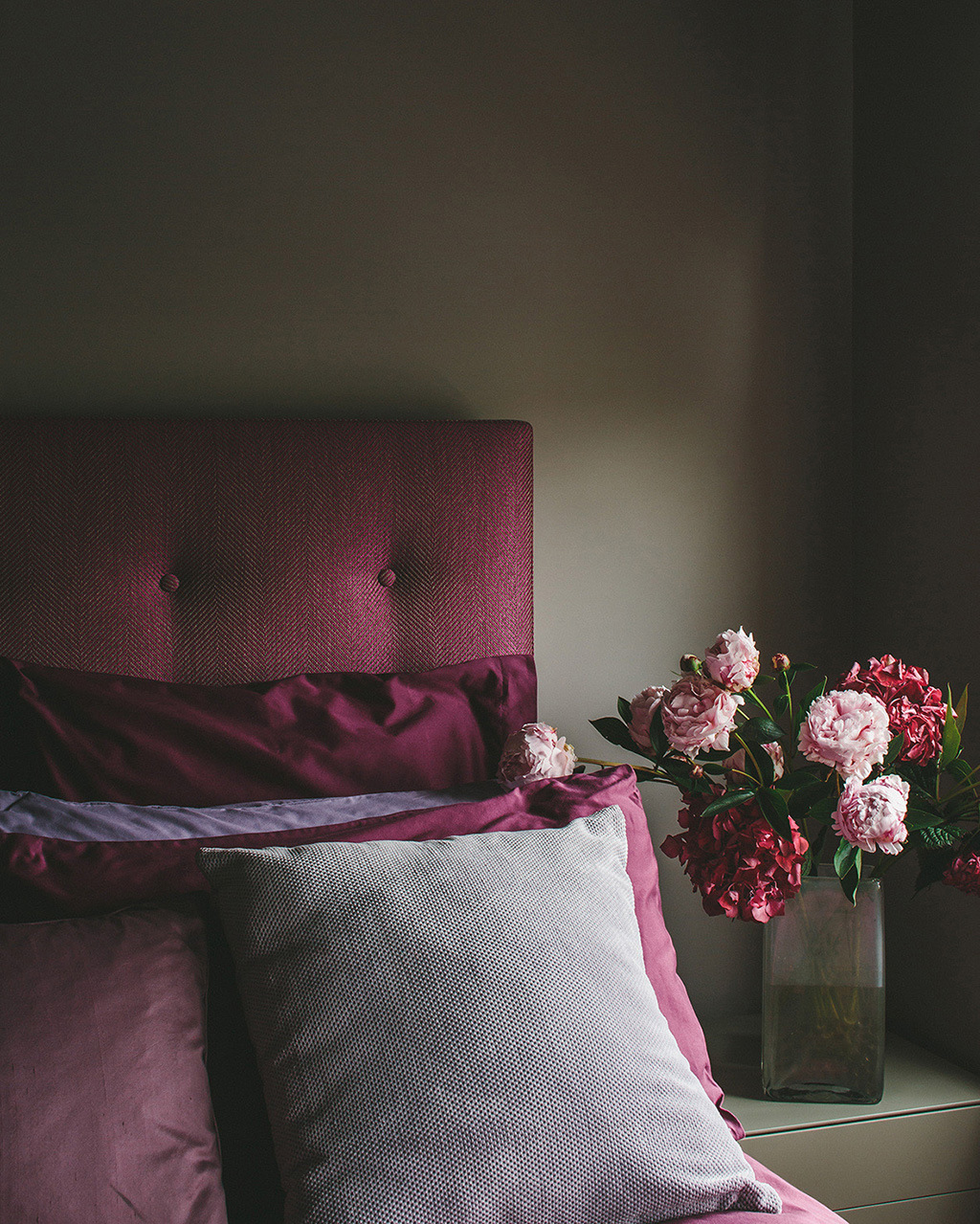 Featuring dark taupe walls and a rich, deep pink headboard and bedding, this confident yet cosy colour combination, created for a client's property in Clapham, is one of my all-time favourite bedroom projects
Master bedroom décor ideas & colour psychology
While I'm best known as an interior designer, I'm also a colour specialist with a comprehensive understanding of colour psychology. Colour can influence pretty much everything we think and do – and is therefore a powerful interior design tool.
Different colours – and even different shades or hues of colours – affect our mood (and also our appearance) in different ways. They have a lasting effect on our minds and how we feel. So they are especially important to consider within bedroom decor ideas, as we want to feel just right in this most important of spaces. A good night's sleep is vital for health and wellbeing. And the right colours really can help us to achieve that.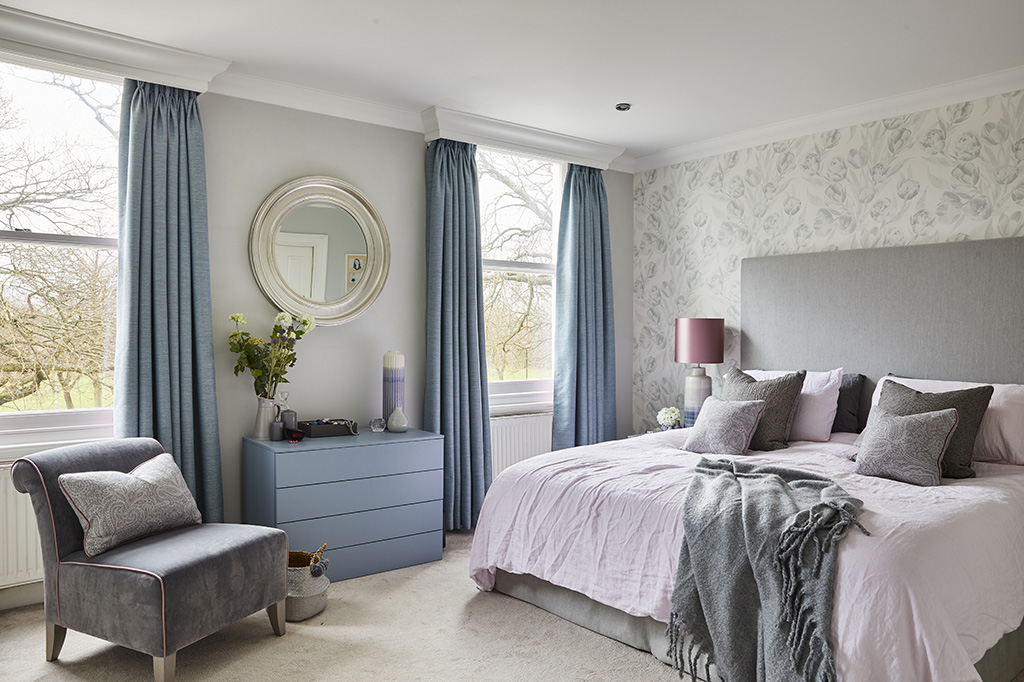 This master bedroom pale blue/grey colour scheme is the epitome of calm and tranquillity. We chose the wallpaper to complement the view of Wandsworth common, and mixed and matched different textures (linen bedding, a wool throw and a bespoke velvet chair) for extra comfort and cosiness
Shades to select & spurn
Soft, muted bedroom colours are the best choices for a good night's sleep. Shades of blue, pale pink, and beige/cream neutrals are perennially popular. Knowing which colours to avoid is an equally important element of exploring bedroom decor ideas. Red, orange and black are generally thought to be too overpowering/depressing to promote feelings of tranquillity.
Appearance & mood
While sleep is the most important element, your bedroom decor ideas influence other things too. The colours we choose affect how we see ourselves (literally), as that's what the light bounces off. The bedroom is usually the room where we look at ourselves most in the mirror. The way colour is reflected will affect what we see – and consequently how we feel. So the right palette is vital for many different reasons.
True blue
There's no shortage of evidence to suggest that blue is one of the best colours to incorporate within your bedroom décor ideas in order to help you sleep better. Blue is particularly calming. It's widely associated with nature (especially the ocean), peace and stability, and evokes feelings of serenity and security. A blue bedroom can help you feel safe, relaxed, and more inclined to drift off into sleep. You can feature your chosen colour on your walls, floors, bedding, curtains and key pieces of furniture, including headboards. Paintings add colour and character, too.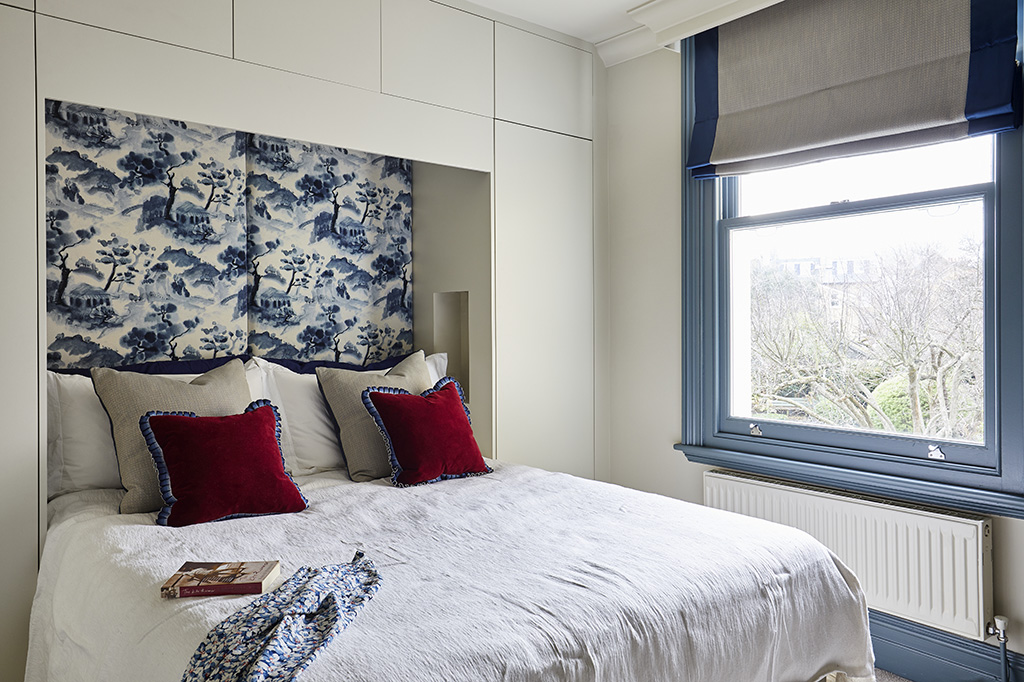 For this St James townhouse in Wandsworth Common we chose shades of calming, tranquil blue, against a warm white background. Statement burgundy cushions, plus a bespoke headboard in dramatic velvet chinoiserie fabric, add interest and impact. We also designed bespoke wardrobes to maximise storage and minimise clutter
Green & pink bedroom décor ideas
Also associated with plants and nature, green is another shade that promotes feelings of relaxation, calm and safety, which in turn helps to promote a good night's rest. In interiors terms, it's also a versatile colour that doesn't overwhelm. Select soothing sage or even emerald green, rather than bright lime or acid green.
Pink is a brilliant partner for green bedroom decor ideas, and also works well as the main shade for your colour scheme. Warmer neutral pinks, such as blush, add a warmth and tenderness to bedrooms, while still offering a neutral backdrop. They also work well with antique/darker wooden furniture, and create a flattering glow for our skin.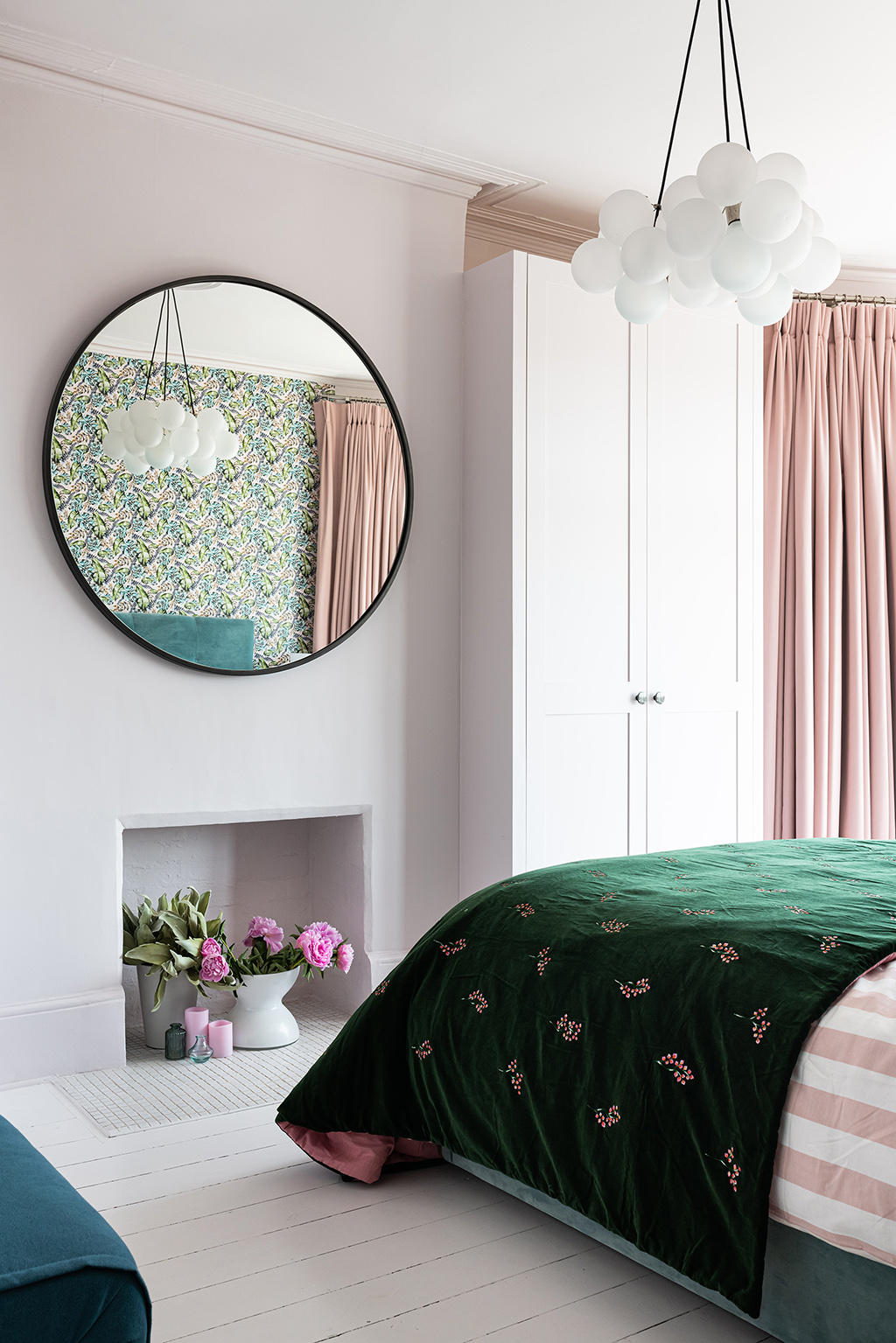 Soft pinks and deep greens, on-trend striped bedding, a statement wallpaper feature wall, and a deep green velvet throw are the key elements of this London townhouse project. This bedroom is fun, feminine, stylish yet calming 
The neutral palette
It's hard to go wrong with neutrals when you're assessing potential bedroom decor ideas to aid a good night's sleep. Soothing shades of beige and cream will help you to unwind. And don't discount white – it's a great backdrop for the rest of your bedroom design. This palette works well with rich, deep chocolate brown. I'm currently using this shade in a master suite for a client's Imperial Wharf Penthouse apartment in Chelsea. It's soothing, calming, restful and cocooning.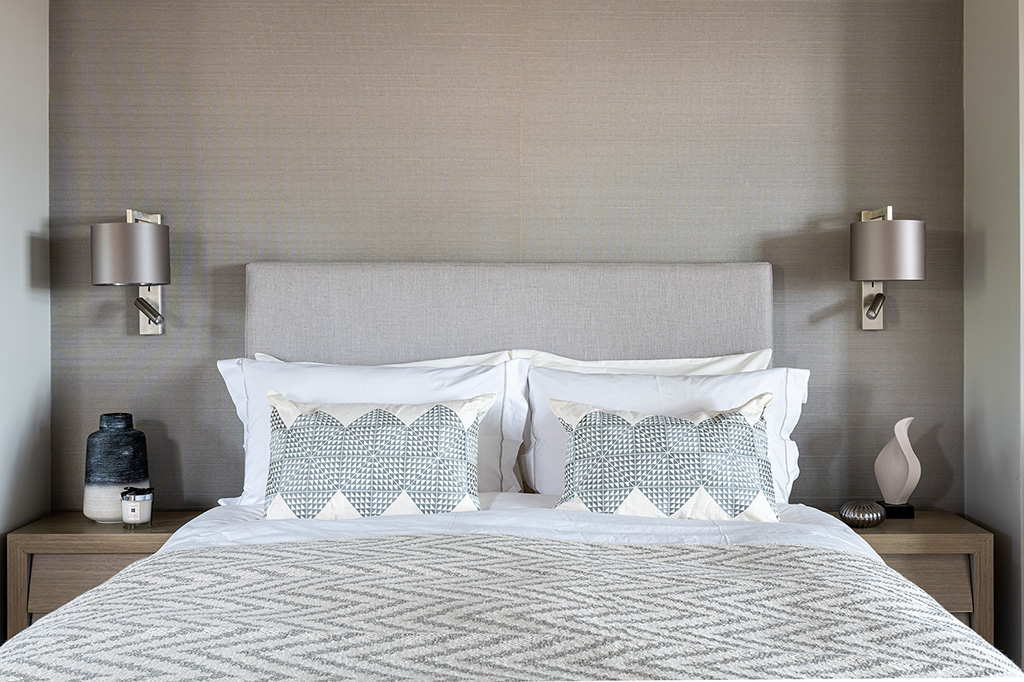 This sophisticated yet calming neutral colour scheme, created for a three-storey Edwardian property in Wimbledon Village, features a linen headboard, crisp white bedding, and lots of sleep-enhancing tactile textures
Best of the rest
Other shades to consider for peaceful bedroom decor ideas are warmer grey/taupe tones, with a pink hue. These will also create a feeling of warmth, security and cosiness. Lastly, while yellow isn't traditionally considered to be sleep-inducing, it's a joyful, optimistic colour that works well for people who like to feel happy and energised on waking. To avoid overwhelm, use it sparingly, as an accent colour, or introduce it via accessories.
Bedroom décor ideas with storage, lighting & accessories
Colour aside, there are a number of other elements to incorporate into your bedroom decor ideas that are conducive to a good night's sleep. Your bedroom shouldn't be too 'busy', so get any clutter under control. Custom and bespoke pieces of furniture often offer the best storage solutions. And in terms of layout, make sure your room 'flows' well.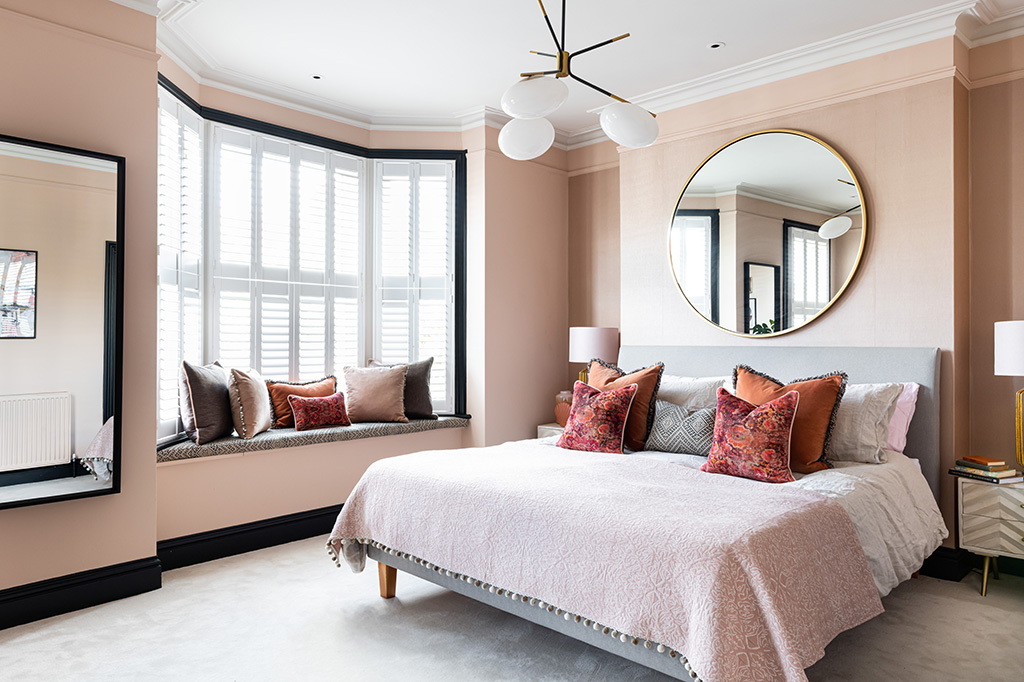 We chose a nurturing, blush pink colour to create this calming, comforting Wandsworth master suite. Black woodwork offsets the sweetness, and adds a touch of sophistication and masculinity. This colour scheme is complemented by clean, unfussy modern furniture and lighting, in addition to rust/plum bespoke cushions
Lighting is also key. Make your room feel more inviting with ambient lighting – and perhaps consider black-out blinds to ensure complete darkness when it's time to go to sleep. Use accessories to add texture. You'll want your bedroom to be inviting, so layer rugs, throws and blankets. Choose tactile fleece, faux fur and velvet, especially in winter, to make things extra cosy and comfortable. And do devote some TLC to your accessories. For example, we design bespoke cushions to match any colour scheme, and add that perfect finishing touch to your soft furnishings.
Planning a living room revamp in 2023? Click here to discover some of my favourite London living room design ideas.