Refreshed & Revived Wimbledon Village Home Design
Scope of works: Full interior design & bespoke joinery service

Project Duration: 9 months
Size: 2545 square feet
Accolade: Finalist in The International Design & Architecture Awards
Located in Wimbledon Village, this three-storey Edwardian property has been transformed into a colourful, fun family home. However, this distinctive home has also been shortlisted for an international award at  design et al. Voting closes soon (21st September) and if you could please vote for me here, if you haven't already done so, I would be delighted. The project category is Interior Design Scheme – London and my project is called Wimbledon Family Home by Emma Green Design Ltd.
The owners, a family of three, wanted to showcase their exuberant personalities within a new design scheme. So, my brief was to upgrade the entire home to become a contemporary space featuring a sophisticated colour palette with elements of fun weaved into the design. Clearly defined family and adult-entertaining spaces would be key, as would a dedicated area for the couple's child to play. A striking kitchen-dining-living space, with ample storage, would also be integral to this design.
Home design challenges
With a limited nine-month timeframe, we started stripping out the existing flooring, joinery and almost all furnishings and fixtures. The family planned to live in this property, which features four bedrooms, two bathrooms, a home office, play room, reception room and open-plan kitchen-dining-living space, for the duration of the renovation works. So, this meant we would need to meticulously plan every design detail, paying attention to a particular order with very tight controls. We spent time transforming this property, one room at a time, until every space had been completely perfected. This way, the homeowners could continue to follow their very busy family schedule without disruption and with very little stress.
Levelling the flooring throughout this property proved tricky. However, as an accomplished London interior designer, I rose to the challenge and we achieved the same height overall throughout each floor. This was despite distinct differences in floor levels ranging from areas with subfloors to those with underfloor heating.
Original features & creative colour choices
Major makeovers can affect the character of a period property however many of the original features in this Edwardian house remained intact. So, we embraced these architectural elements, such as decorative ceiling roses, original cornicing and intricate stair spindles, by intertwining these within our bespoke home design.
We also wanted to incorporate plenty of colour and character throughout this house while retaining a sense of a light, airy space. So, we featured a mix of darker hues with predominately neutral tones on the walls.
Our design service
Our full-service interior design work features bespoke joinery throughout this home, which has allowed us to create a seamless flow from room to room. Joinery examples include a bespoke media unit, shoe cabinet and toy storage, which take pride of place throughout the property. However, they also blend in well with the customised furnishings we have carefully curated. Using our interior design expertise, we have sourced all the finishings and furnishings, even the accessories, which help to complete this cultivated look. From ordering to installing, this all forms an integral part of our full interior design service.
Making an entrance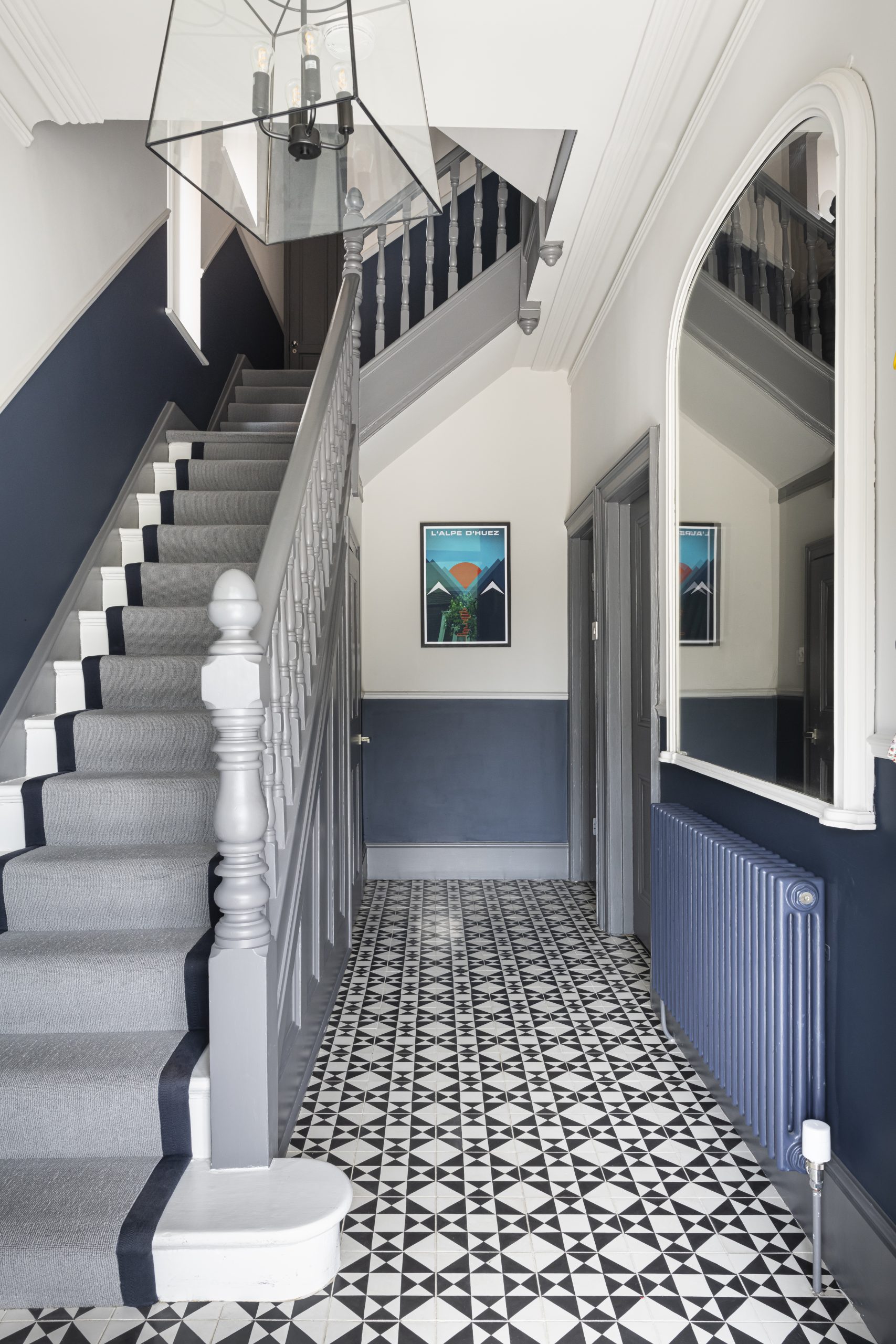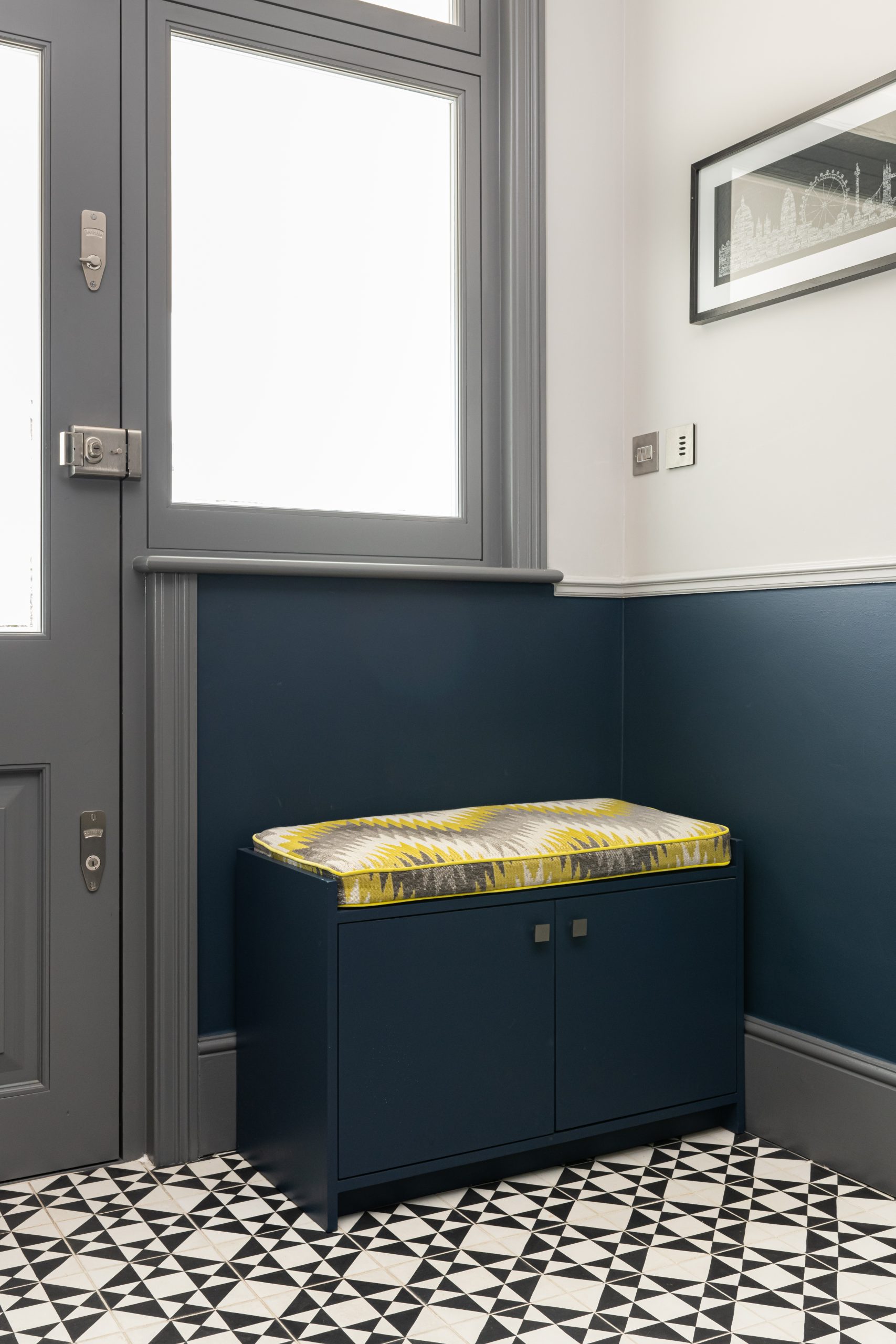 The clients requested an impactful entrance hall, which would highlight the style and colours in the rest of their home. First, we chose to retain the original staircase with decorative stair spindles. However, we painted this in a bold, dark grey hue, which we tied in with the window and door frames and skirting boards to create a more cohesive finish. We then offset this colour-way against striking encaustic patterned floor tiles with a neutral shade on the walls above the dado rail. This space was also in desperate need for storage and somewhere to sit to remove muddy shoes. So, working closely with our chosen joiner, we designed a bespoke shoe cabinet topped with cushioned seating. An original mirror takes pride of place, helping to bounce light around the room.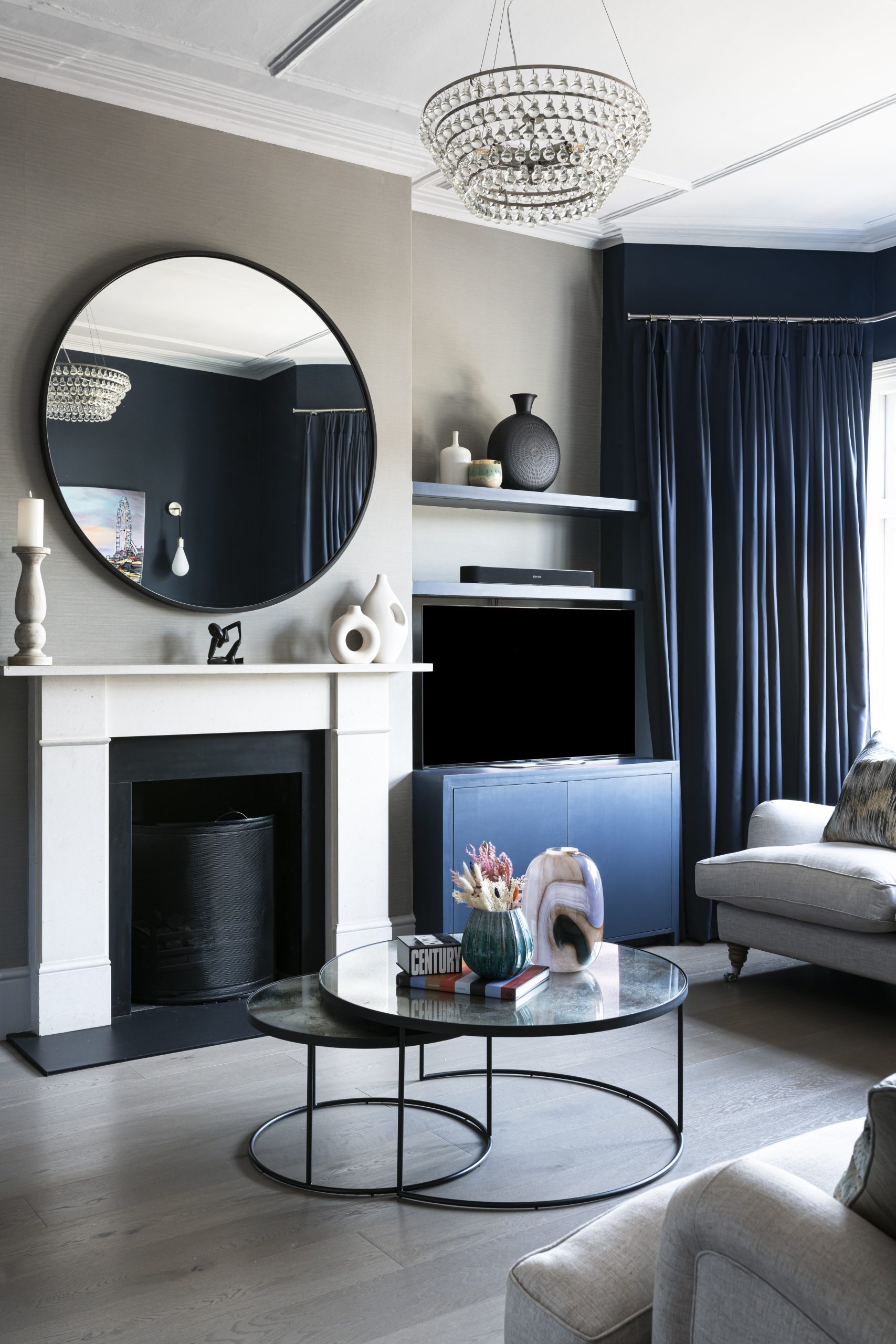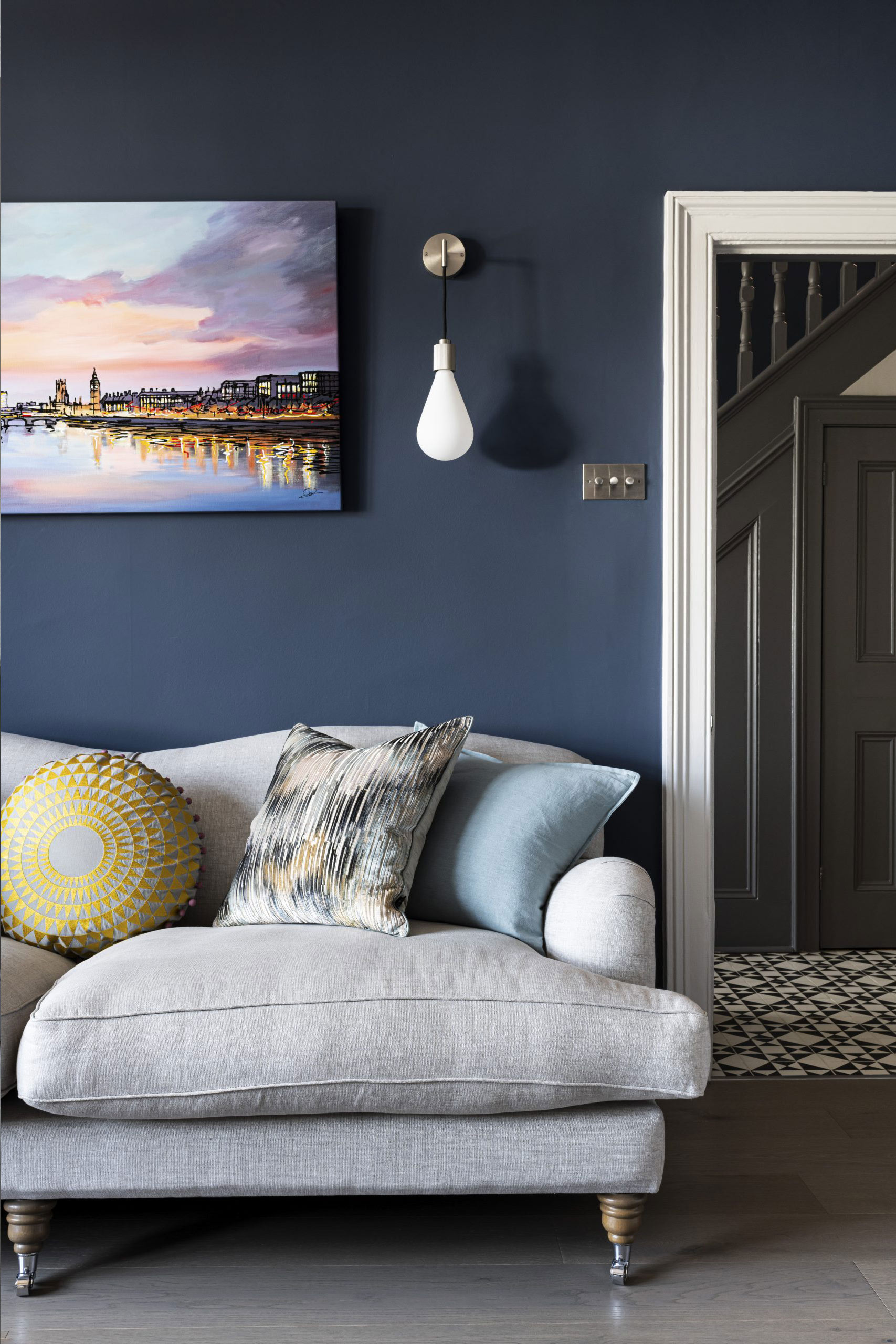 What used to be a bright white, unwelcoming room, which my clients never used, has been converted into a luxurious lounge. This multi-functional space is now used to entertain guests (adults) or watch television in comfort, surrounded by style. We highlighted the existing strapwork detailing in this room (and the dining area) with a fresh coat of paint in a light shade.
However, we also chose a sophisticated and cocooning colour palette with a deep blue colour-way on some of the walls in this lounge. This ties in beautifully with the sumptuous curtains in the same shade. This colour matches bespoke shelving, which we designed and created for the fireplace alcoves with our chosen joiner. We added a backdrop of sumptuous, textured wallpaper, which we have featured on the chimney wall, and creates a soft shimmering effect in the evenings. The shelving houses a vase collection and family photos in a neat display with beautiful, bespoke base units below.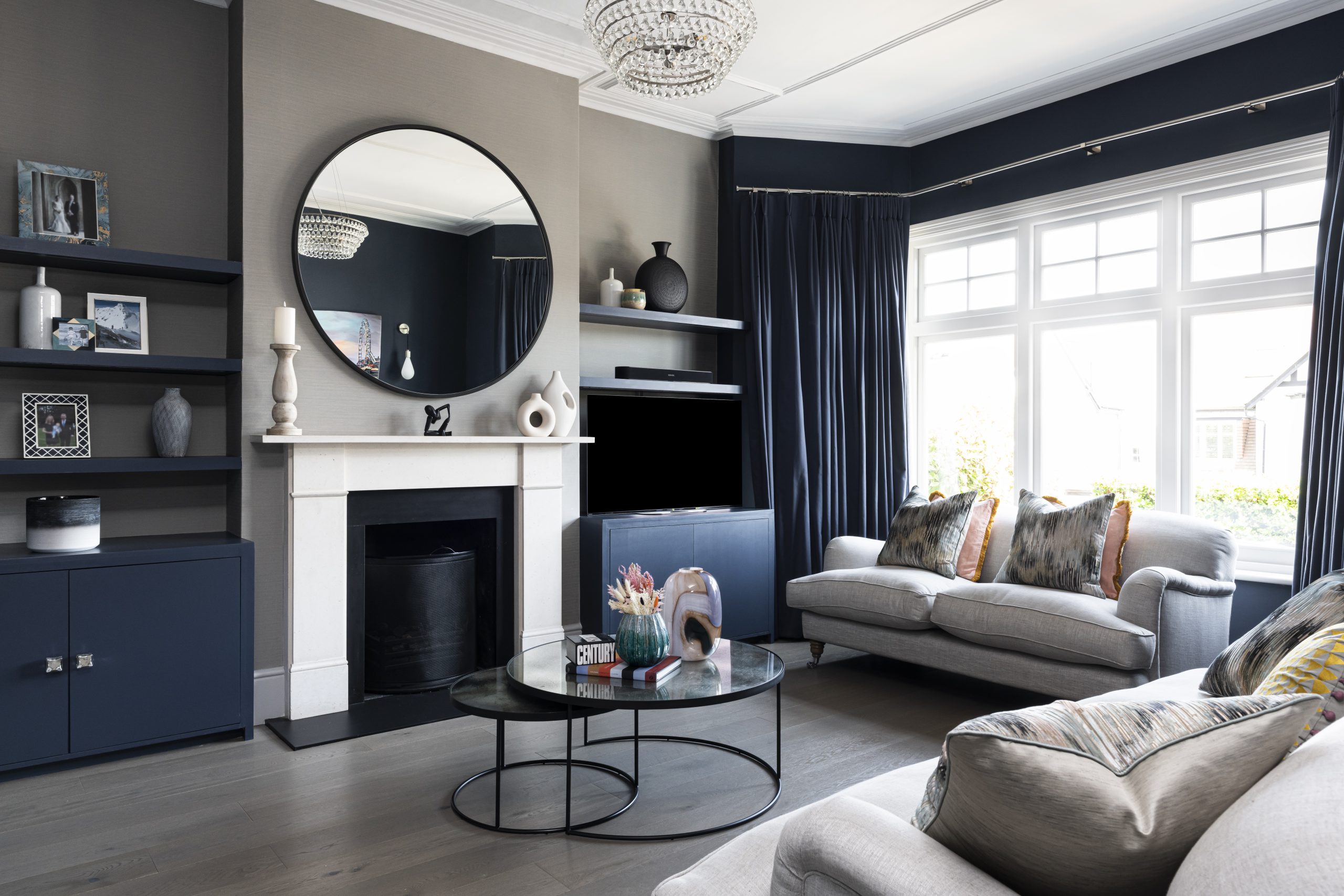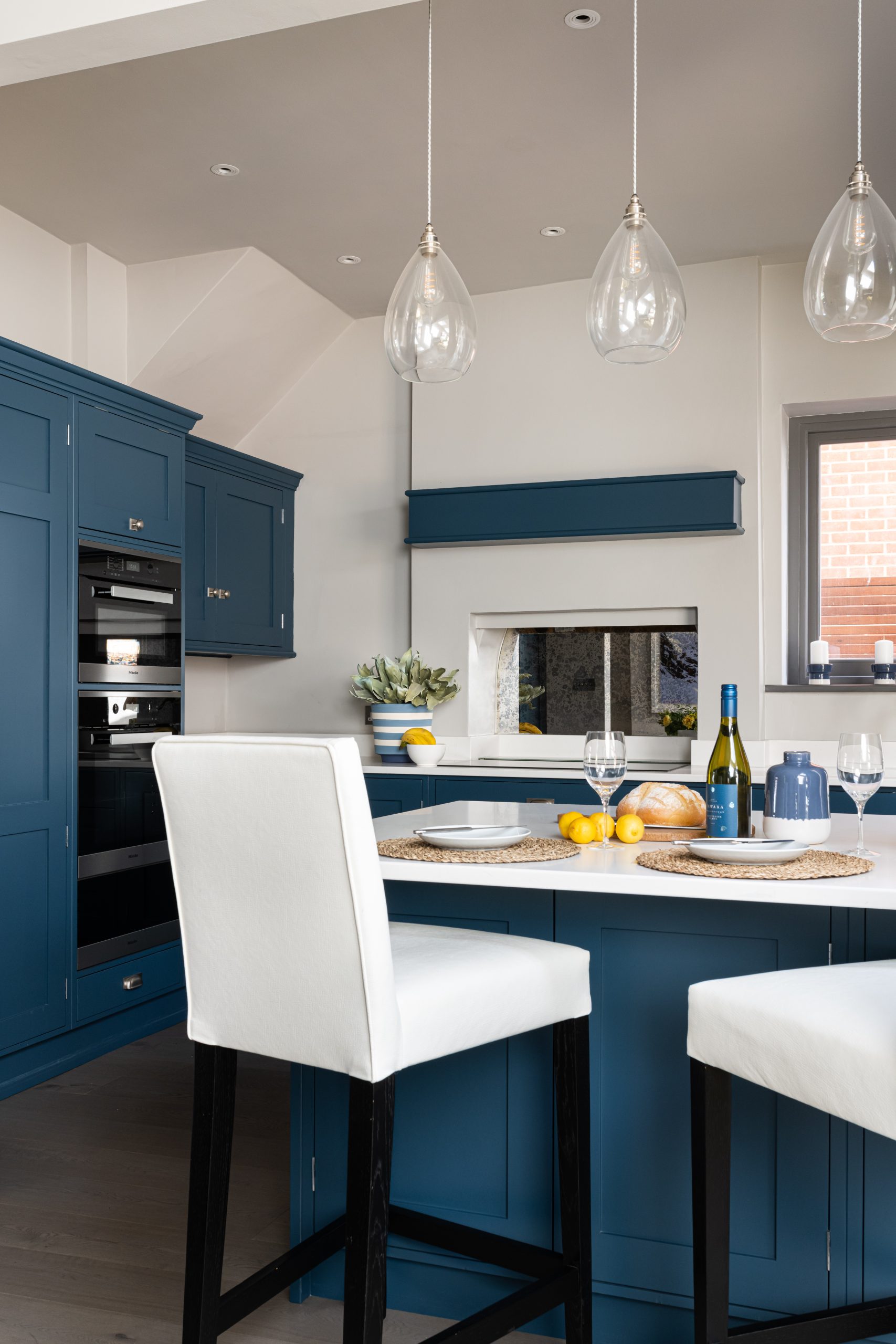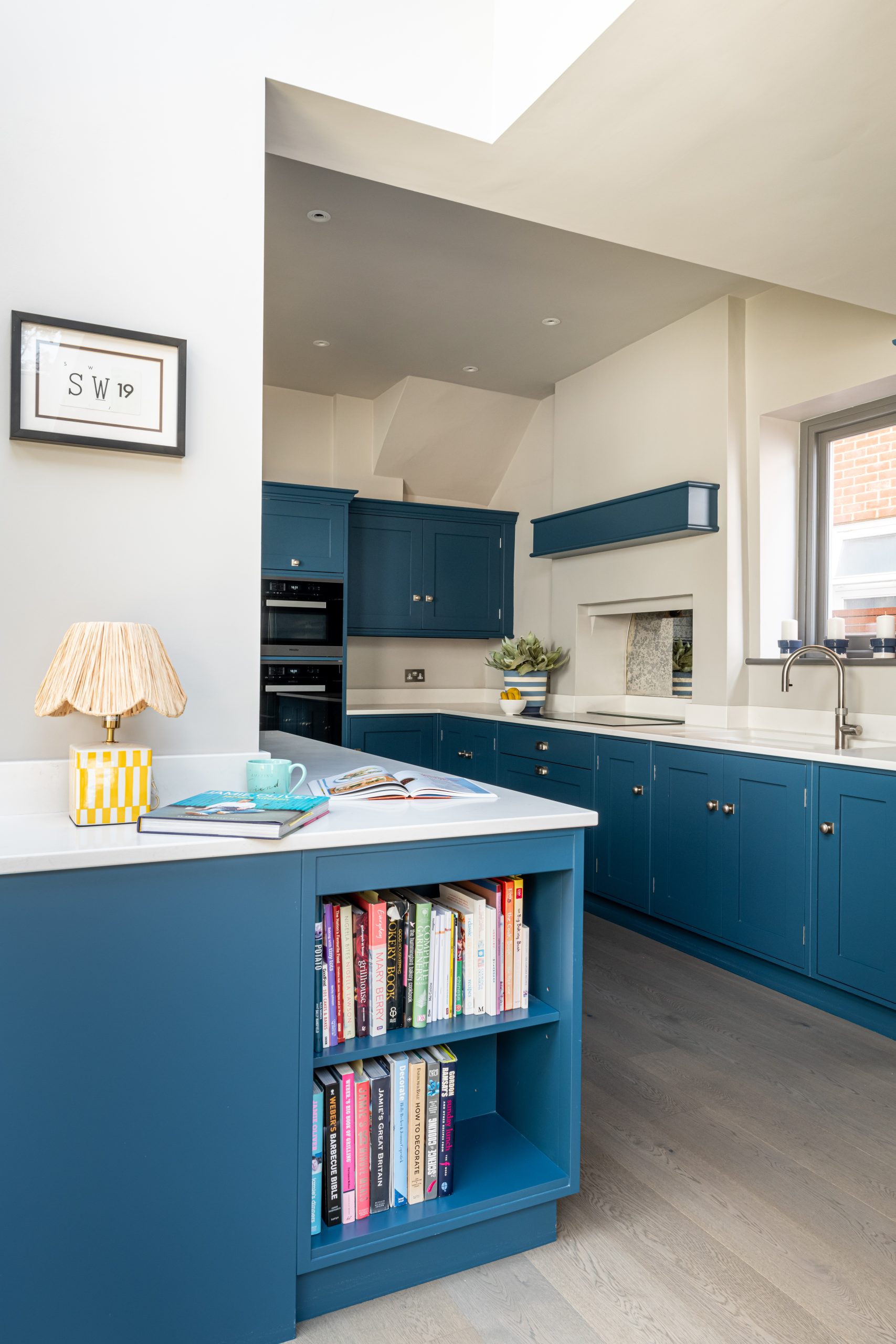 In the heart of their home, we chose to continue with the colour blue, threading a softer shade through to bespoke, hand-painted kitchen cabinetry. Guests can now gather round the kitchen peninsular on gorgeous, bespoke cream leather bar stools. Therefore, cooking can commence without distraction. And, as a clutter-free home was important to our clients, we introduced generous storage.
The bespoke units follow through to a utility room for a more uniform, neat finish. This new space has been designed to make practical family life easier with plenty of storage and even an additional dishwasher for use when entertaining.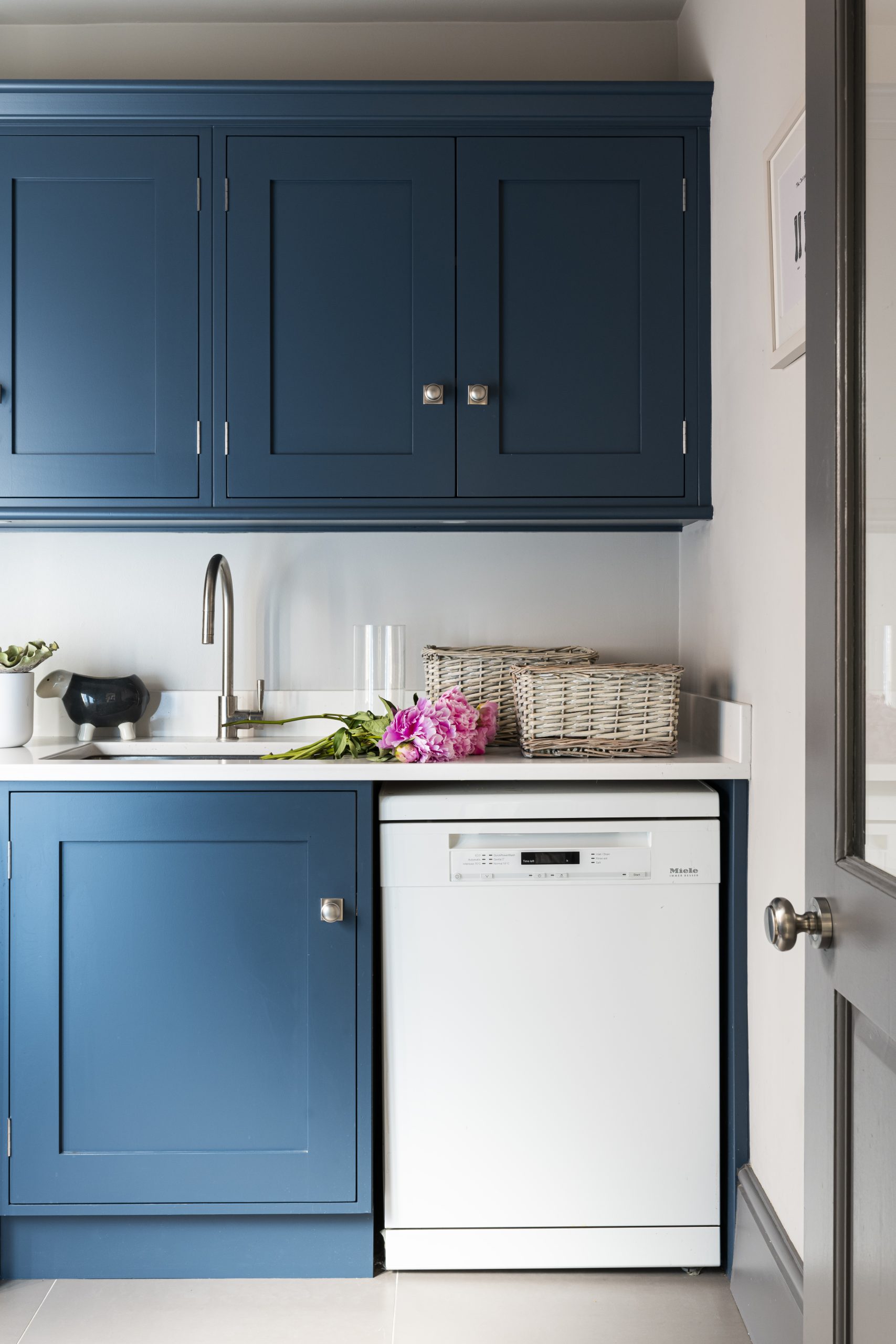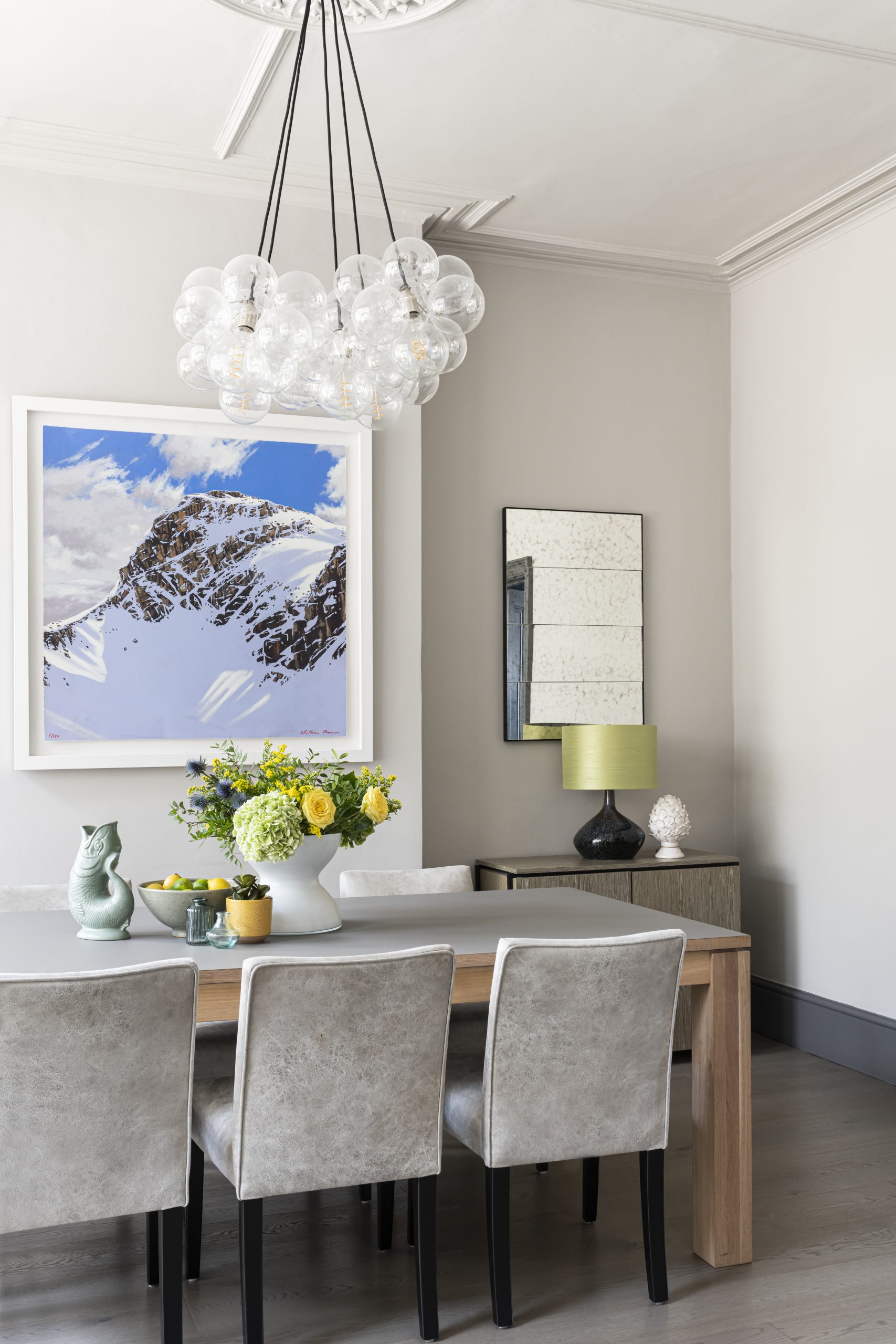 My clients are keen cooks and they wanted to enjoy entertaining friends and family in their new kitchen. So, we incorporated bespoke shelving to accommodate their comprehensive collection of cooking books and added a wine cooler. Now they can enjoy chilled Champagne with guests or relax with a glass of red after a busy day. Our kitchen design has resulted in a colourful, yet calm, look, with unique features which allows the space to breathe.
Leading through to a neutral dining area, this area is further enhanced by striking artwork. This depicts a snow-topped mountain, which reflects the family's passion for skiing. Room for eight guests, the dining section serves as a family and entertaining eating area, with a beautiful view to the living space and garden.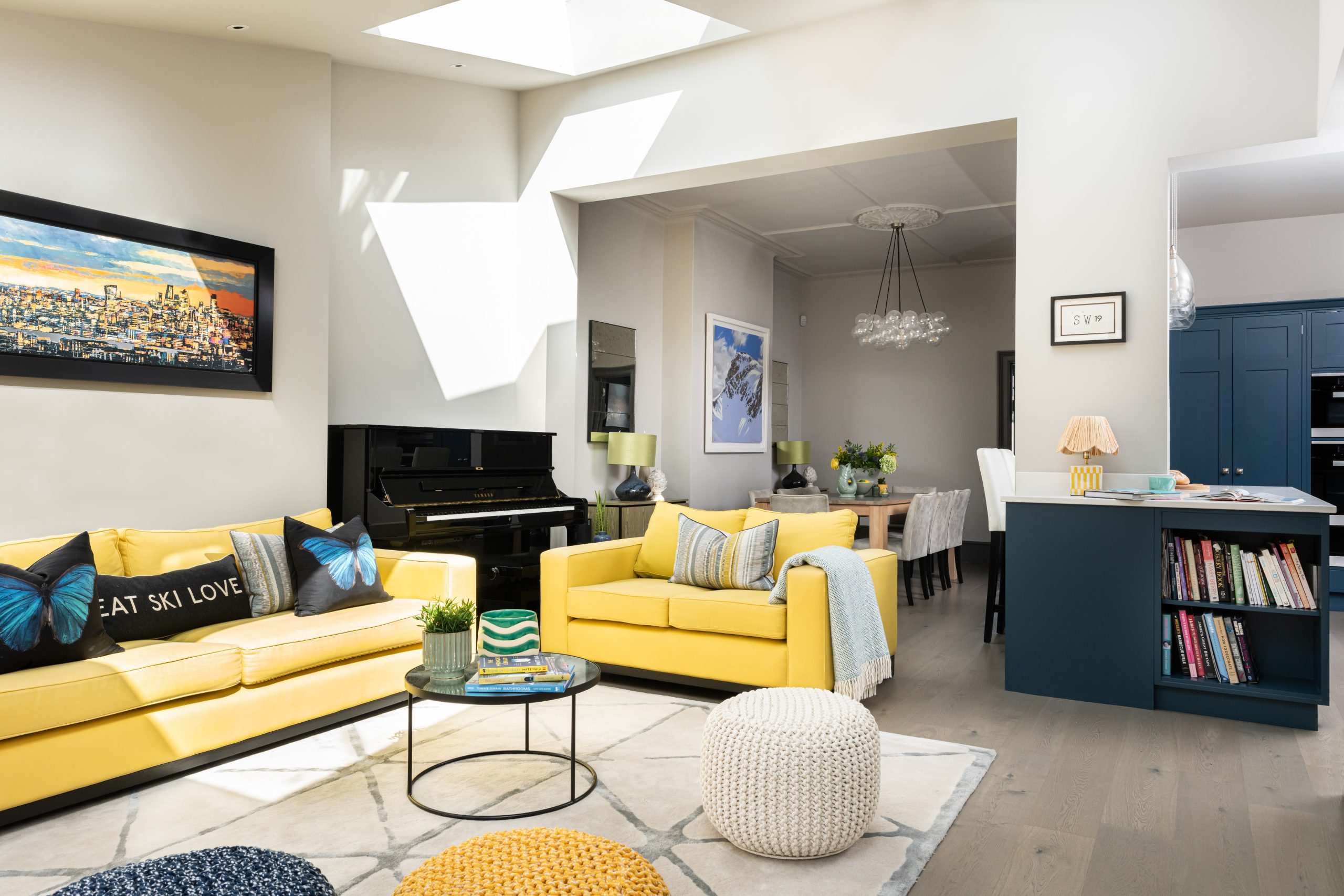 The living space features pops of colour with a lemon yellow, contemporary, bespoke sofa and matching armchair. These contrast against a treasured family possession and heirloom – a jet black piano. Black and white shades have also been used to great effect in this open-plan kitchen-living area. These colours harmonise the monochrome patterned tiles in the hallway perfectly, and add a touch of decadent glamour.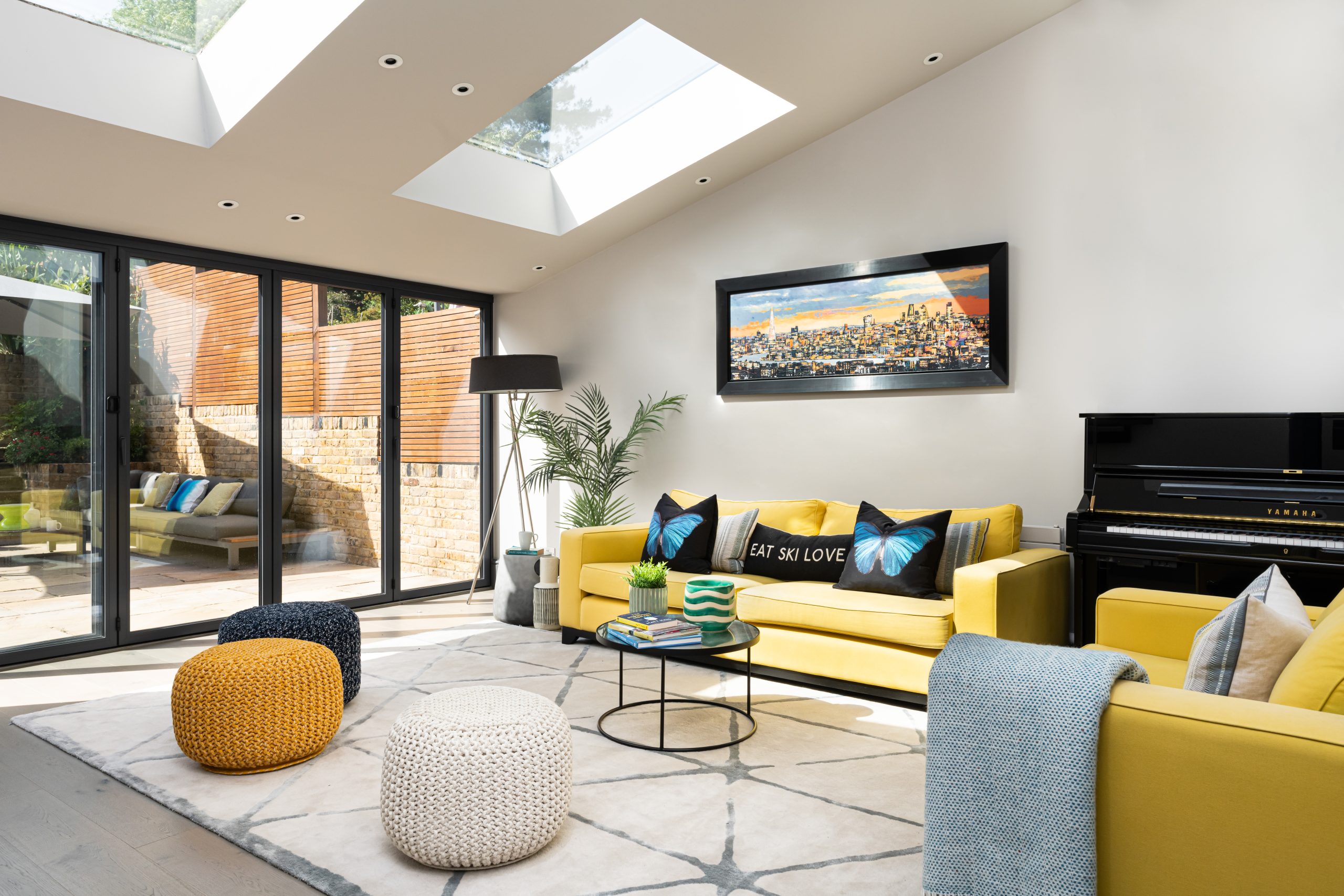 Creative cloakroom home design
With our clients' love for skiing in mind, I commissioned an artist to produce a bespoke wallpaper design, which would reflect their favourite pastime. This is a fun, yet stylish, interpretation featuring an abstract contemporary print in bold turquoise and yellow. We covered the woodwork in a matching turquoise to create more cohesion.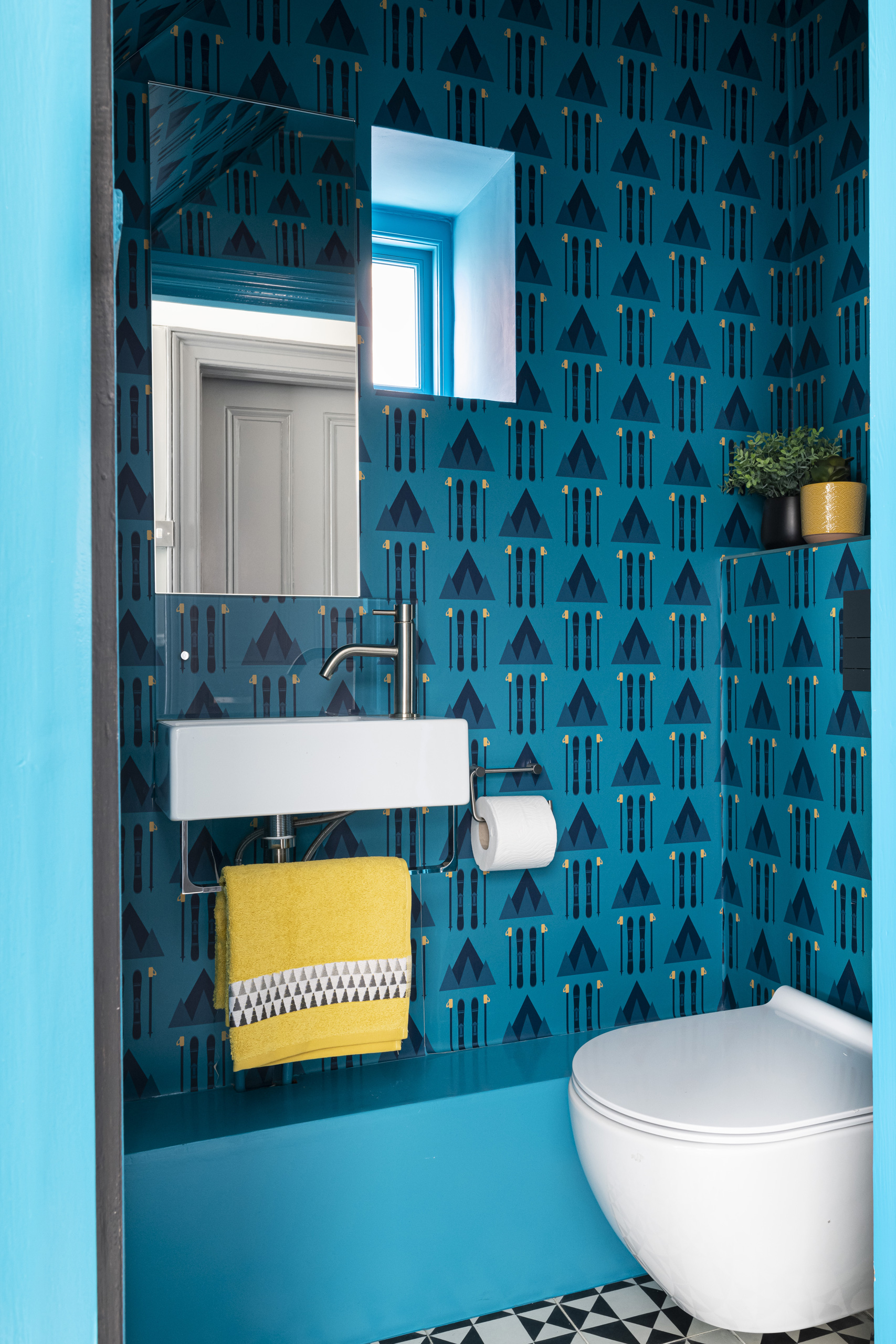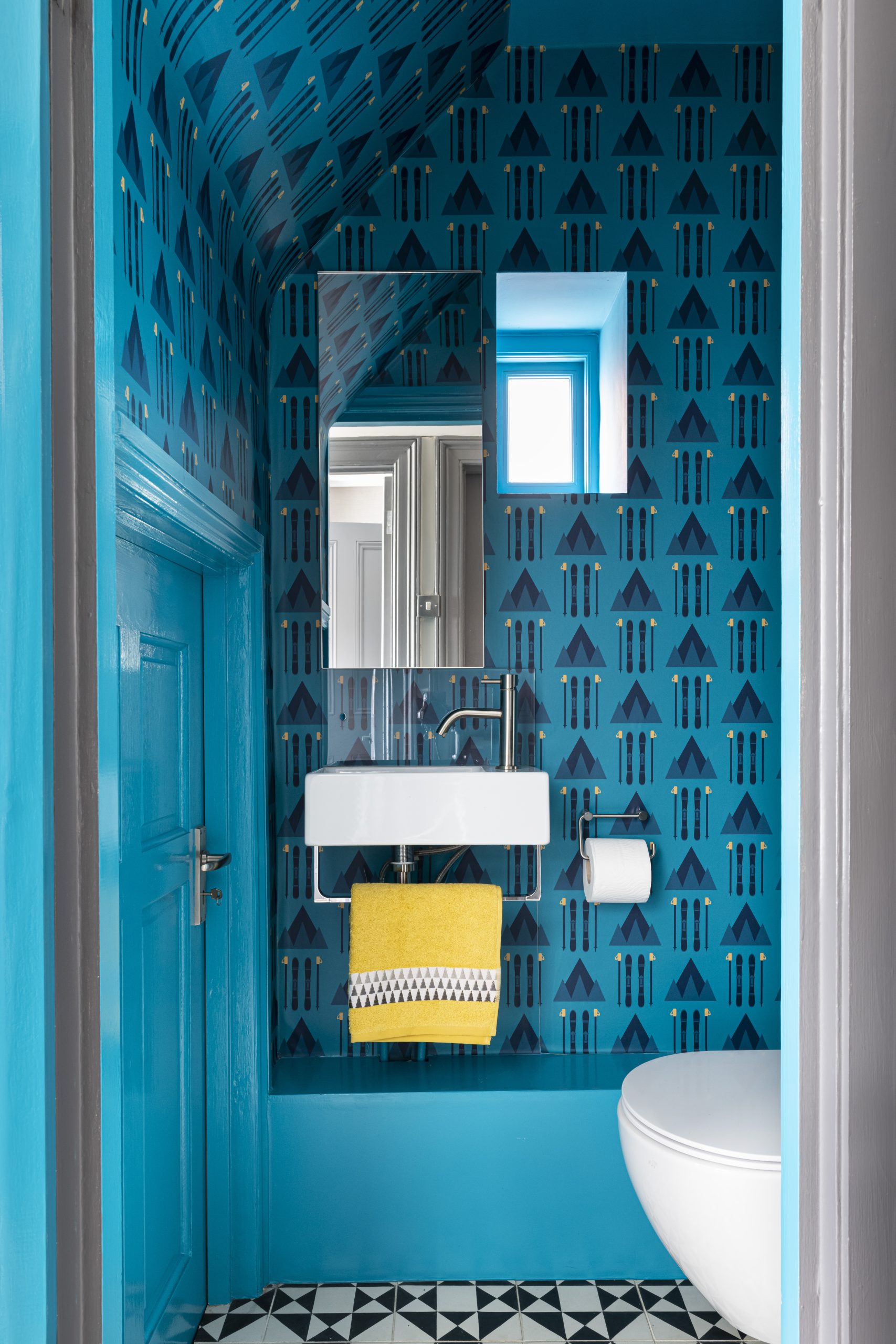 Master suite luxury
Upstairs, we meticulously planned a master suite to comprise of the main bedroom, a wet room and dressing room. Each area interlinks with blending neutral shades to create a calm, comforting, sophisticated, luxurious environment.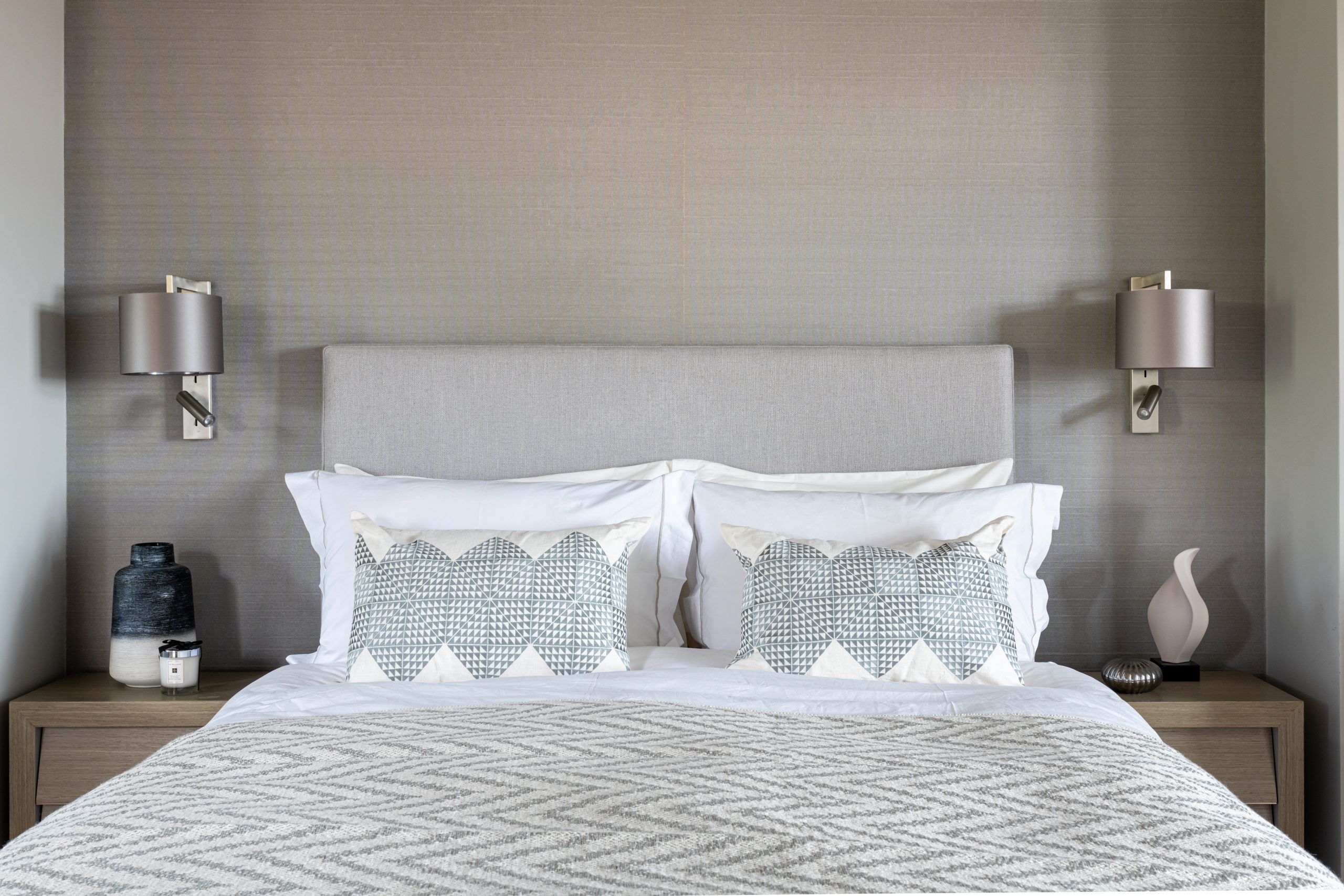 In the master bedroom, this provides a soothing sanctuary, featuring silk wallpaper with an opulent texture and sophisticated, neutral colour-ways. Silk shades on the wall lights add elegance and matching geometric cushions showcase a stunning pattern, adding depth to this design.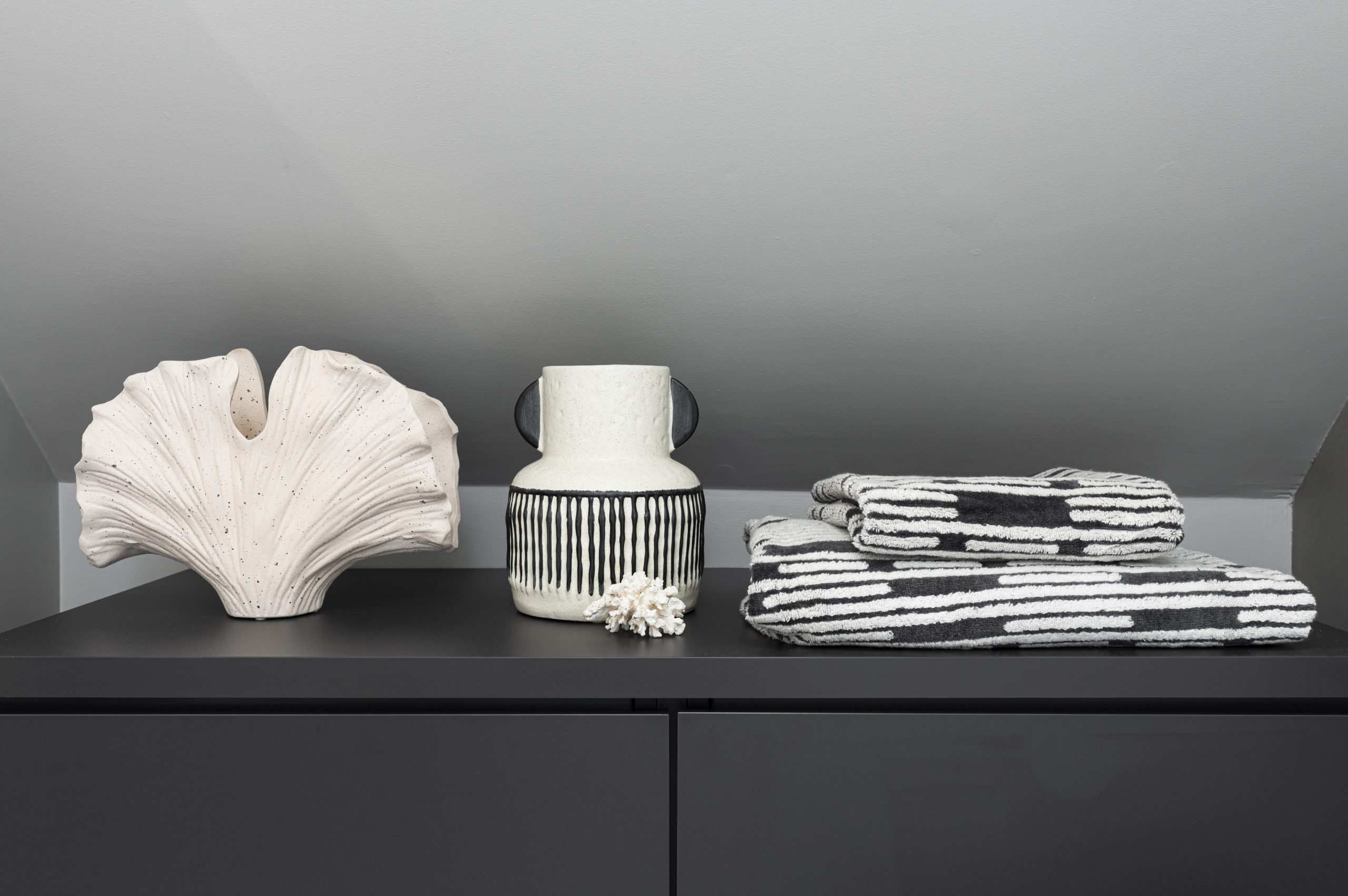 Neutral shades rein in the master ensuite wet room in order to create a relaxing vibe, offering a peaceful space in which to relax and invigorate with a shower. We made use of every available area by building into the loft space to create this area. Here, we also designed a special niche to display the clients' sculpture, and we introduced wall-hung units to create a sense of space. Large format tiles make this room easy to clean and provide a minimalist touch with a folding shower screen door for a neat, slimline finish.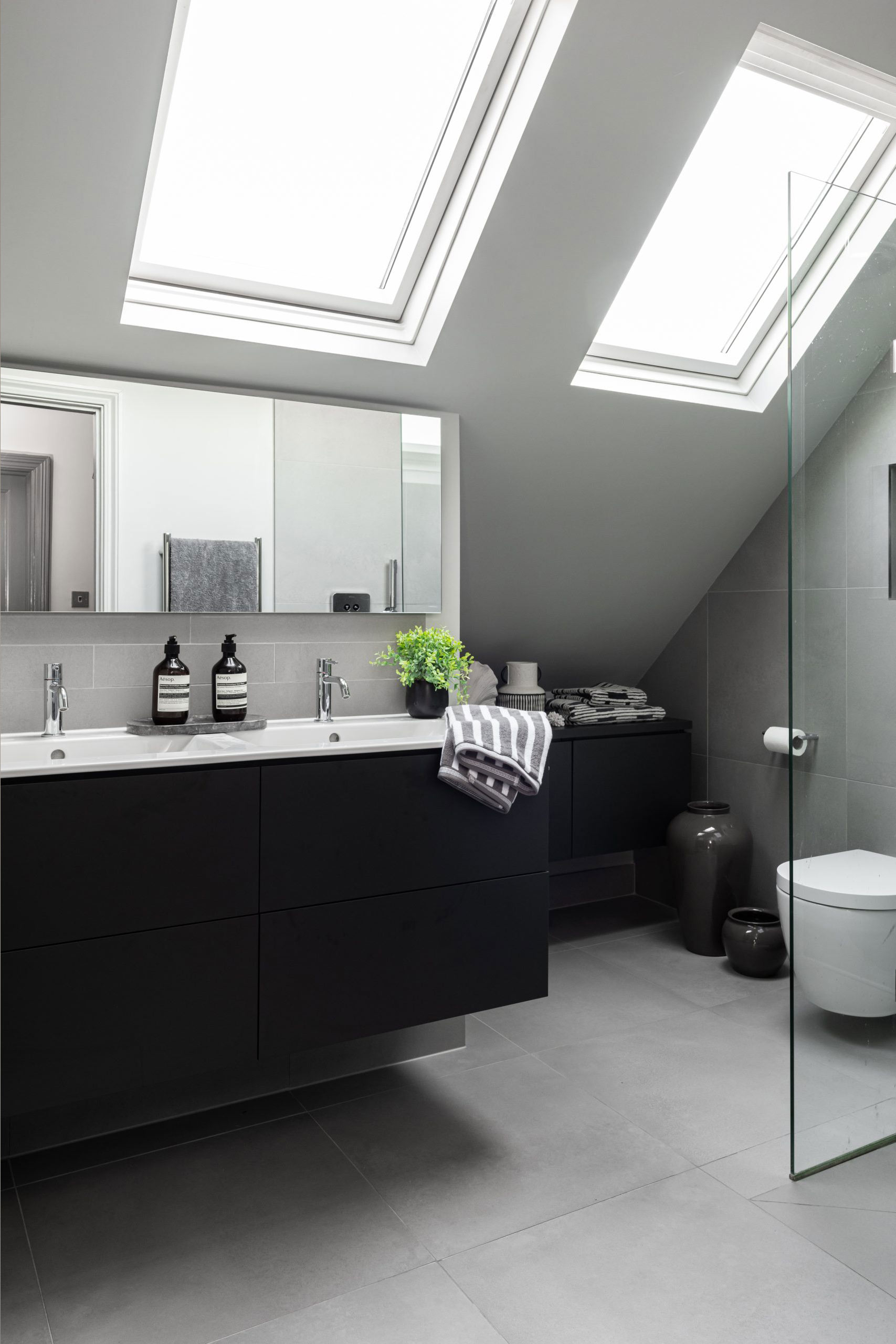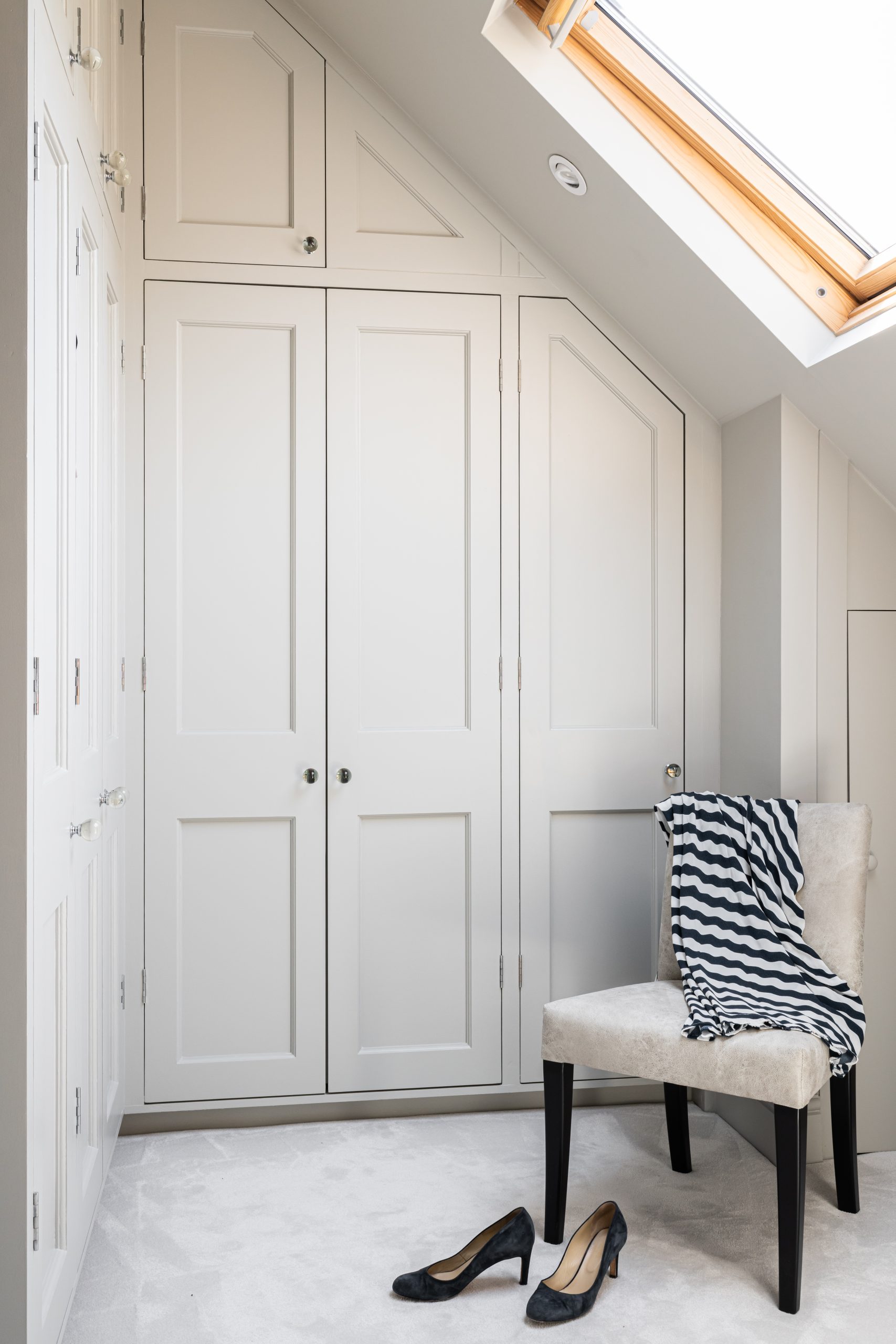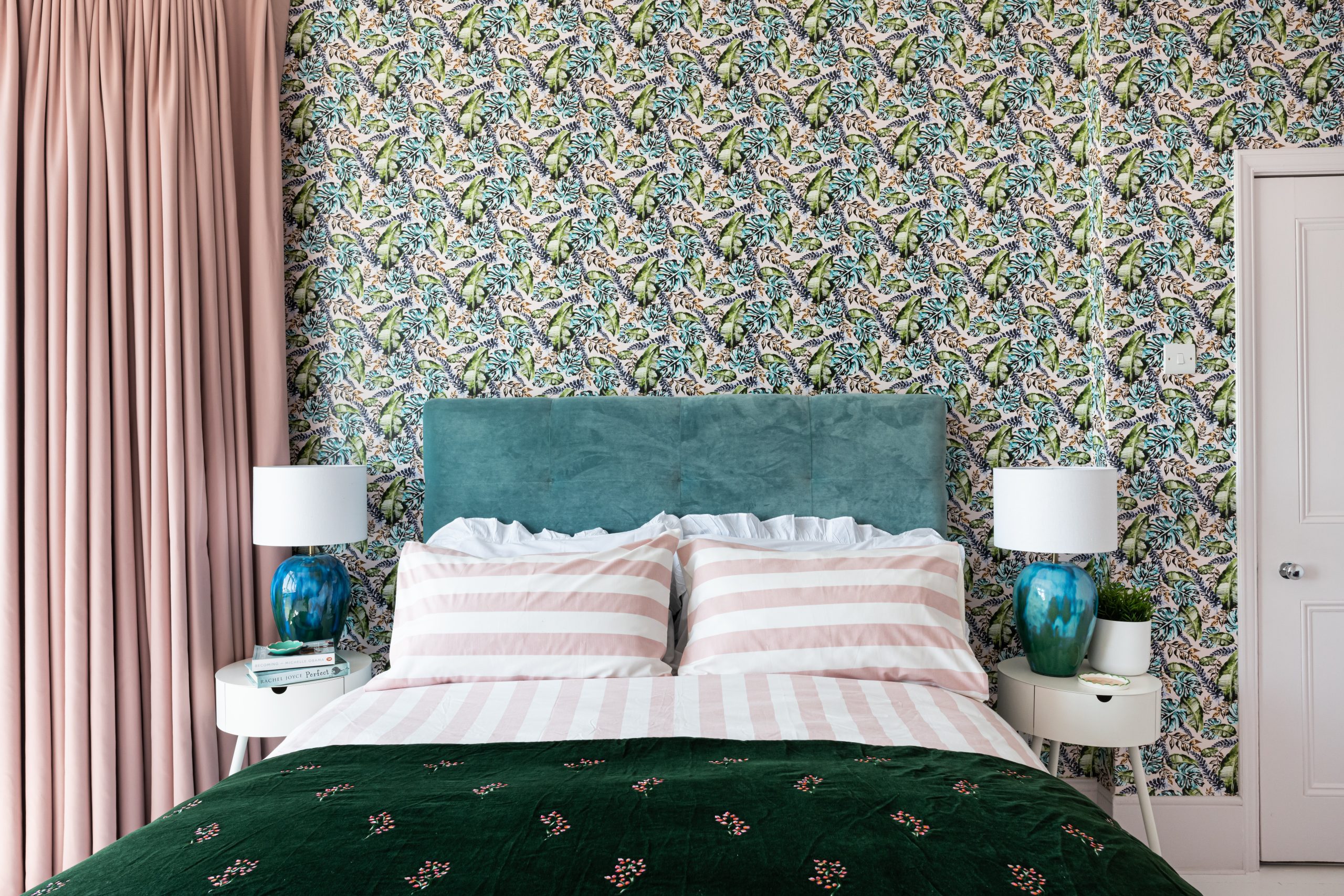 For one guest bedroom, we had many colour conversations with my client before reaching a resolution. In fact, they initially asked us to pursue neutral shades. However, we were able to demonstrate how we could introduce a more colourful scheme, which they adore.
We pulled together a lovely colour palette for this bedroom, featuring an elegant, modern green and blush pink scheme. We also created a statement feature wall, which we covered in contemporary floral wallpaper. Turquoise lamp bases and a bespoke headboard, sumptuous pink curtains and a deep floral velvet throw all help to create this fresh, inviting look. We also hand-picked striped bedlinen, picking out the pink in the curtains and wallpaper for an on-trend, complementary finish.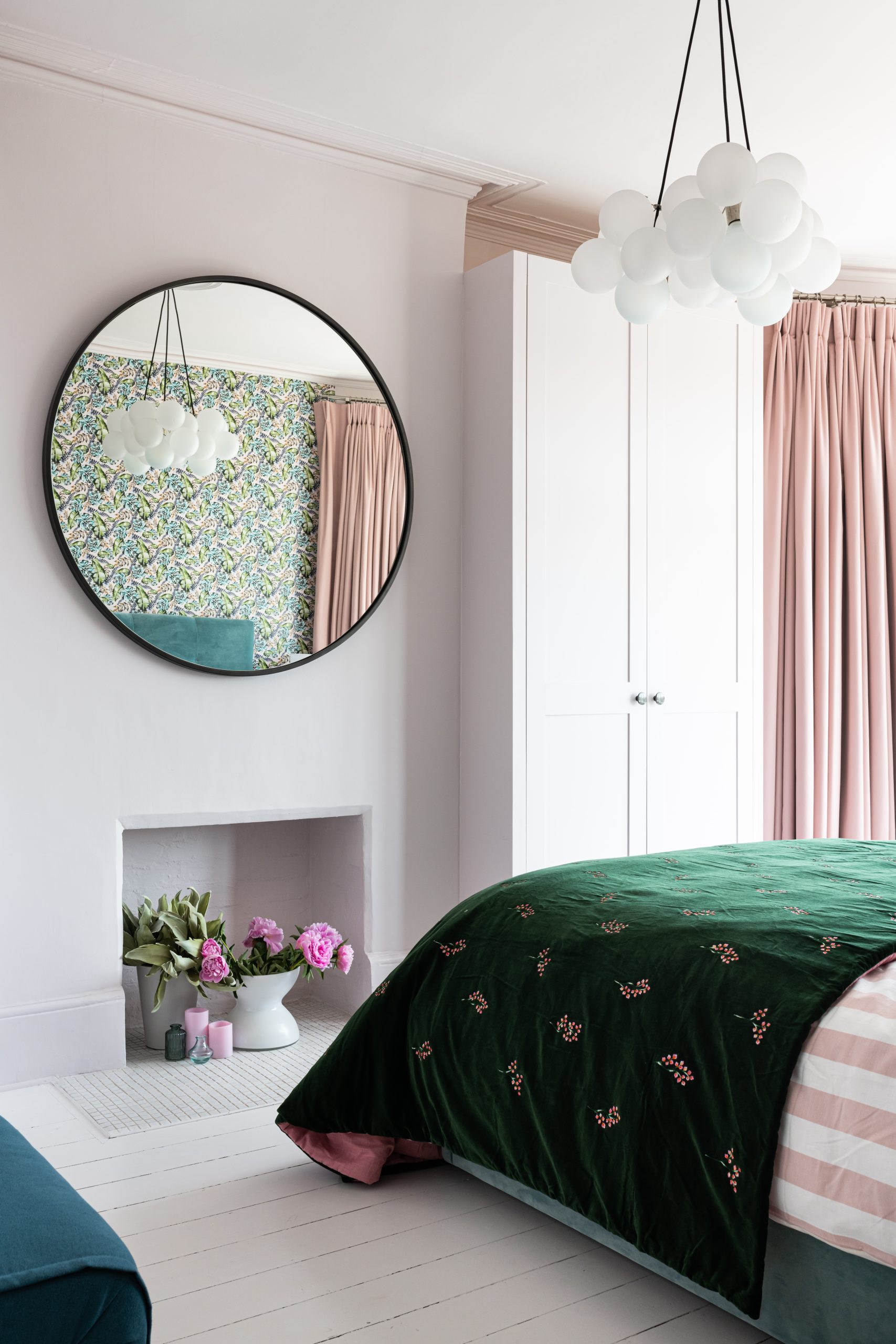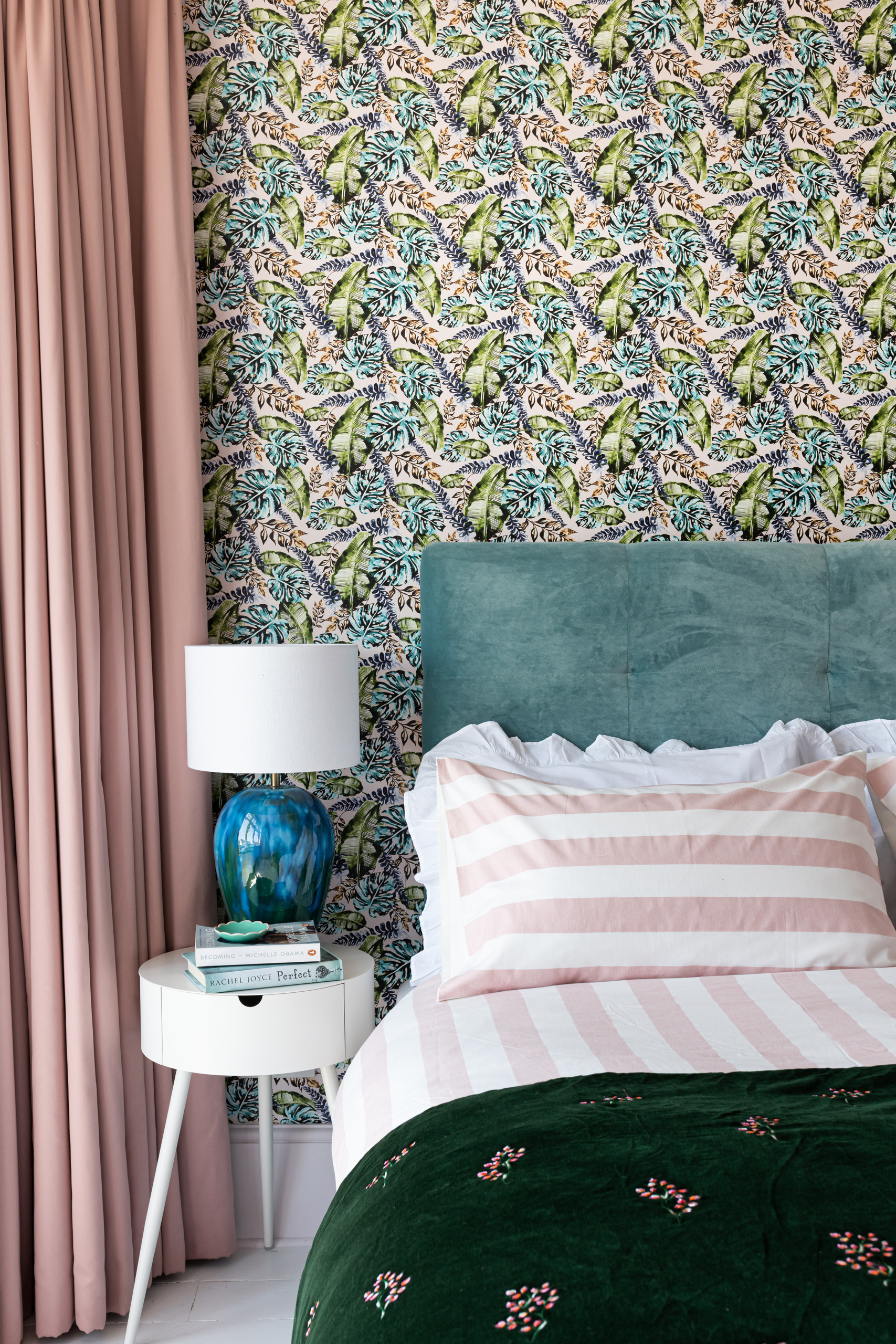 This other guest room features a single bed for guests with a versatile trundle pull-out mattress.This will help to accommodate sleep overs with friends for the couple's young child. The headboard features stud work on a gorgeous turquoise fabric and the striped lamp ties in perfectly with the yellow bedding.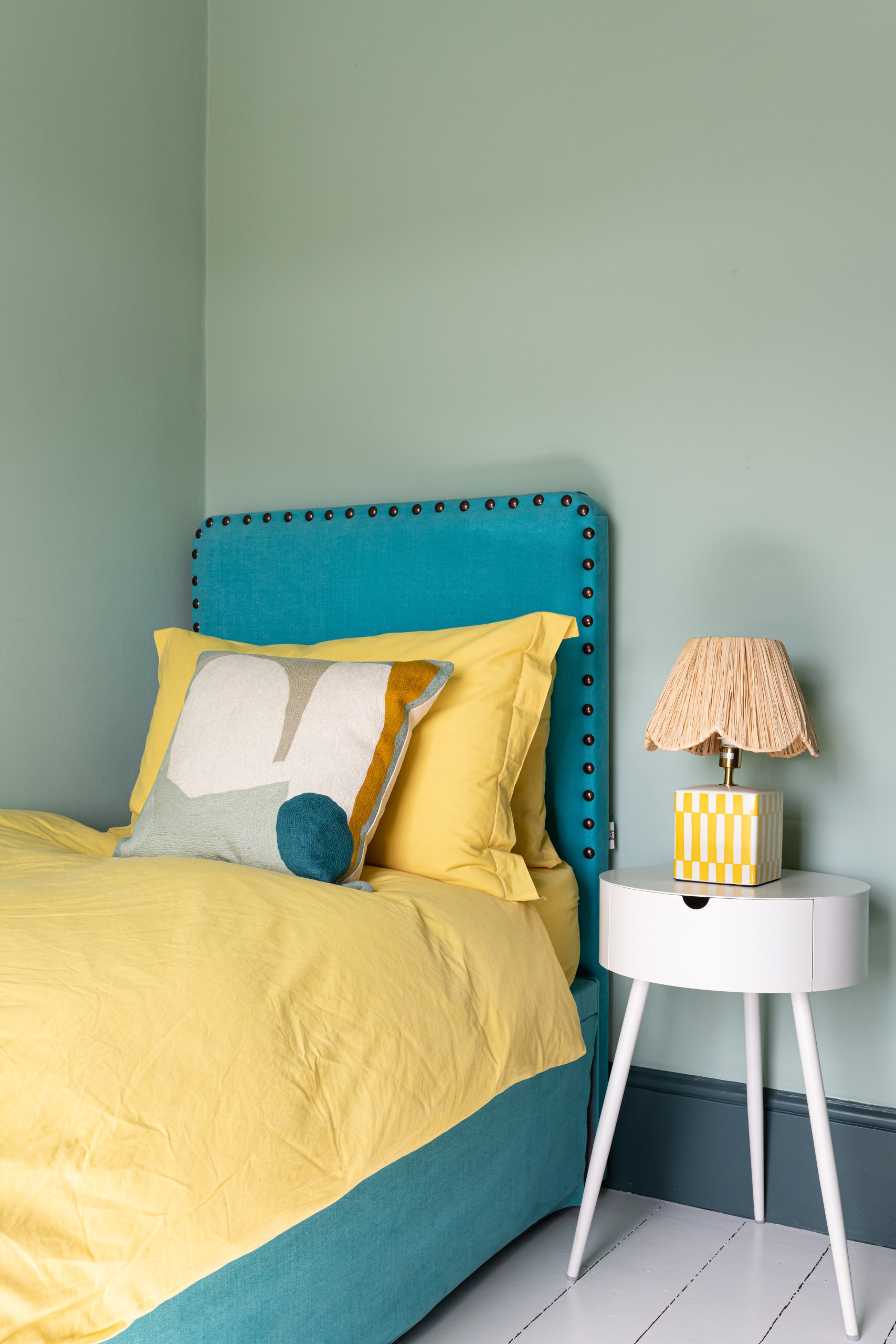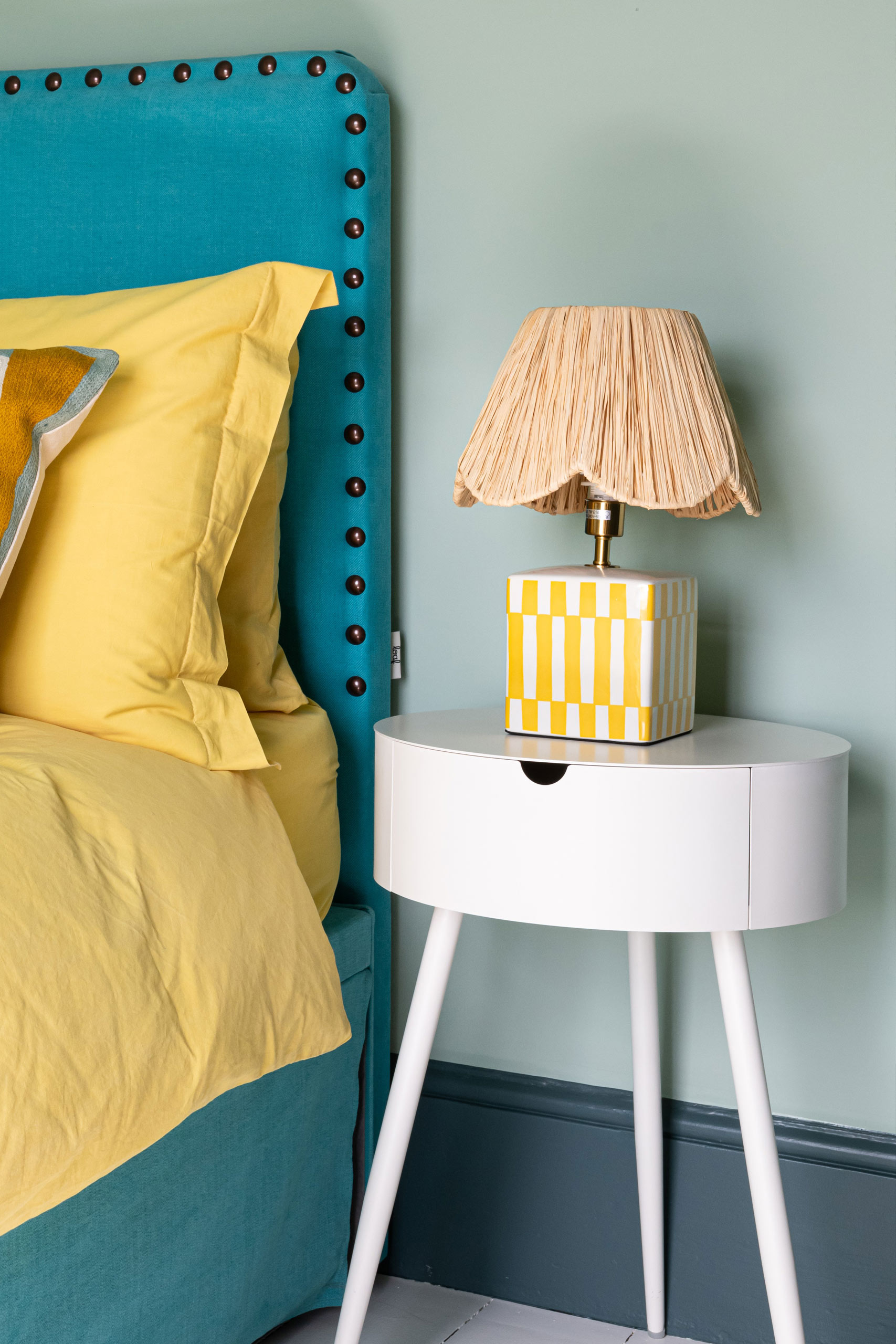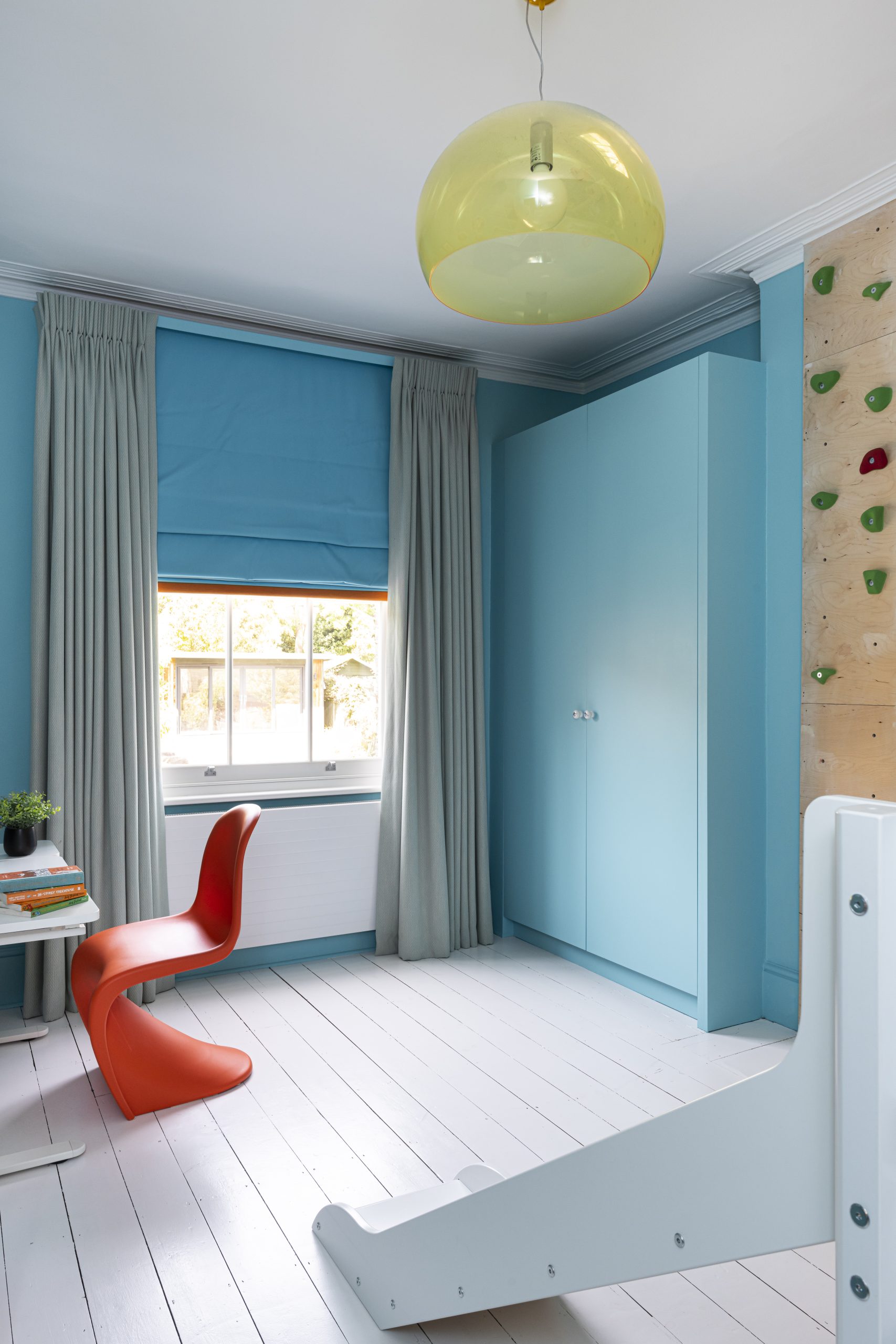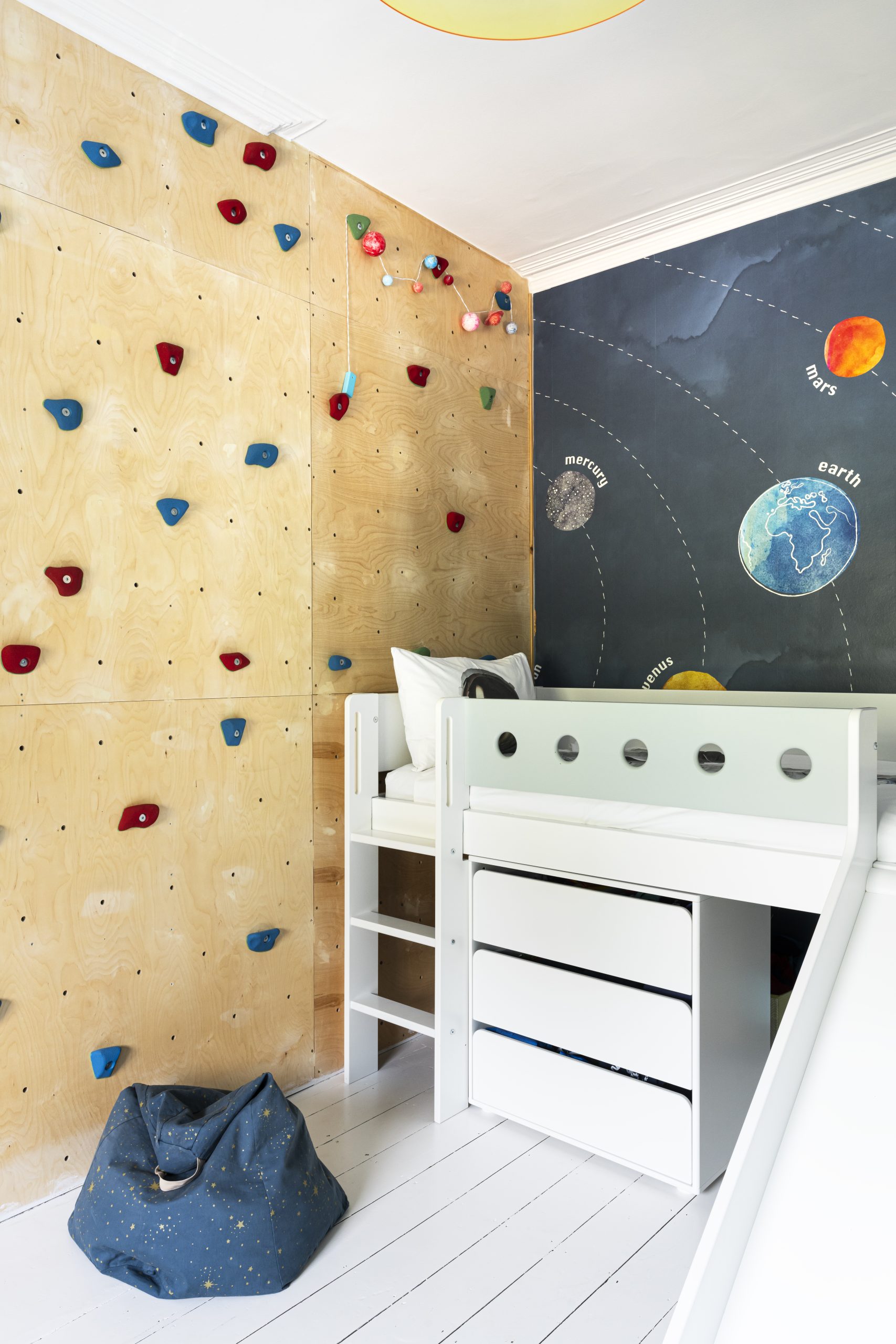 Last, but not least, we wanted to inject fun and drama into the little boy's bedroom. So, we designed a climbing wall, high bed with step ladder one end and slide, on the other. We have curated an adventure-filled space, which doubles up as the perfect place for a good night's sleep.