Style & Decor blogger and journalist Sarah recently invited me to her Suffolk home to design a series of al fresco dining tablescapes for stylish entertaining. So, I carefully curated four different designs for an al fresco breakfast, luxurious lunch, cocktail party and summer soiree. This post, which has been reproduced from Style & Decor blog, features a bespoke breakfast and lunch setting to start.
There's nothing quite like enjoying the great outdoors is there? This is why taking dinner from the dining table to the patio has become an essential part of my summer entertaining repertoire. I'm very lucky to benefit from a stylish open-plan kitchen, complete with dining for six and garden views. But something's got to be said for al fresco dining in warm weather, don't you agree? This got me thinking about how to make these special moments in the garden more memorable. So, I asked leading London interior designer Emma Green how to create more thoughtful, relaxed dining spaces, from al fresco breakfasts to summer soirees. In part one on this blog, we cover blissful breakfasts and lounging lunches, so grab a coffee and enjoy!
London interior designer Emma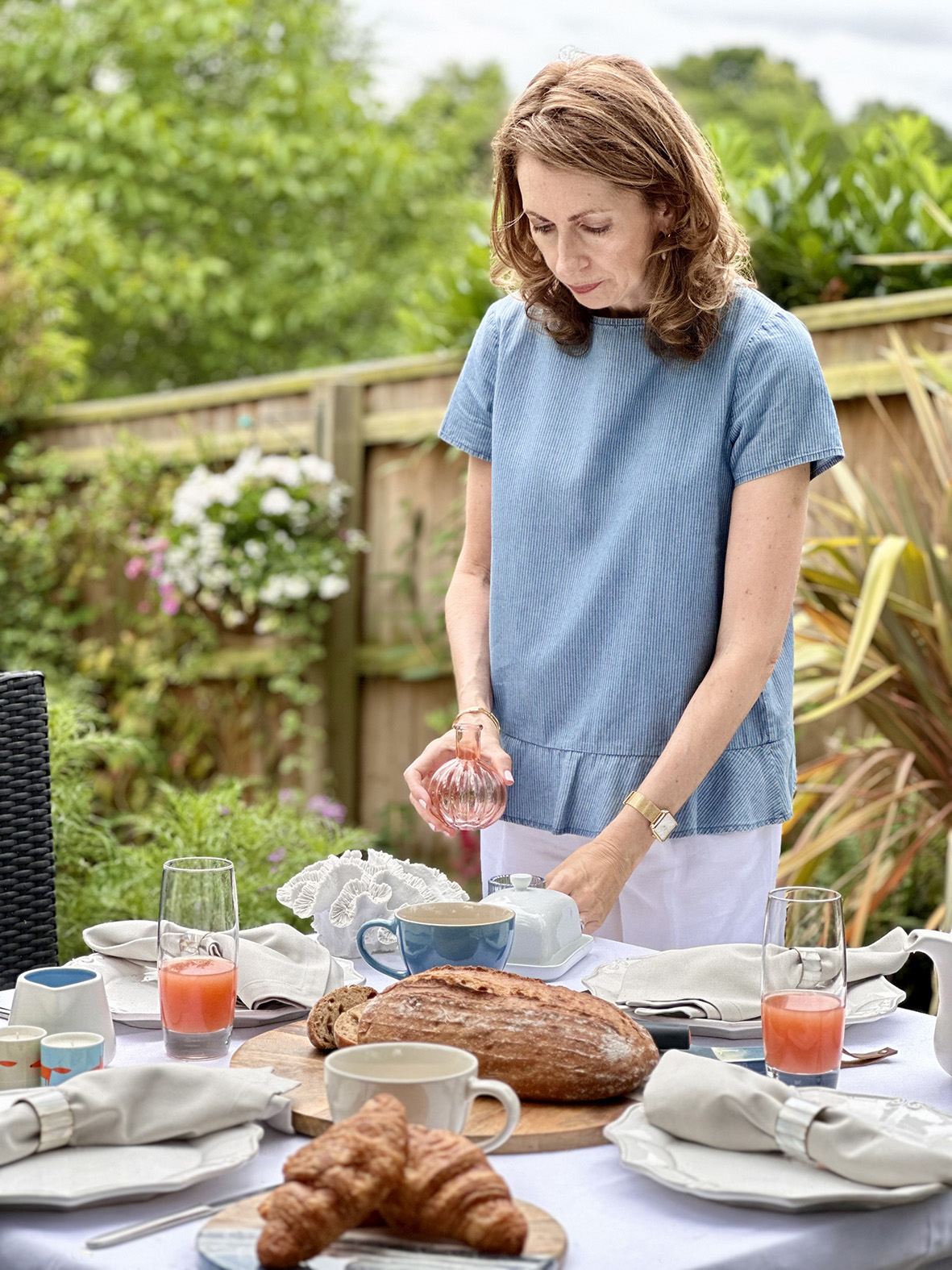 Leading London interior designer Emma Green works her magic on my patio table for a relaxed al fresco dining setting for breakfast with friends
Emma carefully curates bespoke homes for busy professional clients. However, when I asked her to join me in my garden to pay the same care and attention to my outside dining space, Emma rose to the challenge! She explains: "Although much of my work begins with curating a beautifully designed home for clients, I also love creating exquisite outdoor havens. I see this as a continuation of bespoke interior design where I can effortlessly extend your living space. For example, you can host stylish garden soirees, which blend elegance with practicality. So, this allows you to offer your house guests an unforgettable outdoor experience."
Prepping the backdrop
I think the tablecloth should be key when dressing the table for al fresco dining. So, hotel-quality table linen (and bedding) tends to be high on my home agenda. Have you heard of The Fine Cotton Company? This is a leading home textiles brand, which offers bedding, towels, bath robes, blankets, throws and table linen to hotels and homeowners. And I love their Mikado collection, manufactured using 50% polyester and 50% all-natural organic cotton; the latter is also cruelty- and chemical-free. The cotton-blend Mikado collection, which includes a variety of different-coloured napkins, certainly has a restaurant-quality texture. However, it's beautifully made and and it washes really well (its machine-washable), too. I hear this linen is such high quality, it is top choice for some of the UK's leading boutique hotels.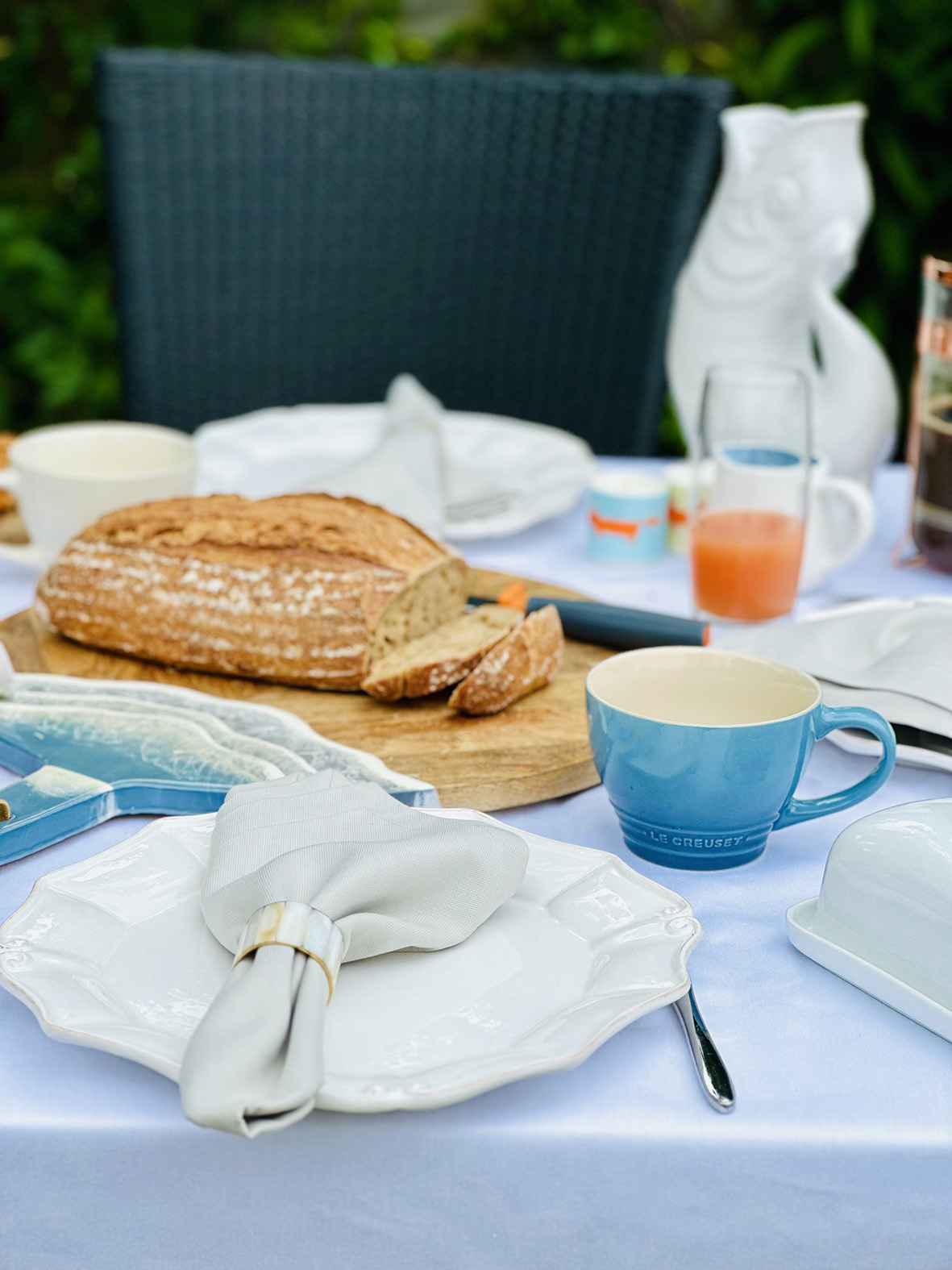 The Fine Cotton Company's Mikado tablecloth and napkin collections feature an exquisite cotton blend, which replicates restaurant quality, to enjoy in the comfort of your own home (or garden). This design is made from 50% cotton and 50% polyester. The tablecloth is available in a variety of sizes and it comes with a 2cm hem and the 50 sq cm napkins feature a 2cm mitred hem
Emma has some tips for those who are looking for the right tablecloth: "I think cotton or cotton blend tablecloths never lose their appeal. They will instantly add a timeless, sophisticated look to al fresco dining. You can pick a range of colours, if white doesn't appeal. Why not mix and match a sleek white cloth with coloured napkins to create more depth to your design? Don't forget to consider other textiles, too. A striking table runner and matching cushions in a bright, bold colour and pattern can also instantly zhuzh up a table, if a neutral palette isn't your thing."
Al fresco dining for breakfast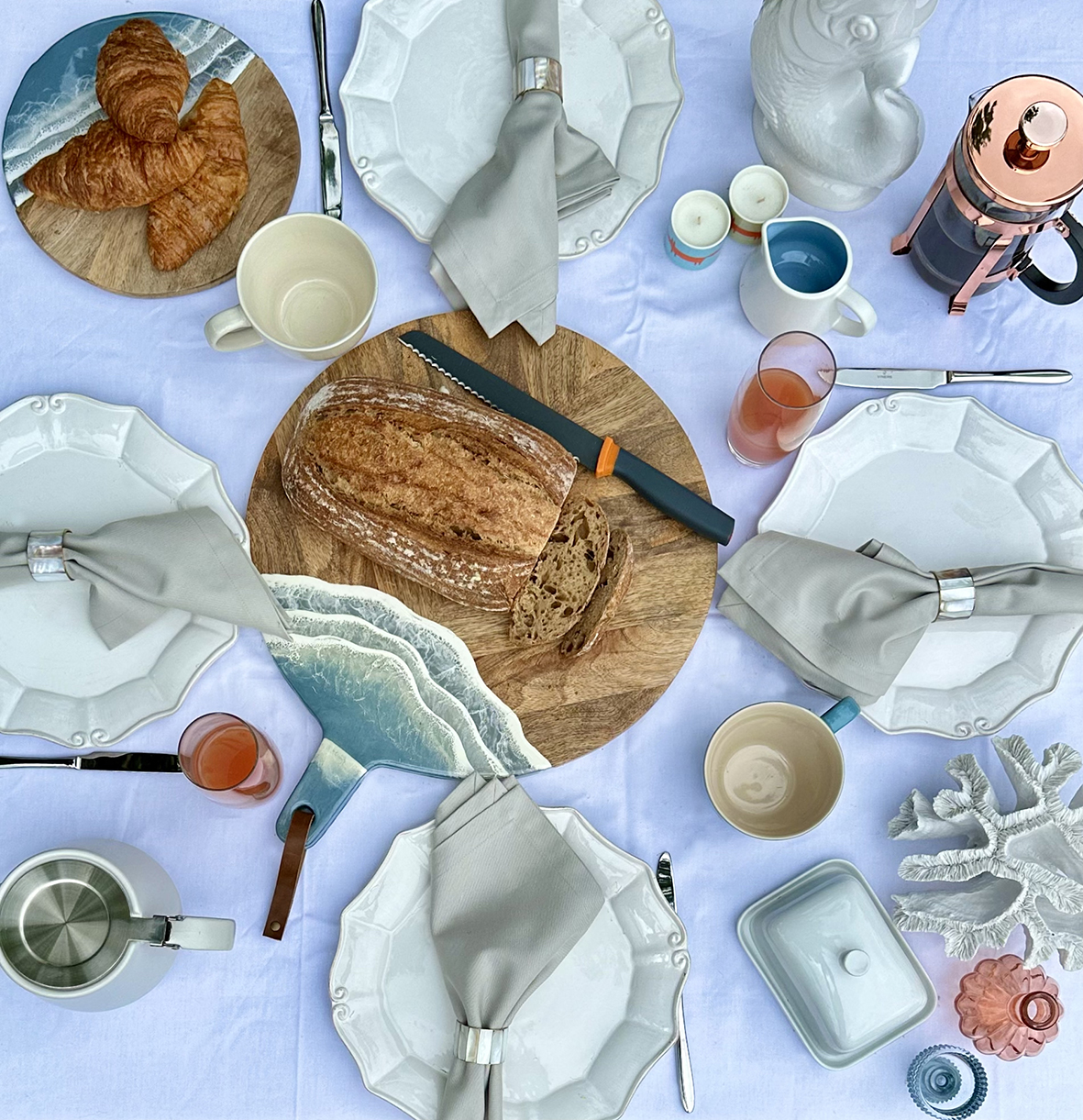 Emma designed this beautiful breakfast scene for me to entertain guests in absolute style in my garden
For beautifully slow summer mornings, Emma has chosen a natural colour palette with relaxed neutral vibes. This seaside theme is reminiscent of the garden in a second home by the beach. Here, she features a splash of colour with coral highlights among more rustic, calm colour ways. Emma explains: "Many of us don't need to be met with a burst of bold colour at breakfast. So, I have designed a bespoke tablescape where you can ease into the day amongst a relaxed, neutral setting."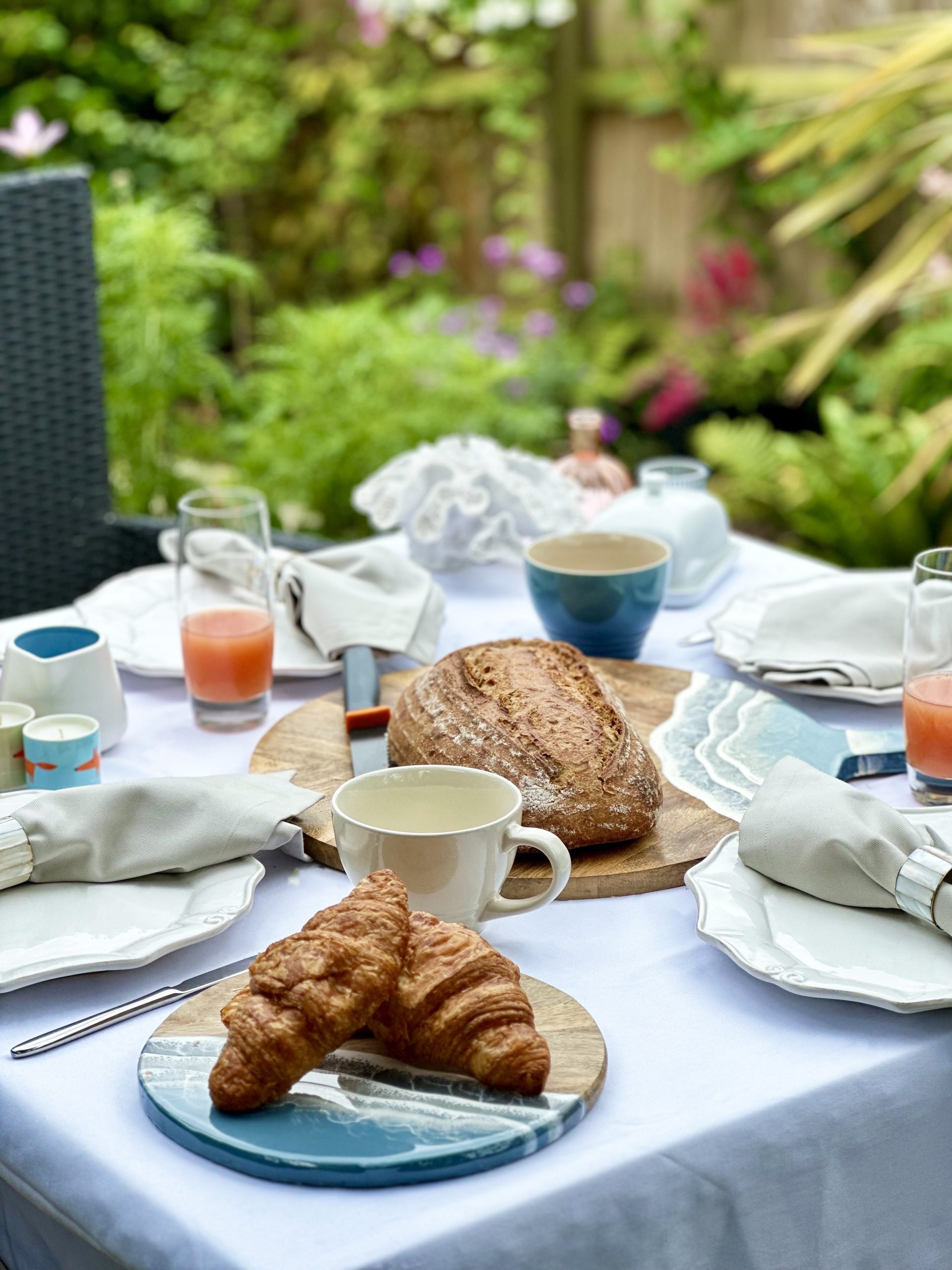 The main serving platter, Soft Shore The Round Board priced £64, was a present from a friend and this comes from British seascape artist Vicki at Turquoise Tide Artistry. I was so pleased with it, I commissioned her to design a couple of side platters, one of which you see here with croissants on top. Beautifully handcrafted, these pieces feature fluid art with food-safe resin
What's on my al fresco dining table?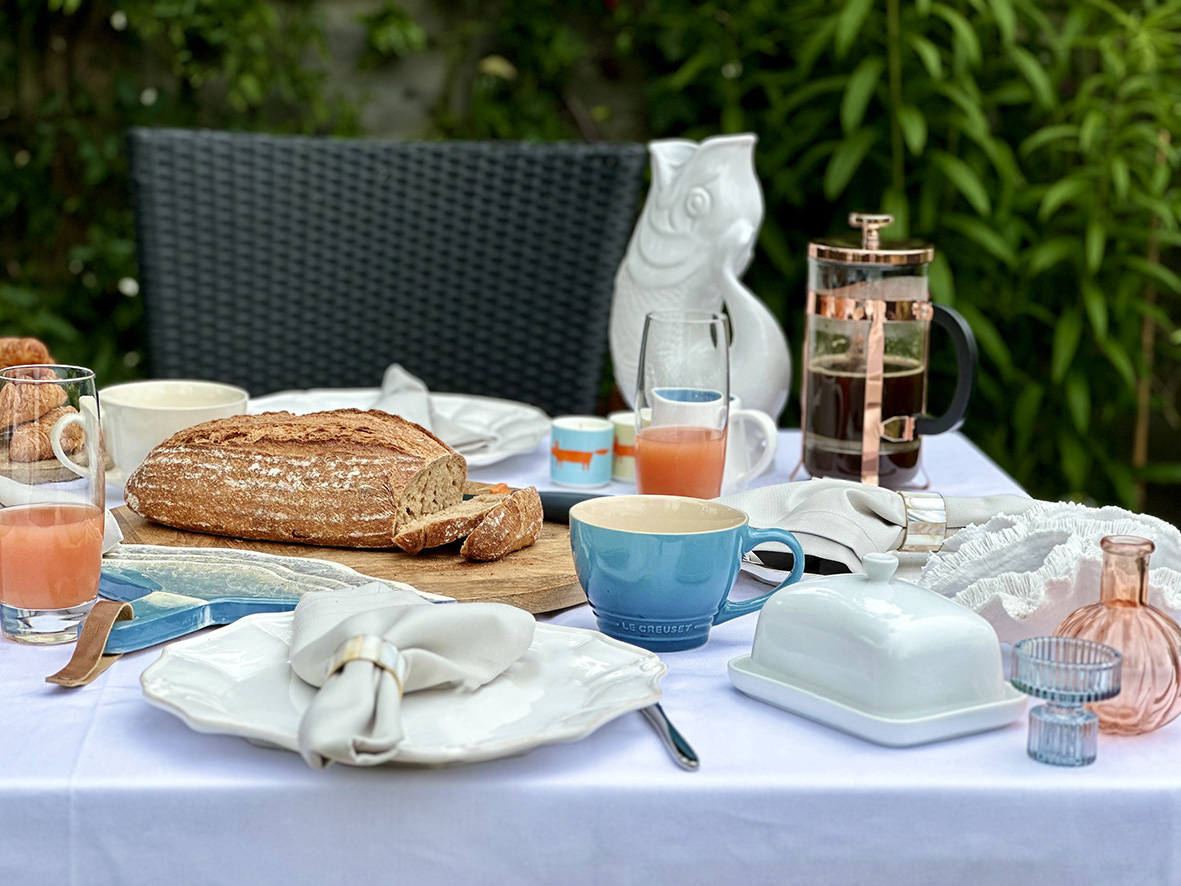 London interior designer Emma is renowned for her work as a colour specialist
Let's return to tablecloths first. After all, this is THE backdrop for any table setting, so this has to be right. Here, Emma picked my chic white Mikado cotton-blend tablecloth. However, she has cleverly contrasted the look with grey napkins in the same collection, all from The Fine Cotton Company. I found this set of four napkin rings from Zara online. I love the Mother-of-Pearl coating on these metal holders. They instantly add a touch of glamour to the table with a gold finish. Emma explains why she chose them: "I've used these pearlescent rings, because they work so well with the grey napkins and they help to create a more subtle scheme."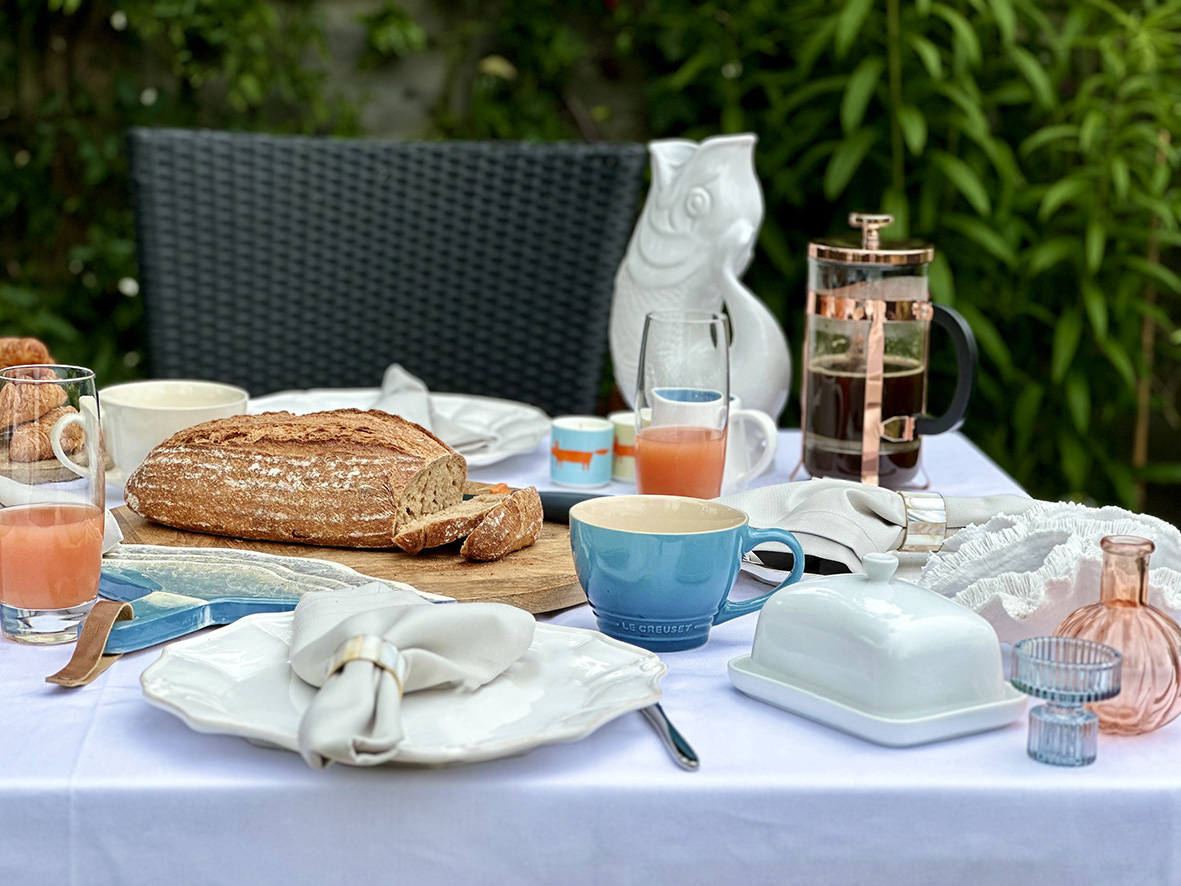 Fruit juice, freshly baked croissants and a loaf of sourdough from M&S make a perfect start for a mouthwatering breakfast
Emma has added peach tones and rose gold highlights to create this impressive breakfast table. Peach tones can be found on the fruit juice, Scion Mr Fox candles, the copper cafetière (buy similar here) and the detail on the Joseph Joseph stainless steel Elevate™ bread knife (one which comes from a set). She says: "I can't manage without a hint of colour and this brings this relaxed breakfast table to life." Emma has also embraced tones of blue, which is in line with her seaside theme. Check out the serving platters, one of the Le Creuset Stoneware Grand Mugs, a Kyto tealight holder (from a set you can read all about below) from Oliver Bonas and Maxwell & Williams porcelain milk jug (sadly no longer available).
Adding a touch of antique French appeal…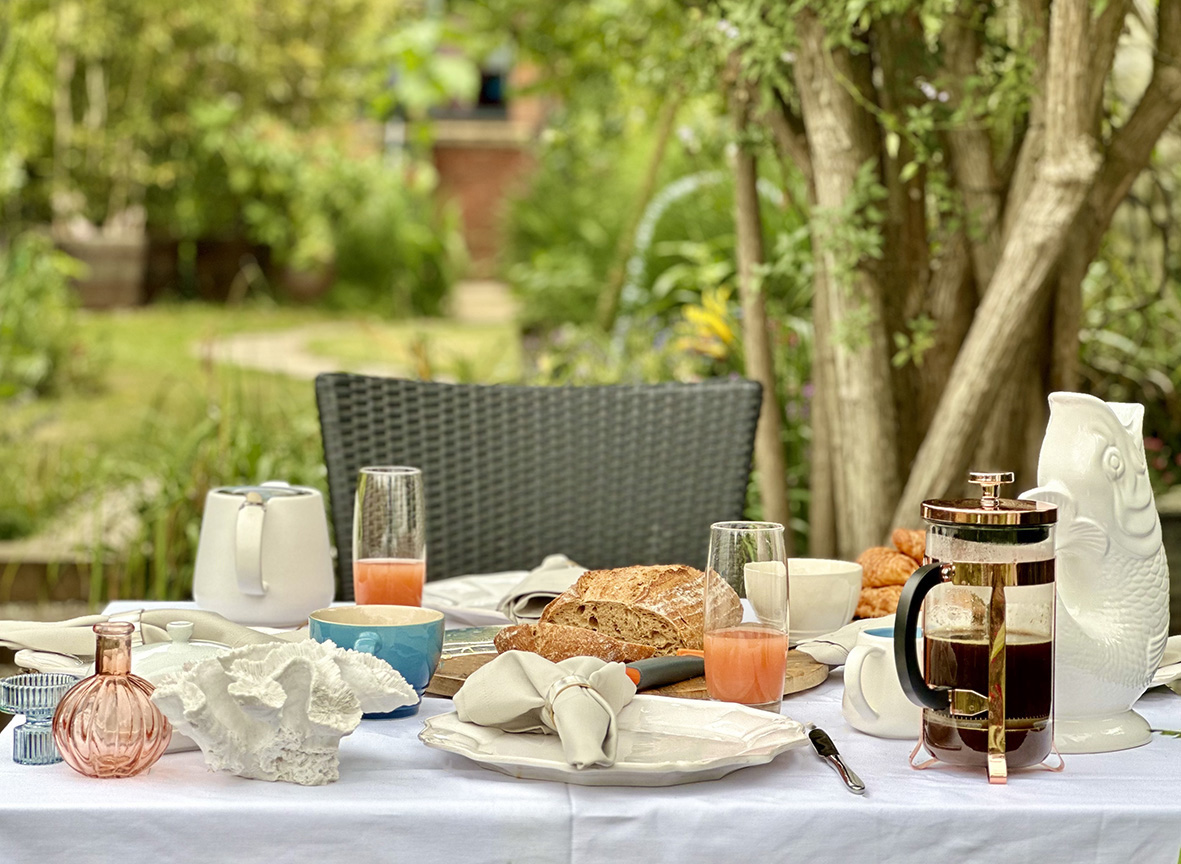 I love my dinner set, which comes in a design inspired by antique French tableware, for a European feel when dining outdoors
My crockery is very similar to a 12-piece scalloped edge dinner set you can pick up from Rockett St George. Featuring a sleek, classic white glazed finish, I love the ornate scalloped edges. This set also reminds me of antique tableware sourced in France, which is one of my favourite holiday destinations. I put mine in the dishwasher, however Rockett St George states their collection is not suitable for dishwasher use.
The cutlery is an 18/10 set called Eden from Viners, which is based on a contemporary teardrop shape. This flatware is beautifully slender with elegant curves and rounded handles, which made it the perfect choice for a stylish breakfast table. You can put this in the dishwasher, however I tend to hand-wash it then polish it to a sheen when guests are due.
The chic Large Pure White Gluggle Jug was loaned by a friend (I must buy one!) and you can pick up an extra large version here. The Maxwell & Williams teapot is white and no longer available. But you can buy a pink version for an absolute bargain here. I've had the faux coral for years and the pink mini vase comes from a recycled glass vintage bud vases collection (a set of three) from Sass & Belle. I sourced the butter dish and glasses from John Lewis some years ago and you can buy similar here and here.
Luxury lunch ideas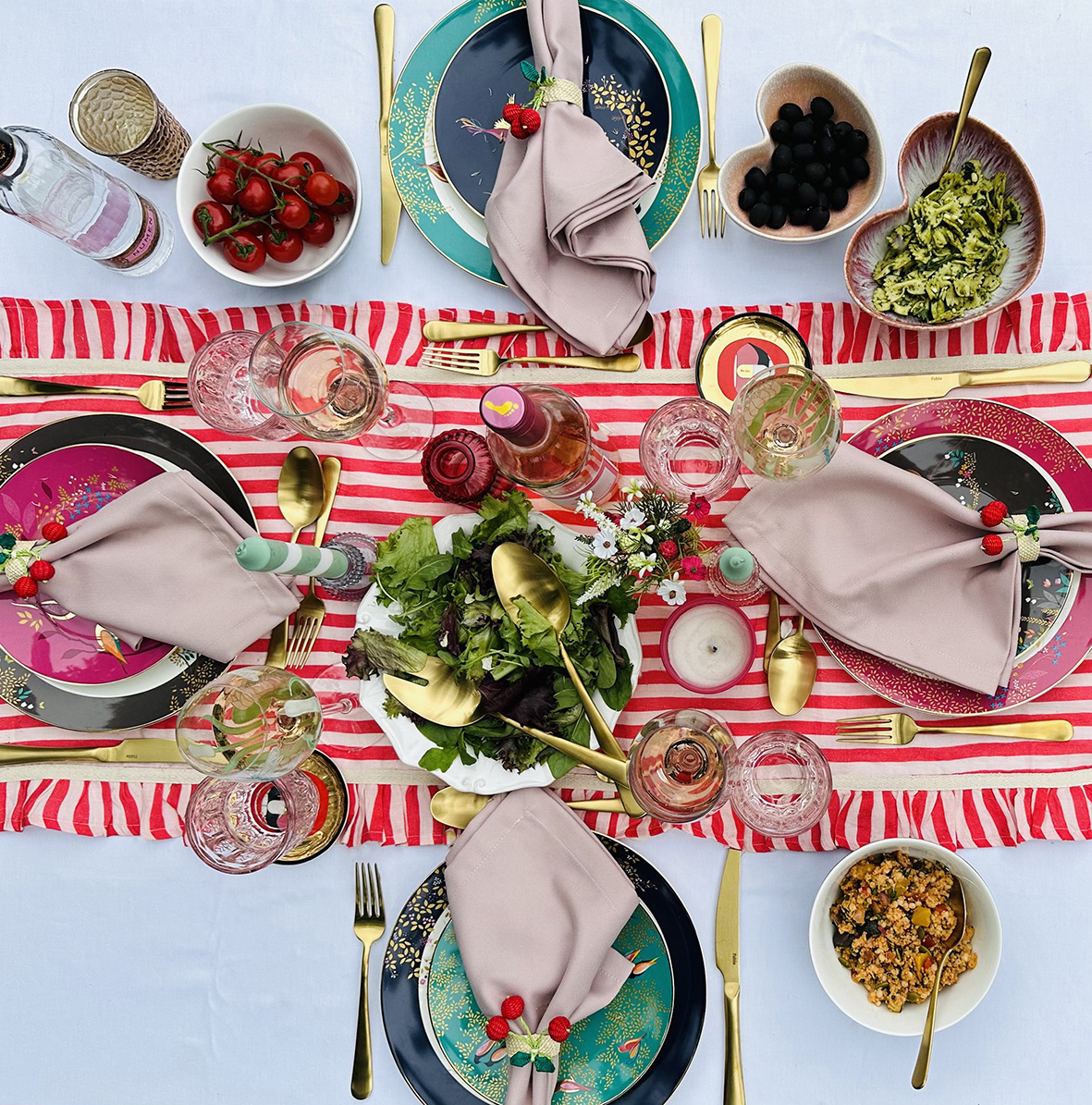 London interior designer Emma has carefully curated this striking table for a luxury lunchtime to remember with friends
There are ways to make a table beautiful for lunch with friends, which will instantly add more to the occasion. And, it seems to me, al fresco dining design is all about harmony. Emma adds: "It's important for my luxury clients to showcase their impeccable taste for guests with attention to detail. Whether your table is located inside or out, why not commit to creating extraordinary moments for you and your guests? Paying meticulous attention to detail to your table dressing will enable your visitors to relax and connect, whatever the occasion."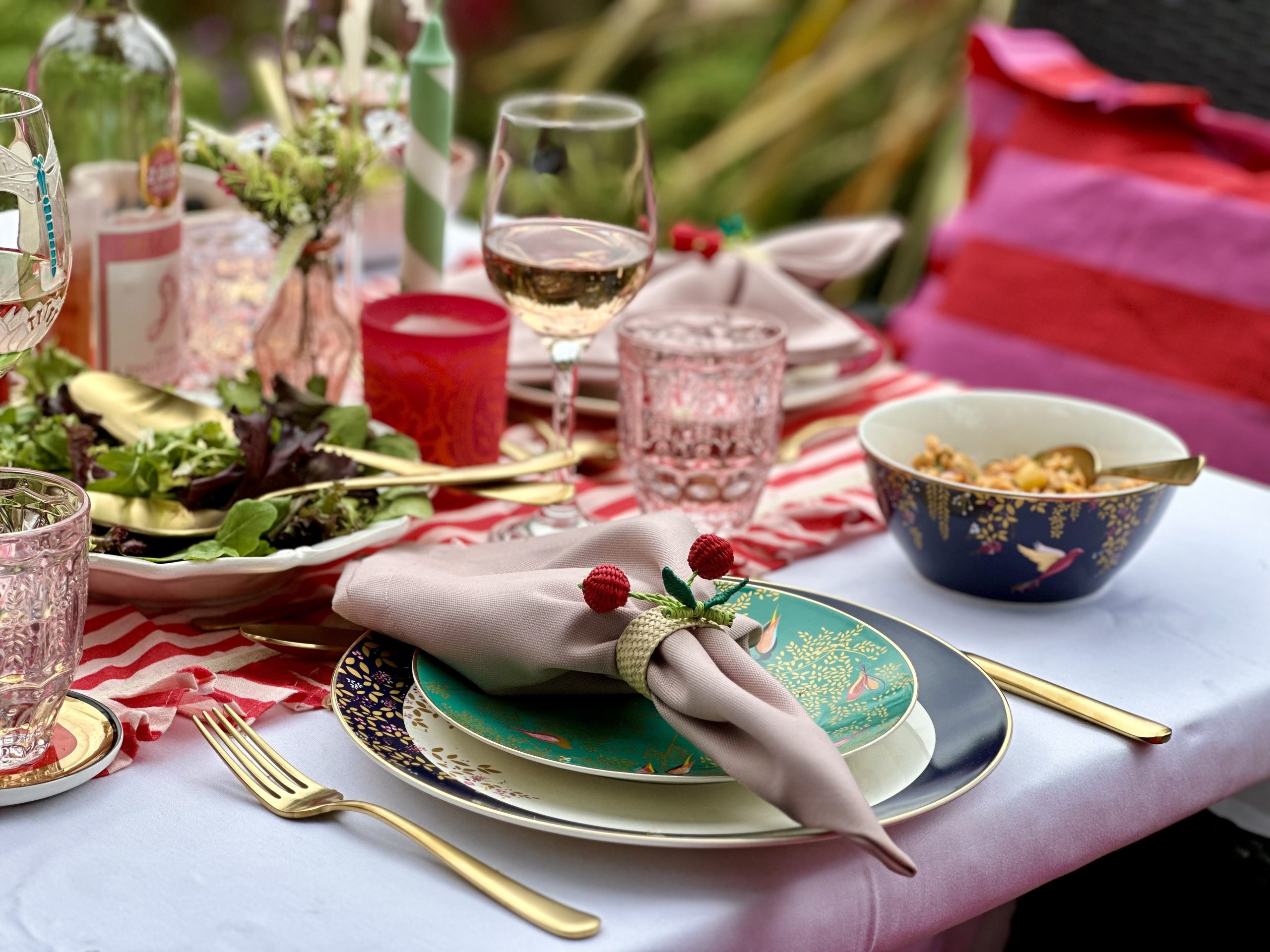 Emma has mixed and matched Sara Miller London's Chelsea ceramic 12-piece dinner set with gold detailing with Fable's Flatware set of matching cutlery in 'matte gold'
Pile on pattern & combine with colour
Emma has also shown me that you can let your imagination run wild with bold design ideas for a statement al fresco dining space. This lunch setting looks like the perfect place to lounge around for lunch with friends and family. Emma explains: "I really like mixing colours and styles, which you can see in my lunch tablescape here. Stripes are very on trend this summer. The Cabana stripe showcases a minimalist bold stripe, which can come in various colours. In fact, this pattern is a current favourite for fashion designers, ranging from Paul Smith to Clements Riberio. If you're feeling adventurous, why not contrast sister shades together, such as red and pink? It will instantly freshen up your look with distinctive pops of colour that really pack a punch. Here, I've added a daring touch with red and pink stripe cushion detailing."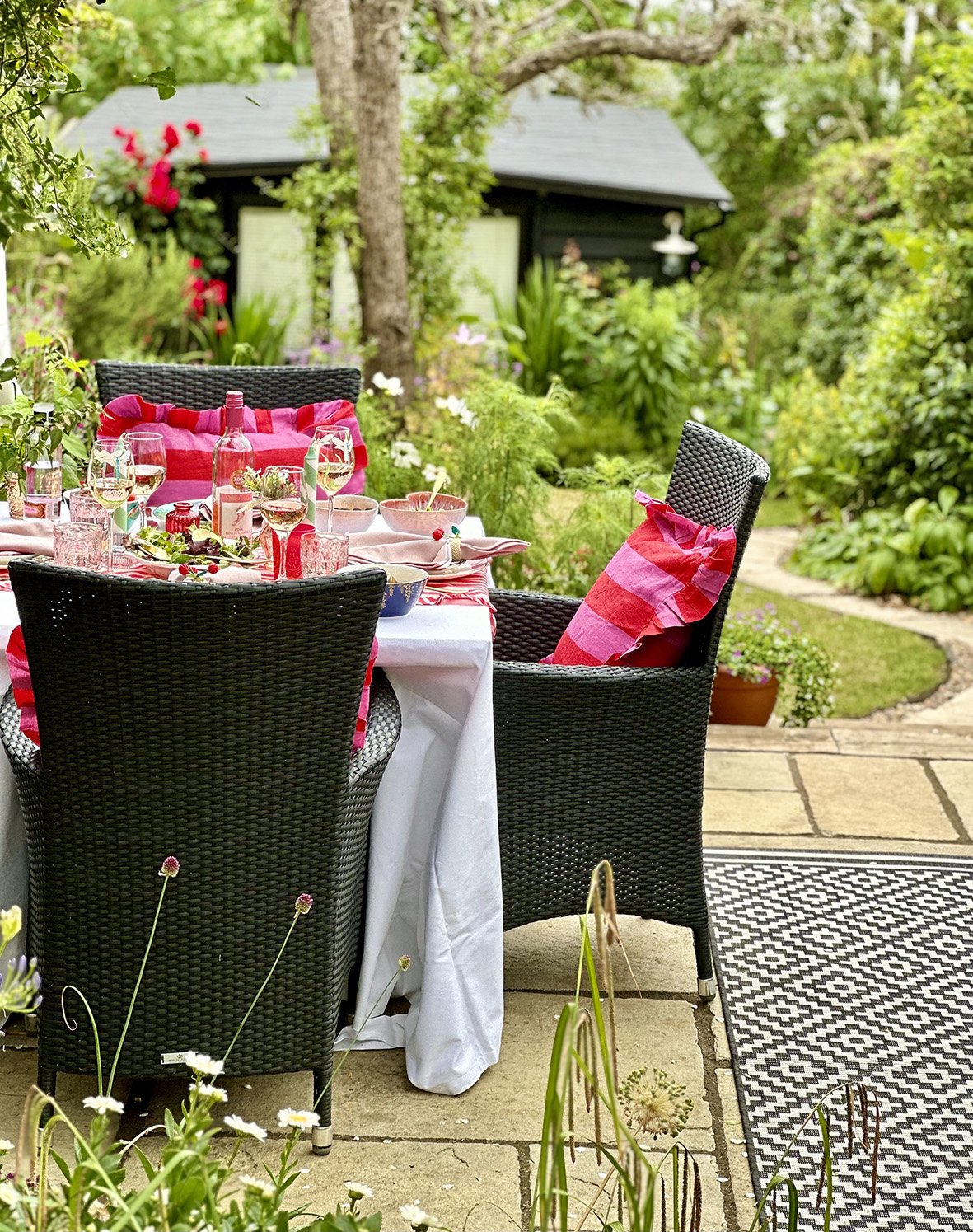 The striking Cerise & Fuchsia Ruffle Extra Wide Striped Cushion Covers create a striking tablescape with their on-trend extra wide stripes and attractive ruffled edges. These match the runner perfectly and you can even pick up napkins in the same striking print
What's on this table?
If you love this design too, and you'd like to recreate this look in your home or garden, here's how…
I handpicked the Fable flatware set in 'matte gold' because it's super-stylish and highly practical. I love this colour way, because it will add an opulent touch to any dining table. This particular collection is dishwasher-safe, too. However, I also chose this high-quality stainless steel collection, because it features a PVD finish; it's ultra durable and will remain rust-free and stain-free for years to come. This includes a matching pair of Fable serving spoons, which creates a striking colour contrast with salad leaves.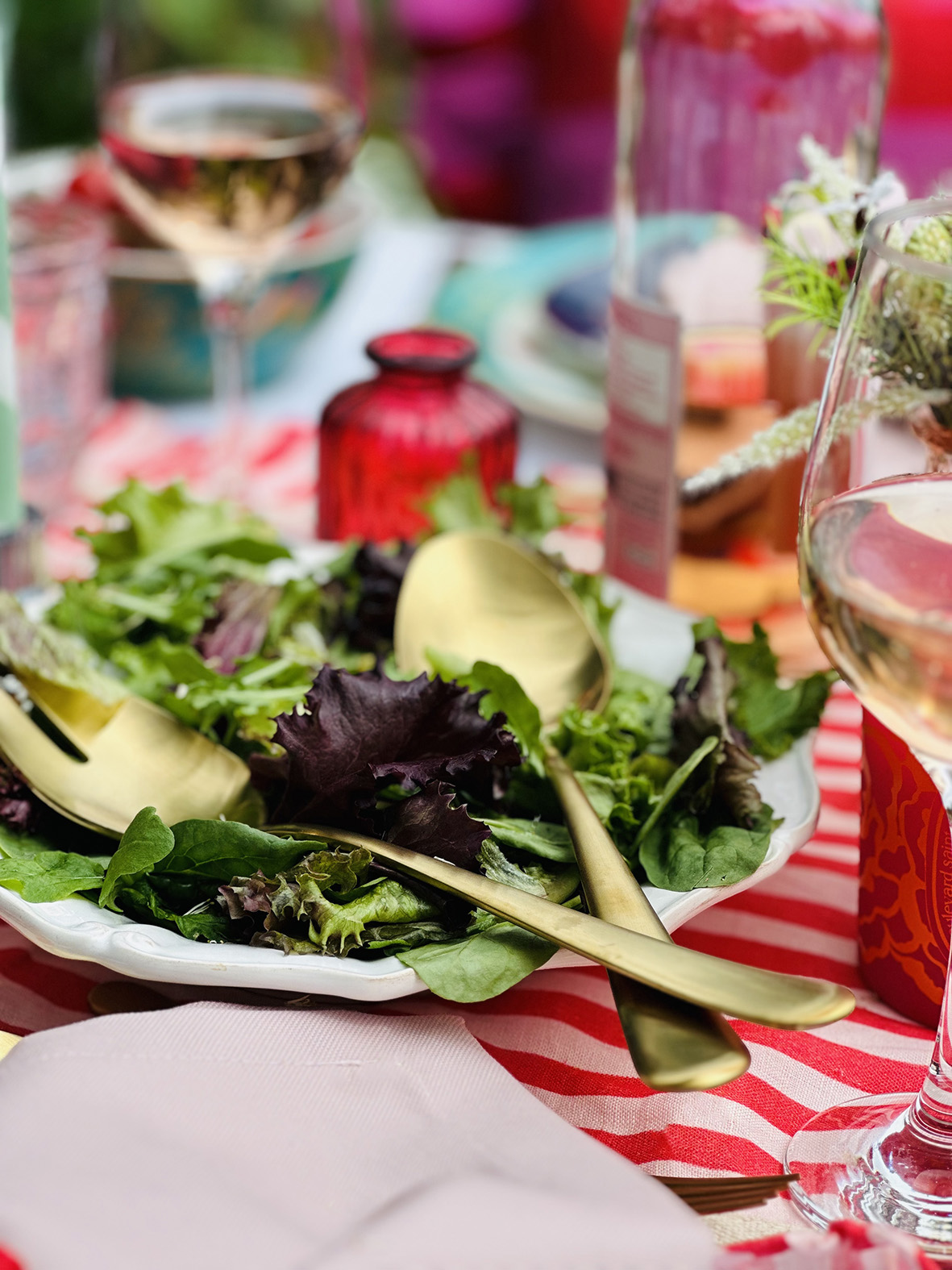 Fable's 'matte gold' serving spoons are ideal for picking up salad leaves to serve to guests and they look super-cool too
I instantly fell for the Sara Miller Chelsea 12-piece dinner set for a variety of reasons, however some words of warning – this is hand wash only. Mind you, this didn't bother me. I love its striking bird design, the carefully curated collection of colours plus the 22-carat gold detailing.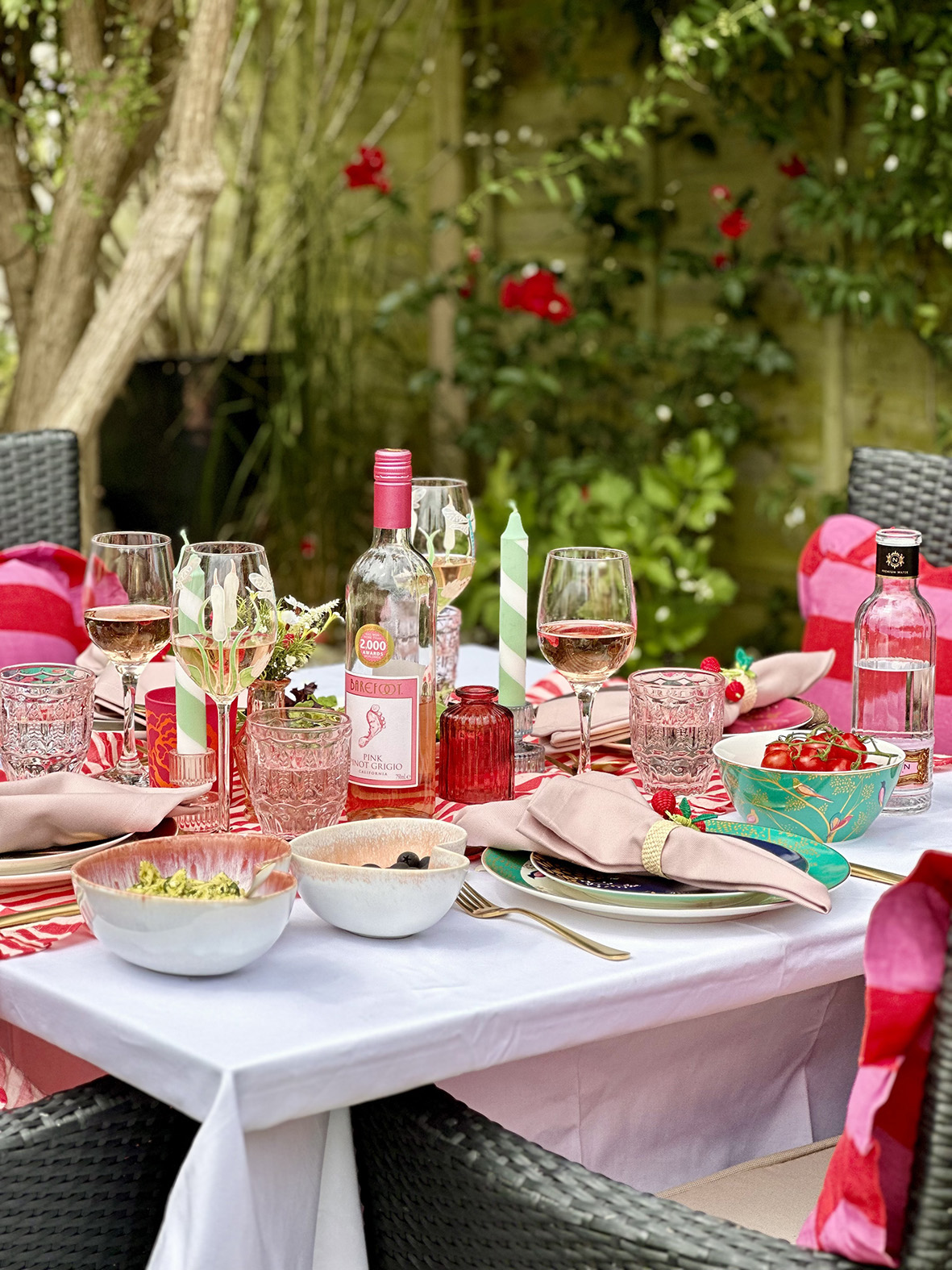 I love my heart-shaped bowls from Oliver Bonas – there are three in this collection. My double-sided Oliver Bonas candle holders were also a great find for versatility on my dining table
Fabulous finds…
The Jasmine glass tumblers set of four from Oliver Bonas caught my eye because I love the pretty pink hue and textured detailing. My Amara pink heart-shaped bowls set of three were another great find at Oliver Bonas. I love their distinctive design, which is hand-formed with a bespoke, painted variegated reactive glaze. I'm also a fan of this stoneware's versatility; I think you can pretty much serve anything in these and they will still look pretty. Emma adds:" It's good to use interesting smaller dishes or those with unusual shapes to display food. One such example is the heart-shaped dish with black olives."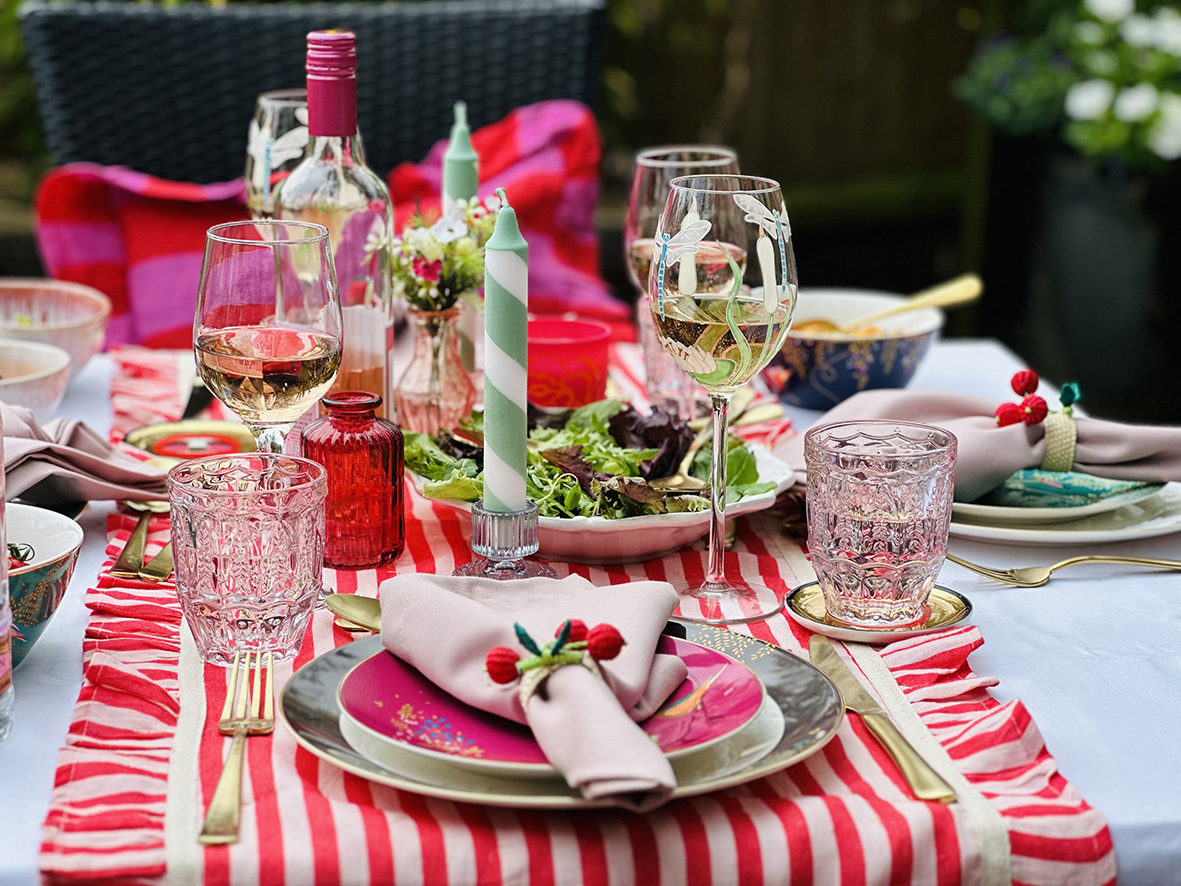 Emma's green and white striped candles follow the latest trend for wide stripes on the cat walk and in the home
You'll see a couple of bespoke hand-painted dragonfly wine glasses in this design. I picked these up from Toasted Glass – you can commission Monique to create any design you choose in any vessel from glasses to candle holders. Speaking of the latter, my Oliver Bonas Kyto Double Sided Candlestick Holders Set Of Four were a great find. You can take your pick between tall candles and tealights thanks to the double-sided design.
Cushion cool
Emma found Amuse La Bouche's striking Cerise & Fuchsia Extra Wide Stripe Cushion Covers when she perused online homewares marketplace Glassette. She matched this with an Amuse La Bouche runner, which is sadly no longer available. But I can tell you napkins are available in this incredible design. The Diptyque candle belongs to Emma and she brought the Numen Premium Water bottle along too. It is beautifully decorative for those who like glamour in a bottle on their dining table.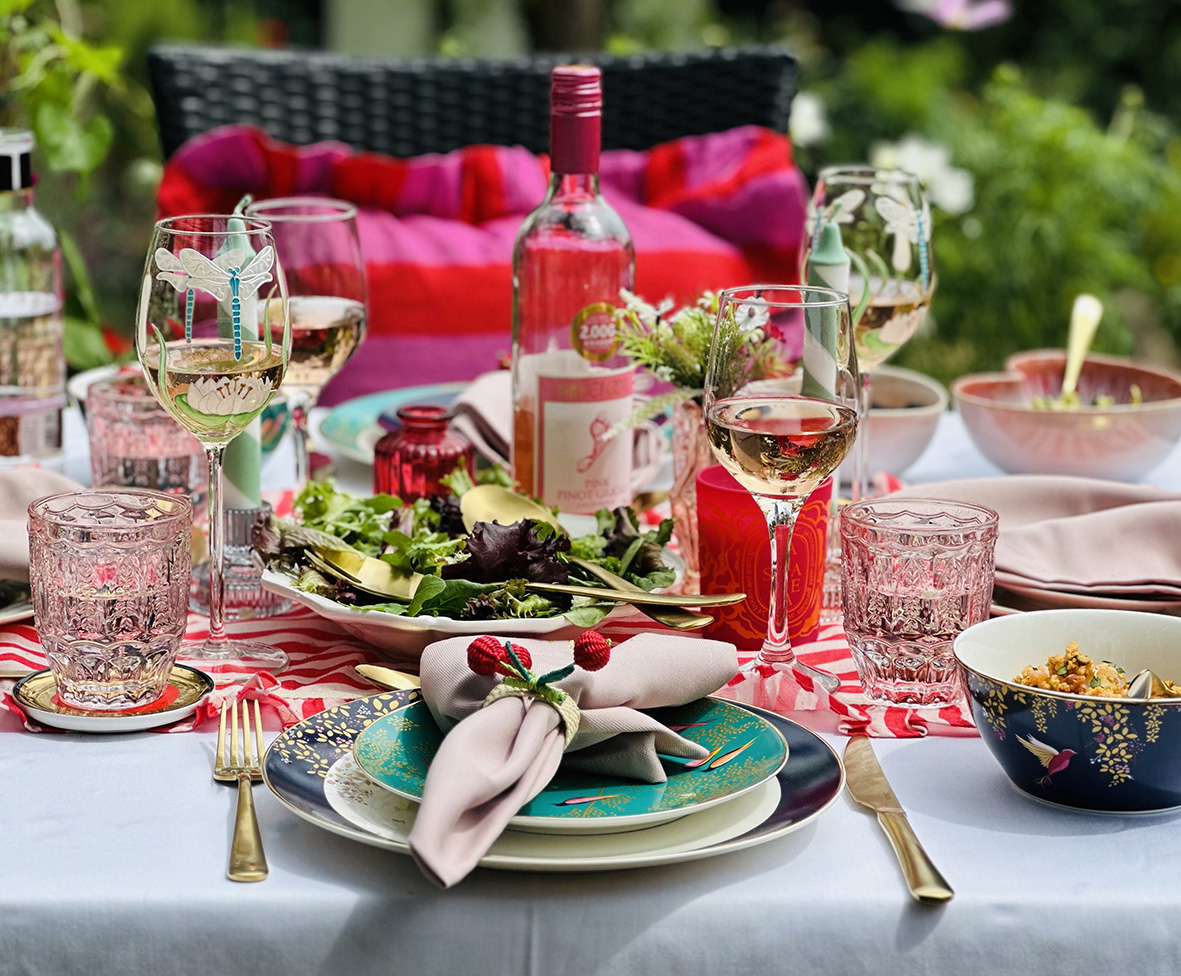 Emma sourced the gorgeous handmade cherry napkin rings from Maison Margaux
When Emma saw Maison Margaux's cherry napkin rings, she tells me she instantly thought of Ibiza. Pacha is one club in Ibiza, which is renowned for using this symbol to portray it as the jewel in this island's crown. I remember visiting Ibiza back in the day when I used to love clubbing. I've got to admit I was a lot younger then! However, the island and my holidays there still hold fond memories for me.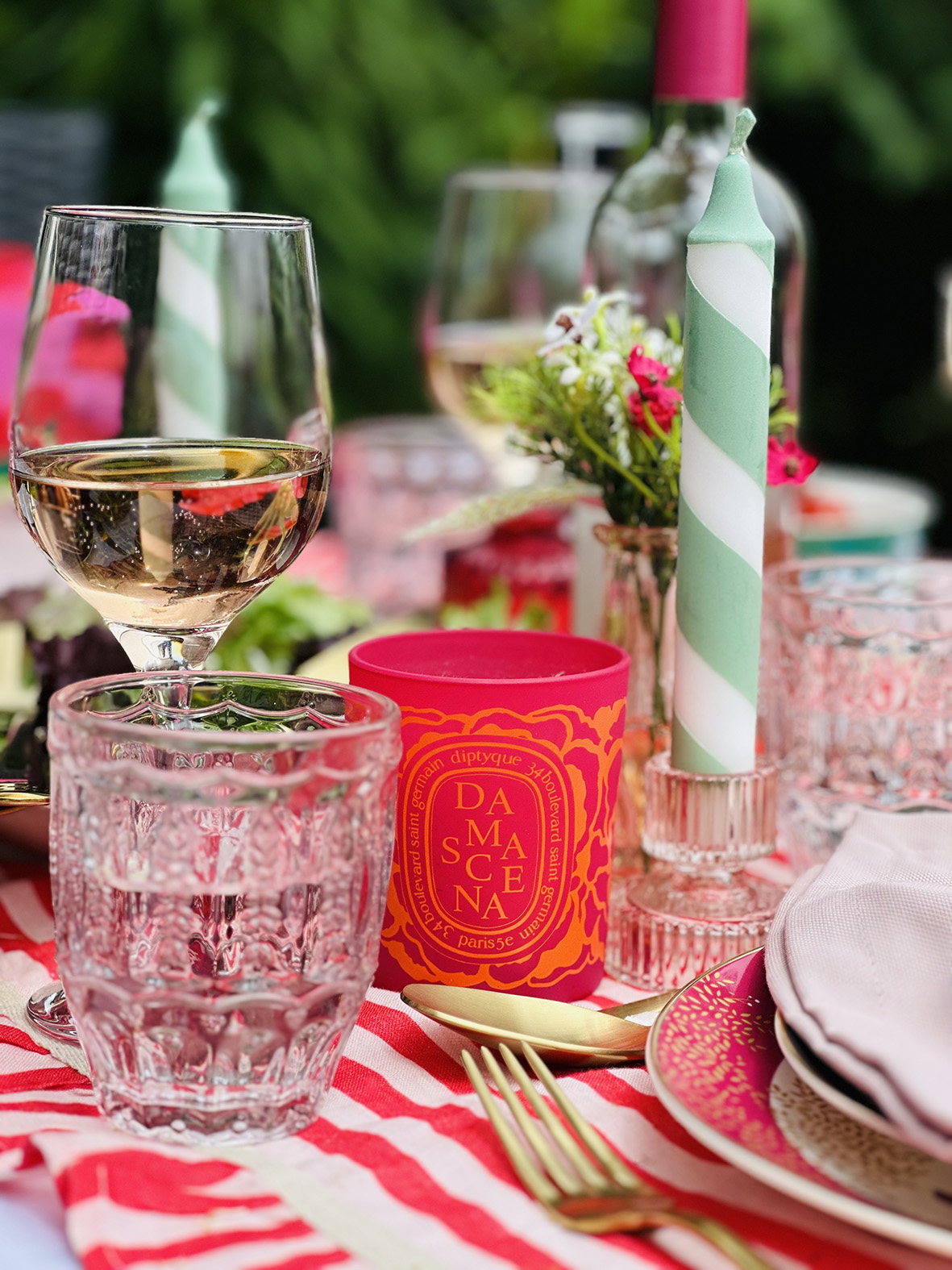 The vibrant pink and orange Diptyque candle, which is her own, harnesses a beautiful scent
These napkin rings feature a rattan design, which taps into this popular trend. It also helps to blend as essence of country chic with modern minimalism. She picked up the green and white striped candles from her home collection, which help to complete the look. Emma adds: "You can have fun with candles and the stripy trend hasn't bypassed these accessories. I've used green and white stripes for my lunch setting, which look distinctive on this table."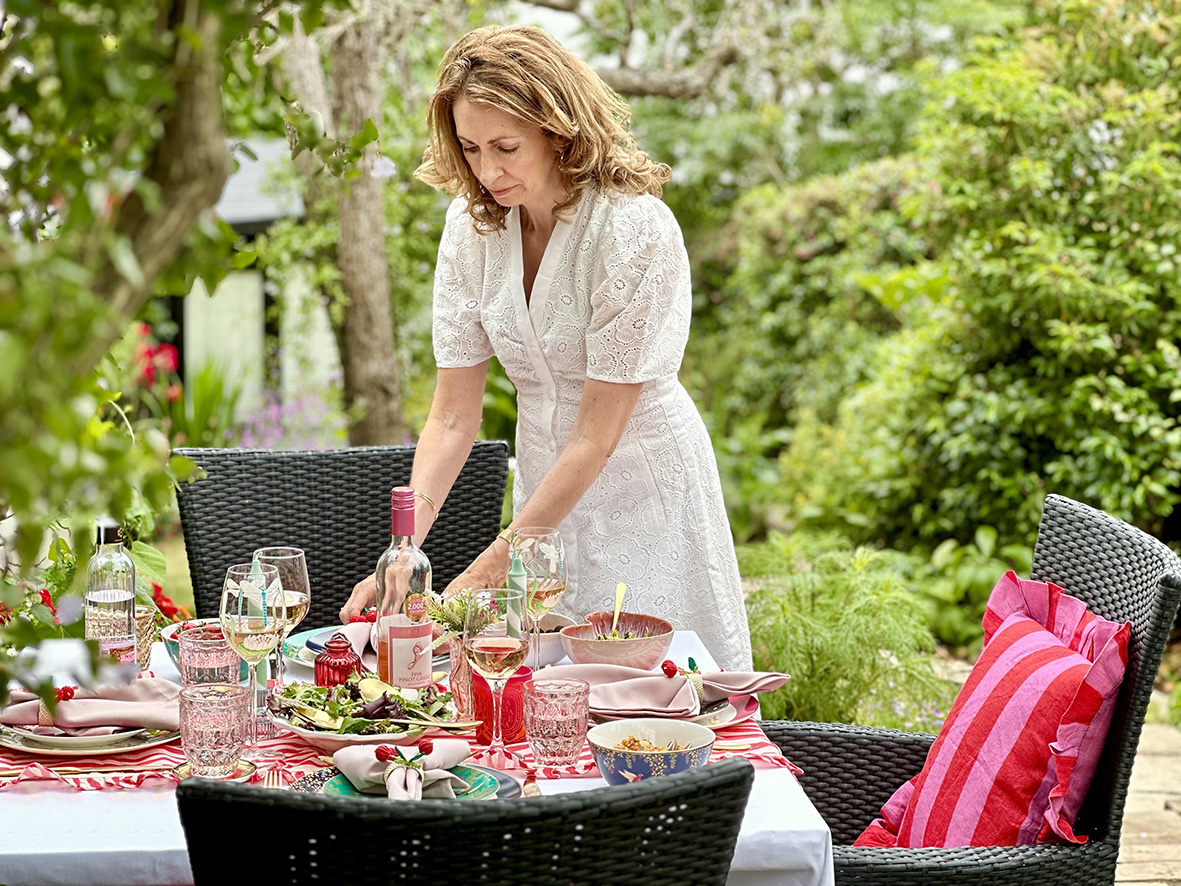 Emma demonstrates how creative she can be with colour to produce a dining table your guests will remember for all the right reasons
She adds: "This tablescape invites you to embrace La Dolce Vita vibes and bright colours can bring joy and instantly enliven a garden, from cherry reds to golden hues.It's good to use colour – the brighter, the better in my book. It will lift the setting and mood on even the darkest English summer day! And, if you haven't got time to make food, buy in and instead top with a fresh garnish. Then your guests will simply think it's homemade!"
Any last al fresco dining tips from Emma? She concludes: "Prepare as much as possible ahead of time and don't get too stressed. At the end of the day most guests want a relaxed host above all."
If you are looking for more al fresco dining ideas for entertaining in the comfort of your garden this season, watch this space. You'll soon discover how I have styled a cocktail party table and a summer soiree in part two…
AD: This is a joint collaboration between our director Emma and Style & decor blogger, Sarah Worswick.